Thu, 23 May 2019
The Artist with Clay and a Message | Kukuli Velarde | Episode 526
Kukuli Velarde is a Peruvian artist based in the United States since 1987. She has received awards and grants such as the Guggenheim Fellowship, the Pollock Krasner Foundation grant, the United States Artists-Knight fellowship, the Pew fellowship in Visual Arts, the Anonymous is a Woman award, the Joan Mitchell Foundation grant, among others. In 2013 her project CORPUS got the Grand Prize at the Gyeonggi Ceramics Biennial in South Korea. Her exhibition credits include: KUKULI VELARDE: THE COMPLICIT EYE at Taller; KUKULI VELARDE at AMOCA; PLUNDER ME, BABY at the Yenggi Museum of Ceramics' Biennial of Taipei; CORPUS at the Gyeonggi International Ceramic Biennial ; also KUKULI VELARDE: PLUNDER ME, BABY at the Nerman Museum of Contemporary Art in, PATRIMONIO at Barry Friedman Gallery and PLUNDER ME, BABY at Garth Clark Gallery. She is married to Doug Herren, sculptor and they have a small daughter named Vida. They live in Philadelphia, PA. USA.
---
Thu, 18 April 2019
Some Professional Tips | Emily Reason | Episode 516
Emily Reason is a potter, artist, and Instructor in Professional Crafts and Ceramics at Haywood Community College in North Carolina. She holds an MFA from the University of Nebraska-Lincoln and BFA from West Virginia University. Emily's ceramics career has encompassed artist residencies, writing, teaching, and exhibitions.
---
Thu, 28 March 2019
Face Mug Maker | Chad Nelson | Episode 510
Since graduating from Auburn University with a BFA in 2007, Chad Nelson has been making and selling pottery. The main goal of Chad's work is to help people smile a little bit more every day through the use of his functional stoneware.
---
Thu, 17 January 2019
Opening a Community Center | Bronwyn Arundel | Episode 491
Bronwyn Arundel studied and graduated with a major in Ceramics and Art History at the Nova Scotia College of Art and Design University. Bronwyn now sells her work in over 20 Galleries and Gift Stores. In 2014 and 2015 ACTS awarded Bronyn's work with Best New Product. Bronwyn also exhibited at the ACTS Fine Art Juried show. In July 2015 Bronwyn moved from Halifax to Nanaimo, BC where she is continuing her production studio practice with wholesale and local juried craft shows. In March of 2018 Bronwyn expanded her business to include Nanaimo Ceramic Arts Studio and Gallery (NCEA. This location has an 800 square foot class room, tech rooms allowing her to teach pottery and to host other professional ceramic artist workshops. NCA has a 300 square foot gallery space to where Bronwyn features ceramic artists from Vancouver Island and across Canada. Over the last year she has developed an Artist in Residency program that focuses on the business development of visiting artists. Bronwyn is creating a community for the education of the ceramic arts in Nanaimo BC.
---
Tue, 18 December 2018
Promoting Music with Clay | Marc Armitano Domingo | Episode 482
Marc Armitano Domingo was born in Northern California. He spent his childhood traveling to Venezuela where his parents are from and fell in love with Baroque music from a young age. His Grandparent & apos;s house was covered in Venezuelan art, Bromeliads, and a vast collection of Orchids on their roof. His passion for Baroque music led him to study Historical Performance on Viola da Gamba where he learned more about Baroque and Renaissance art and especially ornamentation. In Baroque music, pieces are usually left quite bare and minimal and it is up to the performer to add expression, graces, trills, and other agrément. In this style, Marc uses simple forms and adds appliqués, etchings, and other decorating techniques to create variety and beauty in a piece. Most of his work has some sort of utilitarian purpose.
---
Tue, 7 August 2018
Hip Hop Artist Turns Clay Artist | Justin Akeim Trapp | Episode 446
Justin Akeim Trapp is an Indianapolis native, transported to the Berkshires. Justin attended Herron School of Art and Design's and graduated with a BFA in photography and ceramics. Maker, potter, and EMCEE, Justin is trying to make a life off his work. Currently Justin is exploring tableware, and he ebs and flows between functional and mixed media installation.
---
Thu, 7 June 2018
Capturing Webs & Water On Clay | Angela White | Episode 429
"Whether working in clay, fabric, or found objects, my practice regularly engages with and supports me in learning the nature of and possibilities within "free" materials around me. I am drawn to looking closely and discovering the raw and profoundly resonant power of the unseen and unassuming." —Angela White
Angela White received her MFA in Sculpture from Virginia Commonwealth University in Richmond, Virginia and BFA in Ceramics from the University of Akron, Myers School of Art, Akron, Ohio.
---
Tue, 29 May 2018
Insights on Being a Full-Time Potter | Rachel Bultman | Episode 426
Rachel Bultman is a wife, mother and full-time potter based in Alaska. Rachel has a background in oil painting and now creates functional pottery with detailed, hand painted surface designs. Rachel and her husband blur the line between production potter and studio potter by producing a large number of pieces while focusing on modern, artistic design.
---
Thu, 24 May 2018
Finding Your Audience | Christina Gola | Episode 425
Christina "Christy" "Golawas born and raised in the suburbs of Detroit. Chtisty attend Michigan State University and graduated in 2013 with a BS in Packaging Science and a BFA in Studio Art specializing in Ceramics. Christy currently lives in Southeast Wisconsin where she works as a Packaging Engineer and maintains a long distance relationship with her studio. Christy can often be found driving to Lillstreet Art Center in Chicago on the weekends to work in the community studio and painting pots at home during the weeknights.
---
Tue, 8 May 2018
Preparation for Disaster | Cornelia Carey | Episode 420
Cornelia Carey has served as the executive director of CERF+ since 1995. She is the co-Chair and founding member of the National Coalition for Arts Preparedness and Emergency Response, an initiative to improve emergency preparedness and response in the arts sector. Before her tenure at CERF+, Cornelia ran programs supporting artists and cultural institutions at the Vermont Arts Council and the Massachusetts Cultural Council. She has served on boards and review panels for foundations, state arts councils, and the National Endowment for the Arts. She lives with her husband and daughter on their farm in Calais, VT.
---
Tue, 24 April 2018
The Voice Needs to be Heard | Sebastian Moh | Episode 416
Sebastian Moh was raised on a small farm in Batu Pahat, Malaysia. Sebastian's first exposure to the actual shaping of raw clay was in a shopping mall in Kuala Lumpur, Sebastian had witnessed a demonstration on the wheel and it planted the seed. From that point Sebastian paid close attention to the ceramic arts. Eventually Sebastian was able to move to the United State to attend school where he received a degree in product design and had the opportunity to take ceramic classes as an elective. After working in hospitality for a few years Sebastian decided to pursue the vision that had formed so strongly as a youth. The essence of Sebastian's work is to create a visual interest that will trigger an aesthetic response. The vessels articulate a rhythm that appeals to an abstract of universal human emotion. Art is an articulated arrangement of a profound idea. "To create is divine, I just rearrange", says Sabastian. His simple goal is to make good work.
---
Tue, 10 April 2018
What Judges Are Looking For | Victoria Christian | Episode 412
Victoria Christen is a studio artist and instructor of ceramics at the
University of Portland. Victoria uses mark making to infuse meaning into the objects she makes. All her work in this show—from the deconstructions of found objects to the functional and sculptural ceramic pieces—emphasize the potential of human gesture and touch to express memories, emotions, and moments. Using ink and brush, fabric and thread, glaze and clay, she captures the joy of a young boy's bird egg collection, the melancholy of leaf stains on a sidewalk, the effervescence of blossoms floating on a pond, and the pattern and intrigue in a crimped metal garden fence.
---
Tue, 27 March 2018
The Early Startup Of A Clay Business | Hannah Lenhart | Episode 408
Hannah Lenhart is a recent graduate of Fairmont State University where she both a BA in Ceramics and Sculpture and a BS in Business Administration May of 2017. Since graduation Hannah has been working and living in the beautiful hills of West Virginia in her home studio where she has been busy preparing her studio space, stocking inventory, and transitioning from being a student to starting a small business. Hannah's ceramics career began when she took her first ceramics class her second semester of college, and since then ceramics has been the center of her life. Experimentation plays a huge role in Hannah's studio practice. She enjoys learning and finding new ways to decorate and manipulate clay. Hannah currently works with a cone 6 white stoneware and uses colored slips and carving techniques to decorate her work.
---
Thu, 8 March 2018
The Power of Chasing Goals | Joel Cherrico | Episode 403
Joel Cherrico is back on The Potters Cast for another conversation. This time Joel spends some time talking about the power of chasing goals, finding an audience, and an award that he is helping to sponsor. Together with The American Craft Council, Joel is hosting the Emerging Pottery Business Awards. The goal is the find artists whose work and business embodies talent, passion, and business skills.
---
Tue, 6 March 2018
A Chef Talks About Pots | Chef David Mork & Brett Binford | Episode 402
This is a little different. The feature guest is Chef David Mork who is going to be talking about the Kiln to Kitchen show. It was a discussion with David that kicked off the idea of furthering the Farm to Table movement by getting the tableware to be made from local potters.
---
Thu, 1 March 2018
The Teacher & The Students | Ryan Reich, Moriah Ritchie, & Masey Park | Episode 401
Ryan Reich teaches ceramics and serves as the Visual Arts Chair at Valencia High School in Placentia, California. Two of his star ceramic students, Moriah Ritchie and Masey Park, stayed after school with Ryan and talked clay over Skype with Paul. This was an fascinating conversation about the passion for ceramics as seen from both sides of the desk- The teacher and the students.
---
Tue, 27 February 2018
Another Seattle Artist | Katie Marks | Episode 400
Katie Marks lives and works in Seattle, Washington. Clay is a life long passion for Katie and she feels so fortunate to be able to do what she loves for work. Katie has been creating things since before she can remember starting with play-doh, moving to polymer, and now finally with ceramics. Katie took three ceramics classes at her local community college in 2008 but it wasn't until after Katie acquired her first potters wheel in 2010 that she attended the University of Youtube. Katie says, "You can learn anything on the internet."
---
Thu, 22 February 2018
Industrial Designer Doing Clay | Adam Chau | Episode 399
Adam Chau received a Masters in Design from the School of the Art Institute of Chicago. His work combines digital technologies with traditional studio ceramics; recent writings on this topic include Ceramics Monthly, Ceramics Technical, and Studio Potter. He has lectured and demonstrated across the United States, including the NCECA Fablab. He has worked internationally, notably at Atelier Ted Noten in Amsterdam, The Netherlands. As a curator, he has produced exhibitions for Clay Art Center, The Clay Studio, and the New York Ceramics and Glass Fair. ​​​​
---
Tue, 20 February 2018
Going Full Time and What It Takes | Tim Kowalczyck | Episode 398
Tim Kowalcyck makes another appearance on The Potters Cast. Tim's last guest appearance was way back in October of 2016 in episode 254. Back then Tim was working multiple jobs and making his "cardboard" cups as a side hustle. Now Tim is full time as a maker of his ceramic creations. In this episode Tim talks about what it took for him to make the transition.
---
Thu, 15 February 2018
Logos, Branding, & Business | Erin & Jason Hall | Episode 397
Erin and Jason Hall, owners of Alberta Pottery (Greenville, SC), are full-time artists creating studio pottery and sculptural ceramics. Jason earned his BFA from Clemson University; Erin a BA from Stetson University and MFA from Clemson. They work in stoneware, fire gas reduction, and exhibit nationally at juried shows.
---
Tue, 13 February 2018
Judge From The Great Pottery Throw Down Talks Clay | Kate Malone | Episode 396
British potter, Kate Malone is studio potter, ceramic artist, and judge. Kate is known for large sculptural vessels and for being a judge on the popular BBC2's The Great Pottery Throw Down. Her work richly glazed with bright colors. After leaving the Royal College of Art, Kate began working in the South Bank Craft Centre. On display in a number of public locations, Kate's work is also highly sought after for private collections.
---
Thu, 8 February 2018
The Emerging Studio Culture in India | Shilpy Gupta | Episode 395
Shilpy Gupta was born with an artistic bend of mind. Early childhood saw her putting her thoughts on canvas. During her stay in the U.S, she came across a Pottery exhibition and enrolled herself for a class. From then on, she has never looked back. Shilpy has developed a fully equipped Pottery Studio in her house, and has been creating beautiful art pieces for the last 15 years.
---
Tue, 6 February 2018
Finding a New Voice | Eric Beavers | Episode 394
Eric Beavers lives in Nesbit, MS but was born and raised in Northwest, NM. The culture and scenery of the American Southwest has influenced the techniques and colors of the functional pottery he makes. Eric graduated from the University of Mississippi and now works full time as an art instructor.
---
Thu, 1 February 2018
Kiln to Kitchen | Paul Blais, Brett Binford, Tim Kowalczyk | Episode 393
Introducing Kiln to Kitchen. Kiln to Kitchen is about connecting potters with chefs. With the farm to table movement that is growing in its impact and importance in the food industry, there is another ingredient that needs to be addressed... the plates that the food is served on. The vast majority of restaurants are using mass produced table settings with a complete absence of the maker's hands.
Kiln to Kitchen is going to help to close that gap and shine a light on this issue by connecting potters with chefs which will give the chef's handmade food a handmade table settings.
---
Tue, 30 January 2018
Etsy From An Insider's Perspective | Any Guelmann | Episode 392
Any Guelmann is a potter who moved from Brazil to Brooklyn to Seattle. For Any architecture was first, photography next, metal and clay forever. Any aims to produce work that's devoid of purpose. If Any's art can be used as a tool for social and political change, she says that she will have failed.
---
Thu, 25 January 2018
How to Make a Push to Grow | Meredith Host | Episode 391
Meredith Host was born and raised in Detroit, MI. She received her BFA in Ceramics from Kansas City Art Institute in 2001 and her MFA in Ceramics from The Ohio State University in 2008. She was named one of the 2011 Emerging Artists for NCECA and Ceramics Monthly, and in 2016 was a Presenter at the Utilitarian Clay Symposium. Currently, Meredith is a full time studio potter who teaches workshops around the country and is a founding member of the Kansas City Urban Potters.
---
Tue, 23 January 2018
How to Attend NCECA | Cindy Bracker | Episode 390
Cindy Bracker is the Communications Director for NCECA and the former Director at Large for NCECA. Cindy is also helping to run the family business of Brackers Good Earth Clays which is a local ceramic supply house in Lawrence Kansas. And, as the picture above indicates, Cindy is also a competitive cyclist. For today's episode of The Potters Cast Cindy is talking through great tips on how to attend NCECA.
---
Thu, 18 January 2018
The Value of Relationships | Tim Sherman | 389
Tim Sherman is a potter making functional, utilitarian pottery on an electric potters wheel. Sherman glazes and single fires all of his work in a large wood-burning anagama style kiln at his home in Frederick, Md. He makes everything from tableware: cups, mugs, bowls, plates, pitchers to decorative vases, jugs, and large scale jars. Although Sherman has control over the form and glaze he applies on his pieces, much of the final outcome is left to the mercy of the kiln. Over three days, layers of ash land of the pieces and eventually get hot enough to melt into an additional glaze. Though many of the forms are similar, no two pieces will ever be the same. Evidence of flame pattering and firing length is a huge part of the aesthetic in his work. Each piece tells a story of where and how it was packed into the kiln as the fire leaves markings on their surfaces as it fights to exit the chimney of the kiln.
---
Tue, 16 January 2018
A Beautiful Life in Clay | Greg Daly | Episode 388
Greg Daly lives in Australia. His career spans over 40 years. He is a thrower at heart and has a passion for the glazed surface. His current focus is lustre glazes, which give a unique surface and wide spectrum of colours that evokes the vivid hues and atmospheric qualities seen in the Australian landscape. Greg is nearing his 100th solo exhibition, has written three books on glazing and lustre and his work has been acquired by over 80 public collections throughout Australia and 15 other countries.
---
Thu, 11 January 2018
Brother Makers | Abe & Eli Lowham | Episode 387
Abe & Eli Lowham are college students attending the University of Wyoming. Abe & Eli grew up in a small town called Lander, Wyoming. The brothers started throwing pottery in high school and have continued with their passion in their shared studio basement while skipping class. Abe is a freshman dual majoring in mechanical engineering and art. Eli is a senior majoring in speech pathology.
---
Tue, 9 January 2018
He Comes From A Long Line Of Artists | Will Talbot | Episode 386
Will Talbot comes by his love for pottery honestly. Growing up in a family of sculptors, architects, and potters, Will has spent a lifetime saturated with a love for the form. Will's pottery is inspired by textures and forms he finds in nature, and the fluidity and flexibility of the medium.
---
Thu, 4 January 2018
The Heart of a Working Prof | James Watkins | Episode 385
James C. Watkins is a ceramic artist whose work is included in the White House Collection of American Crafts, and the Shigaraki Institute of Ceramic Studies in Shigaraki, Japan. Mr. Watkins is a Paul Whitfield Horn Professor. The Horn Professorship is the highest honor that Texas Tech University may bestow on members of its faculty. Horn Professorships are granted to professors in recognition of national and international distinction for outstanding research or other creative scholarly achievements. Mr. Watkins teaches Architectural Ceramics and Architectural Drawing in the College of Architecture. He is also a recipient of the Texas Tech University President's Excellence in Teaching Award. He is a 2005 Fulbright Scholar, Teaching in Vietnam at the Ho Chi Minh City University of Architecture. He is the co-author of two books, "Alternative Kilns & Firing Techniques" published by Lark Books and "Architectural Delineation, Presentation Techniques and Projects" published by Kendall/Hunt Publishing Company. His work is also the subject of a book entitled "A Meditation of Fire the Art of James C. Watkins" by Kippra D. Hopper published by Texas Tech University Press. He received his B.F.A. from the Kansas City Art Institute, and his M.F.A. from Indiana University.
---
Wed, 3 January 2018
A Fresh Start | Courtney Puig | Episode 394
Courtney Puig's passion is to create with clay, to chase her ideas, and strive to perfect her process. At Fort Collins High School in 2000 Courtney was introduced to clay. It was not until 2013 that Courtney began to pursue the craft seriously at Lightwave Pottery on Kaua'i. Dean McRaine supports many clay artists on island. With a nudge from Dean Courtney took a leap, invested in a kiln, and began creating on her lanai. In the years that followed Courtney sold her work at markets to travelers and local residents, collaborated with businesses, and was represented by two galleries. In the summer of 2016, Courtney traveled to Copenhagen for a week workshop with Eric Landon. In December of 2016 Courtney had several of her pieces make it into the Ceramics of Hawaii state exhibition. At the beginning of 2017, through Instagram, David Kuraoka reached out inquiring about Courtney's clay body, experience and he eventually offered suggestions on how to improve. He said Courtney was learning in the dark and encouraged her to attend NCECA in Portland. That trip opened Courtney's eyes to this field, was overwhelmingly inspirational, and motivated Courtney to make a big change.
---
Thu, 28 December 2017
A Brick & Mortar Business | Tiffany Thomas | Episode 383
Tiffany Thomas is a potter and painter from Florence, South Carolina, where she grew up in a large family on a farm outside of town. Tiffany found art at Francis Marion University and immediately fell in love, immersing herself into clay and painting. Tiffany received her BA from Francis Marion University in 2012 and she now runs a brick and mortar artisan shop and art studio in a revitalized area of downtown Florence.
Tiffany's clay work is carved porcelain gemstone pieces and layered abstract paintings. Tiffany's gemstone pottery depicts the fragility of humanity- it's her way of coping with racism, fear, and confusion. While growing up Tiffany was deeply sensitive to the world around her and often retreated into herself for comfort. During her teenage years, Tiffany dealt with bullying and racism, but didn't develop a way of healing until she found solace in clay. Tiffany's work has evolved from carving words and phrases of self care into her pieces to layered complex gems that depict positive thoughts and emotions. The lush, overly layered colors and textures mimic a constant reminder to be gentle and take care of one's self. The world can be harsh and strenuous. Tiffany's hope is that her work calls you to admire and remember the preciousness of life.
---
Tue, 26 December 2017
An Eighth-Grader Making Pottery | Fin Barnes-Long | Episode 382
Fin Barnes-Long is 12 years old and his love of ceramics started in an after-school activity about a year ago. Fin now has his own studio in the corner of the family garage where he loves creating something out of nothing, and making it as perfect as he can!
---
Thu, 21 December 2017
An Honest Discussion About Making It as a Potter
Ben Jordan was born and raised in the American Southwest. He earned a bachelors degree in Sociology at Northern Arizona University before discovering a passion for clay in 2006. After completing a Bachelors of Fine Art in ceramics at Northern Arizona University he went on to work and apprentice in the city of Groningen, in the Netherlands. After finishing a residency at the Red Lodge Clay Center in 2014, he went on to obtain his Masters in Fine Art in ceramics from Virginia Commonwealth University. After graduate school Ben completed a year long ceramics residency at Pocosin Arts in North Carolina. In September of 2017 Ben will be headed to Montana to begin a long term residency at The Clay Studio of Missoula.
---
Tue, 19 December 2017
The Wondering Stage | Molly McGuire | Episode 380
Molly McGuire | Episode 380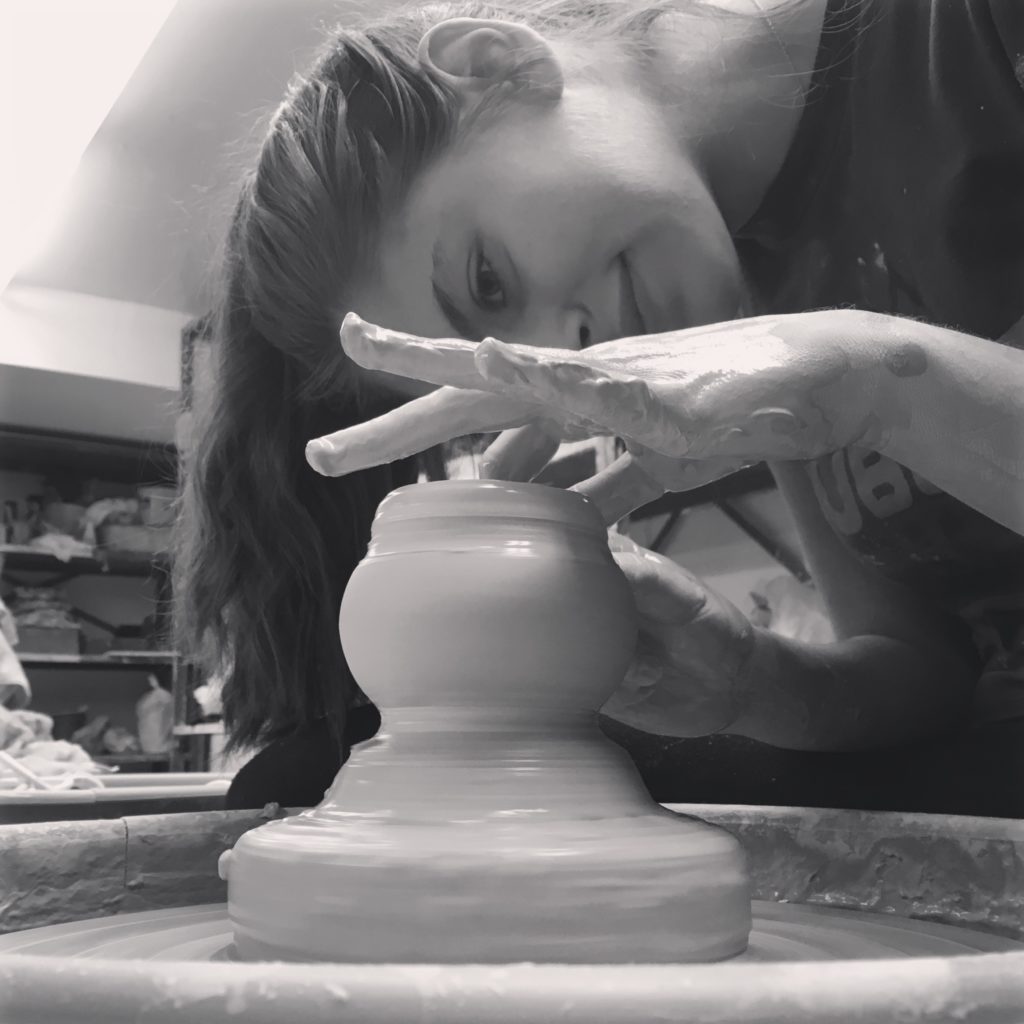 Molly McGuire graduated with a BA in ceramics from Central Connecticut State University. Molly's work is focused on texture and creating a tactile experience in everyday objects such as mugs, cups, and lamps. When Molly is not creating, she serves as the gallery coordinator for the university and works at a local museum.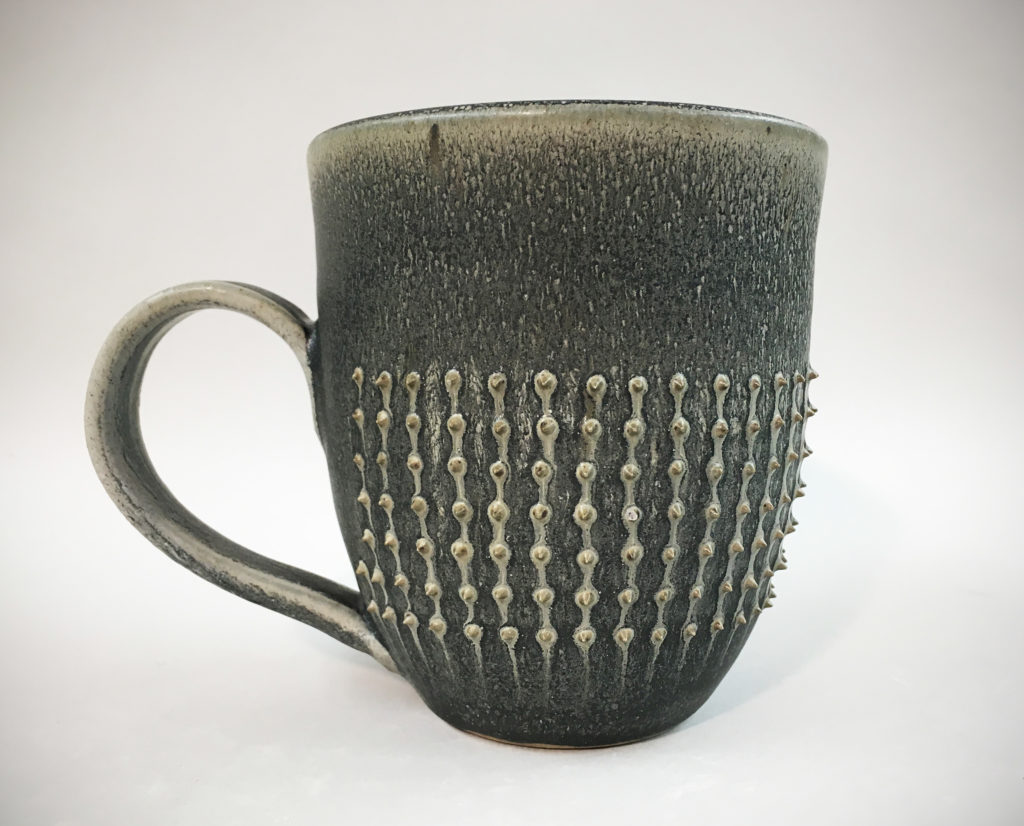 ---
Thu, 14 December 2017
Pursuing the Business of Clay | Tabbatha Henry | Episode 379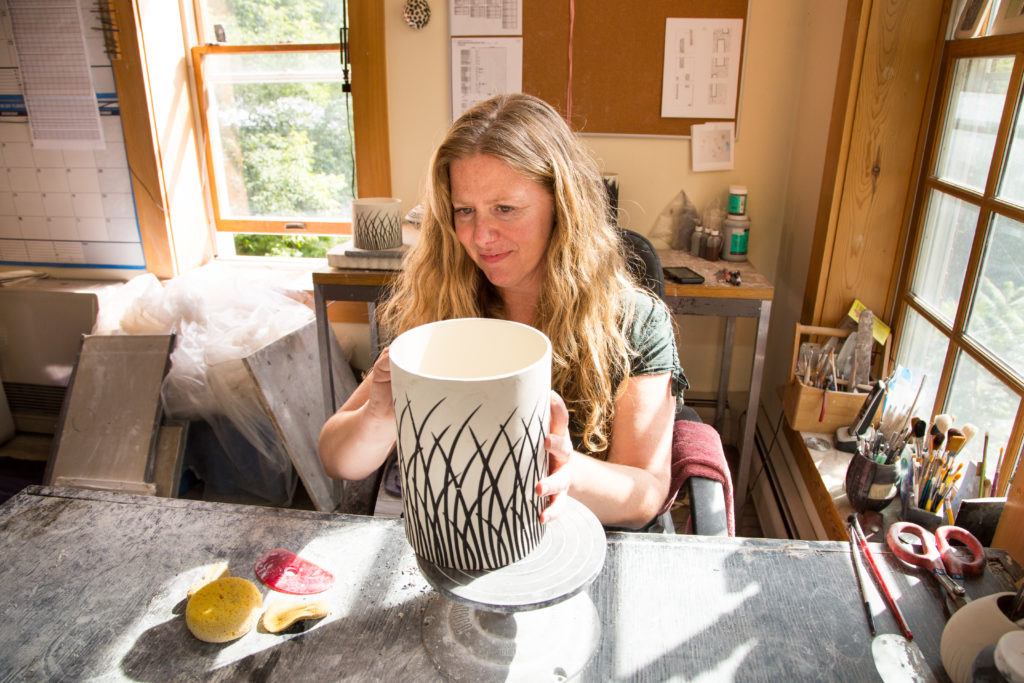 Tabbatha Henry is a ceramic artist, designer, and educator in Vermont. A sculptor by nature, Tabbatha currently runs a business creating translucent porcelain lighting and site specific installation sculpture. Tabbatha's work can be purchased in fine art galleries across the country, as well as a catalog or two, online via Tabbatha's website, and in her flagship retail and design studio.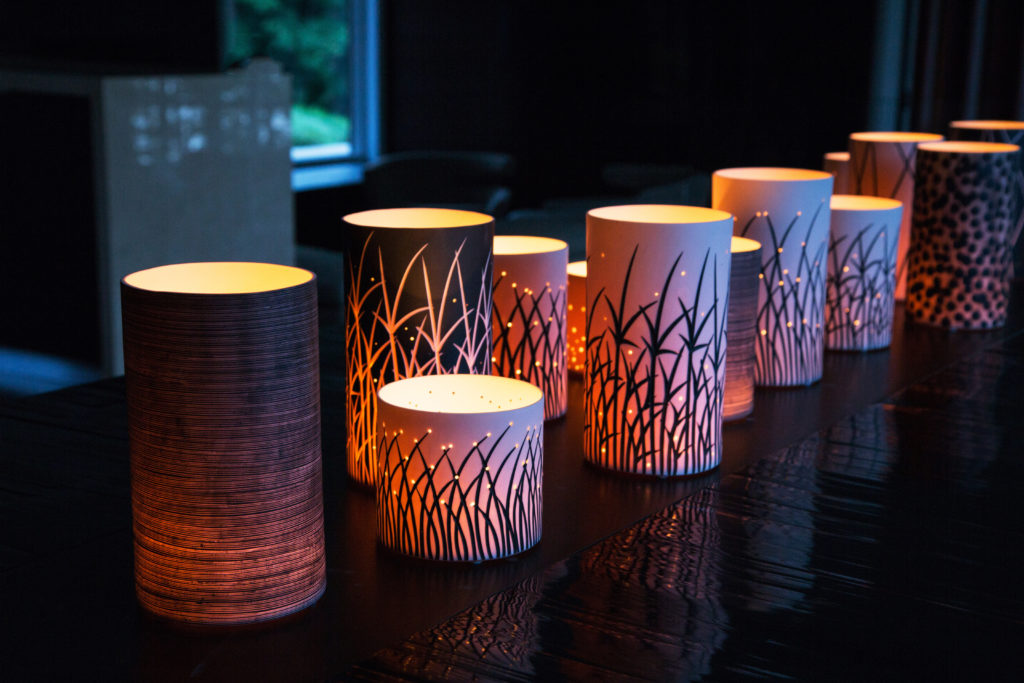 ---
Tue, 12 December 2017
Why Grad School | Naomi Clement | Episode 378
Naomi Clement is an artist and educator who explores ideas of home and belonging through the powerful lens of functional ceramics. She received her MFA from Louisiana State University in 2017, and her B.F.A from the Nova Scotia College of Art & Design University in 2003. Naomi has exhibited her work throughout the U.S. and Canada, and was recently named a 2017 Emerging Artist by Ceramics Monthly magazine.
---
Thu, 7 December 2017
Courage to be a Creator and to Sell | Olivia Walker | Episode 377
Olivia Walker originally studied English Literature and History in Edinburgh, but after graduating she took a summer job in a craft gallery and fell in love with the ceramics she was selling. This led Olivia on a ten year journey in which she went to Japan and lived with a potter, completed an MA in ceramics, and completed a year long part-time apprenticeship with Julian Stair. Olivia is now working as a ceramicist and mainly based in Barcelona, but with another studio in Devon, England, which is waiting for her to return to it.
---
Tue, 5 December 2017
A Unique Style | Larissa Warren | Episode 376
Australian ceramist Larissa Warren has her own unique approach to clay. With a passion for traditional Japanese neriage techniques, Larissa creates some engaging surfaces. Working with translucent porcelain, she utilises plaster moulds and incredibly thin slip casting techniques and combines a variety of coloured clays and rocks, such as trachyte, with elaborate mixed clay pattern blocks.
---
Thu, 30 November 2017
Working to be a Professor | Coleton Lunt | Episode 375
Coleton Lunt makes functional pottery and sculptural vessels. He fires his work in atmospheric kilns, utilizing the spontaneous nature of flame to decorate the surface of his work. He is equally passionate about teaching and loves sharing ideas and inspiration.
---
Tue, 28 November 2017
Finding a Theme | Samantha McInnis | Episode 374
Samantha McInnis is a native Floridian potter who spends her days creating ocean inspired ceramic art. Her primary source of inspiration is Florida's eastern coastline. Her art is characterized by coastal colors, flowing shapes and fine craftsmanship. After passing her portfolio review, Samantha was approved for her Bachelor of Fine Art concentrating in Ceramics from Florida Atlantic University. She graduated in 2011 upon completion of the student installation exhibition, Gamut. Samantha has since been evolving her craft as well as her company The Clay Cache. For the last three years, she has been participating in art shows throughout the east coast. She has shown her work in places such as the West Palm Beach Bridal Expo, Coral Gables Mad Hatter Festival and the Deerfield Beach Festival of the Arts. Some weekends she is set up at a monthly art walk in Fort Lauderdale and others she can be found at larger events such as the Dania Beach Arts & Seafood Festival. When she is not busy with shows she can be found in her Pompano beach studio inside Bailey Contemporary Art Center working on new ideas. Besides pop up shops, Samantha sells her work online through Etsy and Amazon Handmade. The Clay Cache can also be found in a few exclusive Florida boutique stores. Samantha's work is meant to serve as beautiful reminders to respect the natural world around us.
---
Thu, 23 November 2017
The ALL Right Potter | Ross Estep | Episode 373
Ross Estep is 22 years old. Ross was born without his left arm from the elbow down, but that has never stopped Ross from chasing down his dreams. Ross has always been determined to try everything, including pottery! Now Ross is hooked on clay and there's no looking back.
---
Tue, 21 November 2017
The Power of Periscope | Victoria Pamlenyi | Episode 372
Victoria Pamlenyi is a master sculptor, pyromaniac, and glaze alchemist. Victoria brings rehydrated dust of mountains to new life by shaping unique retrofuturistic creatures and fanged pots in her laboratory for inter-silicate research. Victoria is a fearless explorer, centrifugal sculptor, and is always ready to expertly share her supreme knowledge of everything clay with students and colleagues alike.
---
Thu, 16 November 2017
Collaboration to Have a Store Front | Deidra Krois | Episode 371
A mother, wife, artist, and wanderer, Deidra Krois is making and loving life in the San Juan Mountains of southwest Colorado. Mostly a self taught potter, she currently creates in her strawbale home studio at 8800'. Her artistic voice grew out of the mantra: Make Art. Live Simply. Be Happy. Dream Big. She makes functional and decorative ceramics that display hand stamped and decal words, quotes, poetry and images meant to create connections and inspire happiness. Her work is influenced by a love of words and her mountain lifestyle. She launched her ceramics business, Wishing Star Pottery in 2013 with a local farmer's market booth. In 2017 she opened the Mountain Girl Gallery in historic downtown Ridgway, Colorado where she shows her work with 3 other talented women. She strives to inspire the world one pot at a time.
---
Tue, 14 November 2017
An Experimental Ceramicist | Sean Roberts | Episode 370
With a background in chemistry and four years of work experience in science labs, Sean Roberts brings an experimental mindset to his artistic process. Sean's work is constantly changing as he develops new tools in his experimentation in the studio. Sean is deeply fascinated by the underlying randomness in the patterns and structures of nature. Sean's primary current work is the product of 4 years of experimentation with marbling colored slips. Colored liquid clays are mixed and poured to create the vast array of patterns.
---
Thu, 9 November 2017
Sales & Shows | Adam & Sarah Spector | Episode 369
Adam and Sarah Spector met covered in clay while completing BFA degrees in Ceramics at Alfred University. As a couple they have built both a studio and a life together in the Finger Lakes region of New York State. Over the course of their careers, they've learned to share the work load and explore many different making-processes through their love of clay. Adam and Sarah have been full time ceramic artists since 2002 and have participated in 20 juried art shows each year as well as working with galleries to sell their pottery and sculpture.
---
Tue, 7 November 2017
Using Your Story | Melanie Sherman | Episode 368
Melanie Sherman currently resides and works in Kansas City, Missouri. She has a BFA from the Kansas City Art Institute. She completed various residencies, recently at the Archie Bray Foundation and Anderson Ranch. She was awarded the 2014 Regina Brown Undergraduate Fellowship (NCECA) and the 2014 Windgate Fellowship Award.
---
Thu, 2 November 2017
A Few Good Points on Growing a Business | Adam Buick | Episode 367
Adam Buick is a ceramic artist based in West Wales. Following a degree in Archaeology and Anthropology he turned to ceramics training in Ireland and Wales. Since 2006 he has built a nationwide reputation and has exhibited internationally. In 2013 Buick was selected for the Jerwood Makers Open, other recent exhibitions include Beaux Arts Bath, Joanna Bird London and Corvi-Mora London. Buick has been widely published and has work in public and private collections around the world including The British Museum and the National Museum, Cardiff.
---
Tue, 31 October 2017
A Monster Maker | Kevin "Turkey" Merck | Episode 366
Kevin "Turkey" Merck makes functional ceramic ware with a horror twist. Kevin's work is painstakingly handcrafted and custom glazed which makes each mug an individual piece of art. Though some work has a mold as a starting point, Kevin spends hours shaping and forming through hands-on craftsmanship. Kevin also incorporates fantasy and sci-fi elements into his work when the mood strikes him.
---
Thu, 26 October 2017
Benefits of a Cooperative | Mollie Bosworth | Episode 365
Mollie Bosworth has a ceramics career of more than thirty years, living in far north Queensland, Australia. Living in places limited access to ceramics courses, she has been mostly a self taught potter. She has explored many techniques with her current work utilizing porcelain, usually wheel thrown and featuring soluble metallic salts, decals or crater surfaces.
---
Tue, 24 October 2017
Bringing Nature to Clay | Cathy Franzi | Episode 364
Cathy Franzi is an Australian artist making ceramic work inspired by plants, science, and the environment. She holds a BSC from the University of Sydney and an MVA and a PhD in Ceramics from the Australian National University. When she is not in her studio she may be found botanising in the field, studying natural history collections or admiring botanical ceramics in museums.
---
Thu, 19 October 2017
Discussing Social Media | Ruth Greenberg, Sharon Greenwood, Rabun Thompson | Episode 363
This is a special episode that was recorded live at Georgies' open house. I sat down with ceramic artists Ruth Greenberg, Rabun Thompson, and Sharon Greenwood. We talked very extensively about the role of social media for today's growth of a potter's business.
---
Tue, 17 October 2017
The Story of Growlerfest | Brad Klem | Episode 362
Bradley Klem has lived much of his life in Arizona and was first introduced to clay while studying painting at Arizona State University. Since completing his undergraduate degree in 2014 with a focus on ceramics Brad has been regularly exhibiting his work in national and international exhibitions as well as hosting workshops and presentations across the U.S. In 2015 he partnered with Alexandra Jelleberg to co-found, coordinate and direct "GrowlerFest 2015 East and West." As a founding director of GrowlerFest it is his aim to emphasize the link between the craft brewery movement and the vitality of handmade pottery. Currently he is an MFA candidate at Penn State University.
---
Thu, 12 October 2017
How to Test an Idea | Kristen McDermaid | Episode 361
Kristen McDermaid is an artist working in Salt Lake City and Park City Utah. She received her MFA in 2015 from the University of Utah. She studied Ceramics at Konkuk University in Seoul, South Korea in 2005. Kristen is passionate about making functional, sculptural, and conceptual ceramic works.
---
Tue, 10 October 2017
Growing The pottery Business Through Fairs | Annie Quigley | Episode 360
Annie Quigley of Quigley Ceramics is an actor turned ceramic artist. When the "industry" took its toll she found a new home in clay. Her signature style is highly detailed pierced forms. Inspired by shadow play, she slices designs into her clay reminiscent of forests, lace, mandalas, leaves, even a sea turtle.
---
Thu, 5 October 2017
Examining Creativity | Colby Charpentier | Episode 359
Colby Charpentier is an Artist in Residence at The Morean Center for Clay in St. Petersburg, Florida. He received a BFA in Ceramics and Glass from Alfred University in 2013 and worked as a studio assistant to Chris Gustin and Daniel Clayman between 2013 and 2016. He most recently completed a 6-month residency at Sonoma Ceramics in Sonoma, California.
---
Tue, 3 October 2017
Learning to be an Entrepreneur | Liz Pechacek | Episode 358
Elizabeth Pechacek was raised in Indianapolis, Indiana, by her artist mother and chemist father. She grew up making all manner of things and found her way to clay in college. She earned a BFA in ceramics and a BA in art history from Indiana University in 2012. She now operates her ceramic studio in Minneapolis and teaches at Powderhorn Park and The Northern Clay Center. Her work is all either handbuilt or slip cast from handbuilt prototypes. Layered with slip, stains, and glaze, the work achieves a rich and complex surface that above all communicates a sense of touch. Pechacek draws from a diverse range of historical sources, such as Mimbres and Neolithic Chinese pottery. She bridges these influences with Danish Modern Ceramics and the work of such pioneers as Lucie Rie and Ruth Duckworth.
---
Thu, 28 September 2017
A Maker In The Community | Lauren Karle | Episode 357
Lauren Karle is a potter and social artist inspired by people – their food, traditions, and place. Lauren's goal is to have her work serve a purpose beyond its utilitarian function by designing it for who and how it will be used. Lauren's aesthetic is inspired by the two and a half years she lived in Guatemala and her work evolves with both the people she meets and the places she goes. Lauren currently lives in rural New Mexico making, writing, teaching, collaborating, and always learning.
---
Tue, 26 September 2017
"The Plate's Not Done Until The Food Is On It" | Malcolm Greenwood | Episode 356
Malcolm Greenwood's focus on production has allowed Malcolm to develop a level of skill and discipline which continually brings more simplicity and freedom to both his exhibition and production work. Additionally, there is a constant exchange, to and fro, between these contrasting areas of Malcolm's work. Great satisfaction is gained for Malcolm from making pieces which are used everyday by thousands of people. Chefs around the Australia are creating mini sculptures of which Malcolm's tableware is an integral part... visual feasts for their customers.
---
Thu, 21 September 2017
Learning the Game Rules of Business | Jonathan Martin | Episode 355
What began as a small garage operation is now an established pottery studio, employing over 20 Waco locals, many of whom are studying artists. Jonathan Martin began throwing pottery in high school, studied Studio Art at Baylor University and after several years of teaching and working for a short time for a start-up in Silicon Valley, decided to pursue pottery full-time.
Originally, Jonathan was looking for a shape he could put his hands to, perfect, and then create something both beautiful and functional. Thus, the signature Black Oak coffee mug was born. Shortly after creating his first round of mugs, Jonathan was approached by a local coffee shop owner, who asked if he could create a custom logo design to sell in their shop.
As demand for the those mugs increased with multiple other customers, his line has expanded to all types of functional pieces. And although the volume of pieces being produced each week has increased dramatically, something that makes the studio unique is that each piece is still handmade. Rather than a production assembly line, Jonathan has gathered together a community of artists looking to perfect their design and craft and work at an inspiring local business with other like-minded individuals. They work together to create quality handmade goods.
---
Tue, 19 September 2017
He Makes Kinetic Sculpture | Austin Wieland | Episode 354
Austin Wieland is a ceramic sculptor living in Georgia. He was born and raised in Bryan, Ohio and began working with clay in High School. He received his BFA from Miami University of Ohio in 2011 with a studio concentration in Ceramics and Minor in Arts Management. In 2015, he graduated from Edinboro University of Pennsylvania with a MFA in Ceramics. Currently, Wieland is the Assistant Professor of Ceramics and Sculpture at LaGrange College in LaGrange, Georgia.
---
Thu, 14 September 2017
Medicinal Chemist Becomes a Potter | Pierre Bounaud | Episode 353
Pierre Bounaud is a French ceramic artist who made his home in San Diego, California. Pierre's ceramic work reflects his training as a chemist, fearlessly pushing the limits of glaze-dom and experimenting with a variety of techniques to create unique contrasting surface decorations. His current work includes colorful saggar-fired vessels, crystalline glaze wall plates, and his White Crackle series of functional and decorative wares.
---
Tue, 12 September 2017
A Chinese Artist in America | Shiyuan Xu | Episode 352
Born and raised in Hangzhou, China, Shiyuan Xu received her BA from China Academy of Art in 2012, and MFA from Arizona State University in 2016. Completed a summer residency at Archie Bray Foundation last year, currently Shiyuan is the resident at Houston Center for Contemporary Craft in Houston. Shiyuan is the recipient of 2017 Ceramics Monthly Emerging Artist.
---
Thu, 7 September 2017
Why Carve the Clay | Kyle Guymon | Episode 351
Kyle Guymon is a potter from Bountiful Utah, and he carves and alters every form to make either by relief or line carvings or distorting the form from the inside out. Imagery comes from elephants, birds, bison and from nature that use the Fibonacci sequence (succulent plants and nautili's shells)
---
Tue, 5 September 2017
"Something like this doesn't happen by magic!" | Josephine Heilpern | Episode 350
Josephine Heilpern is the founder of Recreation Center- a ceramic studio in Brooklyn, New York. Josephine loves to experiment in her studio in order to come up with original designs. Josephine's work has caught the attention of numerous like The World of Interiors, bon appetit, Sight Unseen, and many more. In a feture article in Frame Work magazine, Josephine said, "I wanted to make things that were functional, could be used everyday, and were affordable - to me, that's really important."
---
Thu, 31 August 2017
An Eye for Building Relationships | Trevor Youngberg | Episode 349
Trevor Youngberg is a wood-fire potter from Woodbridge, CT. Trevor teaches High School Ceramics and has woven his passion for clay and teaching into the fabric of his life as a family man, potter, and community member. By employing ceramics as a vehicle for creating uplifting and meaningful shared group experiences, Trevor managed to continue developing as a potter while including students, friends, neighbors, and fellow potters in the varied activities that encircle the making of wood-fired wares.
---
Tue, 29 August 2017
Potter, Pilot, Musician, Farmer... | Martin Swart | Episode 348
Martin Swart's studio is situated on Martin's family farm near Arniston in the beautiful Overberg, Western Cape, South Africa. Martin lives and works from the family farm and produces a large range of porcelain, stoneware, and earthenware handmade pottery which has been thrown on the potter's wheel, both for in- and outside use.
---
Thu, 24 August 2017
Production Potter Stars His Own Production | Kevin Leiva | Episode 347
Kevin Leiva was born in Buenos Aires, Argentina. Kevin moved to the United States when he was 10 years old. After high school Kevin found pottery and for most of his pottery career Kevin worked at a high production pottery. Now Kevin has his own pottery studio and runs a wholesale pottery business and a painting and pressure washing business. Kevin spent a lot of time at Arrowmont volunteering and taking classes and has done a work study program.
---
Tue, 22 August 2017
A Conversation on Instagram Strategies | Gina Zycher | Episode 346
Gina Zycher is a studio potter in Los Angeles, California. She has always enjoyed creative pursuits but never felt such a strong pull to create as she did when she started working with clay in 2014. She strives to make pieces that are simple and modern with a bit of character. When not at the studio, Gina likes to cook, dote on her cat, and explore LA.
---
Thu, 17 August 2017
Bringing Color to Life | Dean McRaine | Episode 345
Dean McRaine has been a professional potter for 30 years, on Kauai since 1991. Dean is mostly self taught and consequently he has explored some unconventional pathways in his work: raw glazing, cone 10 oxidation firing, WVO (vegetable oil) firing, and Dean's favorite technique, colored clay millefiori.
---
Tue, 15 August 2017
Finding His Way Back to Clay | Gus Villalobos | Episode 344
Gus Villalobos is a potter making his work and way in Miami, Florida. If you follow Gus on Instagram, then you may know him as Gus the Pothead. Gus is in a constant pursuit of the perfect form.
---
Thu, 10 August 2017
Exposure that Creates an Explosion | Dana Bechert | Episode 343
Dana Bechert is a full time ceramic artist living in Lancaster County, Pennsylvania. Dana was raised on the Connecticut shoreline by two artisan parents. Growing up Dana was introduced to various trades and skill sets, including pottery. Dana attended the Maryland Institute College of Art (MICA) in Baltimore Maryland. Upon graduating with a degree in Interdisciplinary Sculpture in 2012, Dana started her eponymous ceramics studio and has been working as a full time potter ever since. In addition to pottery, Dana spends lots of time working in her large vegetable garden and putting her pots to use in a variety of cooking disciplines.
---
Tue, 8 August 2017
Chasing the Dream | Parker Hunt | Episode 342
Gadsden, Alabama is Parker Hunt's home town. At age 11 Parker and his family moved to Havelock, North Carolina when his step-dad received orders to Cherry Point. At the time that was a pretty drastic change for Parker. Until Parker's mom remarried, his grandfather had the most impact in Parker's life. So leaving behind the Sunday evenings fishing off the peer and then to "The Chief" for banana splits with his grandfather was hard.
---
Thu, 3 August 2017
Being In Between | Nick Kesler | Episode 341
Nick Kesler is a 32 year old man who has a beautiful wife, Laura and 10 year old son, Rhett. Nick loves to build things like decks and houses, but most of all Nick likes to throw pots in his patio studio in Lakewood, WA.
---
Tue, 1 August 2017
A Journey of Discovery | Michael Rice | Episode 340
Michael Rice is an Irish Artist who specializes in Ceramics. He is particularly interested in firing procedures such as Raku, Smoke and Saggar firing; his work is also is concerned with geometry, gestalt principals and archetypal forms.
---
Thu, 27 July 2017
Firefighter Turns Potter | Frank Nemick | Episode 339
Frank Nemick's work flows from his subconscious. Frank explores his psyche's despair and hope. Frank tries to explore humanity's despair and hope. By using abstraction and irony to convey these basic human feelings, Frank tries to show our fragility and our strength. And our folly.

Frank is influenced by his past career as a firefighter. Seeing suffering and loss daily, despair is often a foregone conclusion. Observing people cope, leads to hopefulness. A background in philosophy helps to inform Frank's work with hope in the face of despair, and of the angst of being human.

Frank tries to offset despair with hope, and beauty. To bring some respite to the human condition.

It is Frank's way of coping.
---
Tue, 25 July 2017
Pivoting to Clay | Courtney Murphy | Episode 338
Courtney has been a studio potter in Missoula, MT for the past four years. She first moved to Montana in 2009 as a resident artist at the Archie Bray Foundation. Afterwards she moved to Missoula as a resident at The Clay Studio of Missoula and decided to stay. Courtney studied Ceramics at the Oregon College of Art and Craft. Her designs are influenced by simplified abstractions of nature, folk art, mid-century modern forms and shapes, as well as patterns and textiles. She is compelled by the variation found in handmade objects and likes the personal connection that they help to create as they leave her studio to become part of somebody's daily routine.
---
Thu, 20 July 2017
Old Dog Learning New Tricks | Brad Miller | Episode 337
Brad Miller is an artist currently working out of his studio in Venice, CA. Brad received his MFA from the University of Oregon in 1977. From 1980 thru 1992 Brad worked at the Anderson Ranch Arts Center in Snowmass Village, Colorado. He served as Executive Director at the Ranch from 1984 thru 1992. Since 1992 Brad has focused on his studio practice. Brad's work is in numerous museums collections including the Los Angeles County Museum of Art, The Denver Art Museum, The Brooklyn Museum and The Renwick Gallery.
---
Tue, 18 July 2017
"Follow That Lead" | Betsy Williams | Episode 336
Betsy Williams is a studio potter living at 7500 feet above sea level in northern New Mexico. Her work highlights user friendly shapes and quiet yet compelling decoration.
---
Thu, 13 July 2017
"Live With Your Work" | Marina Temkin | Episode 335
Marina Temkin is a potter in Washington, D.C. She got into making pottery on a whim, when she took a class at a local community studio and fell in love with clay—but quickly learned that making good pots requires a lot of hard work and vigor, hence her business name: Whim and Vigor. Marina loves to play with color, texture, and pattern, and she gets her inspiration from nature, museums, books, and conversations with creative friends. Her focus is on functional pieces because she wants her work to be loved and used often—folks who own her pieces tell her that they keep washing them to use over and over, even when there are plenty of other clean mugs or bowls in the cabinet! Marina wants her work to produce the kind of happiness that one feels when they get a hug from someone who cares about them—being enveloped in kindness, warmth, and love.
---
Tue, 11 July 2017
Saying "I Belong" as an Artist | Lisa McGrath | Episode 334
Lisa McGrath's sculptures are the expression of the animals with whom she shares her backyard. McGrath plucks those beings and transports them into her whimsical, wonder-filled narratives..... so to with her functional work. It is just as full of wonder and evokes a story... this mug reminds you perhaps, of the night circus – or something.... Lisa McGrath completed her BFA in Ceramics from Alberta College of Art and Design in 1997. She lives and maintains her studio on the cusp of Kananaskis country with her partner and child and four furry fa
---
Thu, 6 July 2017
Frank is a Man I Need to Thank | Frank James Fisher | Episode 333
Frank James Fisher is an American ceramic artist. Fisher lives and maintains a studio in Milford, Michigan, USA. Frank's ceramic work is influenced by the graphic design principles developed during his extensive advertising career. Frank has worked in the Detroit advertising industry since entering the commercial art field in 1985. This brought a diverse blend of creative influences into his output and resulted in a unique blend of words and images on his artwork. Adept as a professional designer, writer and illustrator, Frank is known and recognized for his graphic design narratives in the ceramic medium. Frank's explorations of western raku exaggerate the graphic qualities of his work. Innovative clay construction methods push the limits of complex, ultra-thin porcelain sculptures fired in a raku environment. Fisher has evolved a variety of glaze application techniques, giving his ceramic surfaces a look of controlled chaos. Frank has authored articles about his methods and philosophy in Ceramic Art and Perception, Ceramics Technical, Ceramic Monthly, Pottery Making Illustrated, Clay Times and Ceramics Ireland. His work is featured in books, magazines, exhibitions and on household shelves around the world.
---
Tue, 4 July 2017
A Lovely Story of Life with Clay | Pippin Drysdale | Episode 332
An acclaimed International Artist and Master of Australian Craft, Pippin Drysdale's career as a ceramic artist spans 30 years. Her passion for the craft merges with a love of the landscape, which has travelled across continents and in most recent years has focussed on the vivid dessert landscapes of Australia. Working from her studio in Fremantle, Pippin Drysdale continues to interrogate her practice from the perspective of an artist without borders. Through a continuing investigation of the flora and landforms of these unique areas of Australia and a commitment to engaging with the cultural, social and political agendas that are shaping them, she is open to embrace each new creative challenge
---
Thu, 29 June 2017
Beating Up The Idea that "Artists Can't Make Money!" | Anna-Marie Wallace | Episode 331
Anna-Marie is the half-Italian, British-born Australian artist behind Made OF Australia. She has a Product Design background, & lived & worked in Italy & Sweden for 6 years, travelling extensively throughout Europe, fine tuning her creative talents & immersing herself in the international art world before returning to Australia in 2011 & starting her professional practice.
---
Tue, 27 June 2017
Social Media as a Tool in the Hands of This Irish Artist | Darren Francis Cassidy | Episode 330
Inspired by nature, Darren Francis Cassidy spend happy hours lost channeling his passion into each piece in the hope that when living with his work in your home, holding a piece in your hands, or just gazing upon them you will also be inspired to go out into nature and revel in its calming beauty.
---
Thu, 22 June 2017
Crystalline Potter & He's 17! | Jackson Fyfe | Episode 329
Jackson Fyfe is a 17-year-old potter from Newton, Massachusetts. Jackson is a full-time high school student and spends most of his free time in the pottery studio. Jackson mainly focuses on decorative crystalline pottery but will occasionally branch out and experiment with different glazing techniques and functional forms as well.
---
Tue, 20 June 2017
Finding a Voice with Limitations | Caitlin Andrews | Episode 328
Caitlin Andrews is a part-time, self-taught potter residing in Toronto, Canada. By day, she works for the Government of Ontario as a regional grant advisor serving towns and not-for-profit organizations in the Greater Toronto Area. Her pottery has evolved over the past 6 years as she continues to improve her throwing and glaze developme
---
Thu, 15 June 2017
Getting The MFA Paid For | Erin Ryan | Episode 327
Erin Ryan was born and raised in southern California. She has been working in clay for 10 years and received her BFA in Ceramics and BSED in Art Education from Northern Arizona University in 2015. Her work has been exhibited in numerous galleries and is also sold online. Erin is excited and inspired to be making work, as she grows her career in the ceramic arts. Currently, Erin is an MFA candidate at Indiana University.
---
Tue, 13 June 2017
Mom & Maker | Maya Rumsey | Episode 326
Maya Rumsey is a ceramic artist based in Denver, CO. In art school Maya majored in glass but found herself pulled into the clay world. After graduating Maya did some wandering around and finally came back to making ceramics and opened her Etsy shop, Melissa Maya Pottery, in 2013 to sell her pot
---
Thu, 8 June 2017
Instagram Insights From a Potter's Perspective | Chris Casey | Episode 325
Chris Casey is an artist from Albuquerque, New Mexico. He earned a BFA from the University of New Mexico with a concentration in ceramics. Since graduating, he has worked out of his home studio and held various ceramics related jobs such as studio assistant, glaze production manager, and is currently the studio manager at a community college. His work, abstract and colorful, is rooted in his love of drawing. Employing colored underglazes and slips on porcelaneous clay bodies, he carves intricate designs into the surfaces of his pots.
---
Tue, 6 June 2017
Printing With Clay | Mitch Lyons | Episode 324
Mitch Lyons earned his masters degree in ceramics after completing his undergraduate degree in graphics. Since 1980 he has been a full-time artist, creating clay monoprints and ceramic vessels. His work can be found in the Brooklyn Museum of Art and Delaware Art Museum, as well as many private collections.
---
Thu, 1 June 2017
Honoring a Fallen Brother | William Moon | Episode 323
William Moon is a studio potter working in Potter County, Pennsylvania. He was introduced to ceramics in high school and fell in love with the wheel. After military service, he pursued his dream and started Imagine Peace Pottery in 2015, producing ware which combines beauty and function. Mainly self-taught, he looks for mentorship by his friend, Richard Lang, a longtime, functional potter. His goal is to eventually produce woodfired pottery, at the end of his dirt road in the country. When he is not busy being a "stay at home dad" for his children, he can be found in his studio, listening to music and turning pots.
---
Tue, 30 May 2017
Planning Events for Potters | Catie Miller | Episode 322
After graduating from Minnesota State University Moorhead with a BFA in ceramics and a BS in art education, Miller was chosen for a two-year artist residency at Red Star Studios in Kansas City, Missouri, where she refined her ceramic practice. Her artwork has been exhibited nationally and internationally, and included in publications such as Ceramics Monthly. Since her return to North Dakota, she continues to embrace many opportunities to work within the art community teaching and coordinating classes for artists of all ages. She currently works as a studio potter from her home studio in Fargo, North Dakota.
---
Thu, 25 May 2017
Launched and Looking | Liana Agnew | Episode 321
Liana Agnew was born and raised in Pittsburgh, PA. She received her BFA in Ceramics and a BSE in Art Education from Edinboro University of Pennsylvania in 2015. She has exhibited nationally in galleries such as Red Star Studios, The Clay Studio of Philadelphia, Workhouse Gallery, Charlie Cummings Gallery, the Erie Art Museum, the Milwaukee Institute of Art, the Morean Center for Clay, Hudgens Art Center, and more. In summer of 2015, Agnew received a scholarship to attend a residency at Watershed Center for the Ceramic Arts. During the 2015-2016 year she completed a residency at Brockway Center for Arts and Technology. Liana is currently a full time resident artist at Morean Center for Clay in Saint Petersburg, FL for the 2016-2017 year.
---
Tue, 23 May 2017
The Student Became The Teacher | Molly Sanyour | Episode 320
Molly Sanyour picked up wheel throwing in her junior year in college and Molly hasn't stopped since. Molly's current job, teaching high school ceramics, allows her the opportunity to constantly explore new ways of creating with clay and she just loves it! It was until this job, and teaching beginners, that Molly really began to thrive as an artist.
---
Thu, 18 May 2017
From a Garage to a Barn... A Potter's Story | Ulrika Weijmer | Episode 319
Ulrika Weijmer is a potter situated in Varberg, in the west coast of Sweden. Her first contact with clay was in 1982. Since then she never stopped learning and exploring the possibilities of clay. At first she worked as a journalist but for the last 10 years she is a full time potter. She has a large studio in an old bulls stable in the country side. Ulrika works mostly with stoneware and porcelain but also raku and sawdust firings.
---
Tue, 16 May 2017
Having a Message | Isaac Scott | Episode 318
Isaac Scott is an Artist working and living in Seattle, WA. Isaac has been working with clay for over 9 years and his work is thrown on the potter's wheel and decorated with silkscreen images of himself and people/places that inspires him. The goal of Isaac's work is to inspire and uplift.
---
Thu, 11 May 2017
Branding for the Small Business | Lainey Fink Scott | Episode 317
Lainey Fink Scott is a ceramicist and designer based on Martha's Vineyard, Massachussetts. She graduated from the Rhode Island School of Design with a BFA in Graphic Design. There she enrolled in a ceramics class and fell in love with clay. After working with design firms in NYC and Boston, she teamed up with her husband/design partner, Ben Scott to form Bluerock Design. After moving to Martha's Vineyard Lainey's life shifted—she got back on the wheel and transformed her basement into a pottery workspace. While running Bluerock, her ceramics business has grown. This has allowed Lainey to hone her focus—creating structurally functional pieces that can be utilized every day. You can find Lainey most days arms deep in clay—throw, trim, glaze, repeat.
---