Tue, 15 January 2019
Mentorship | Ciro Di Ruocco | Episode 490
Ciro Di Ruocco is an emerging visual artist/curator, splitting his time between studios in Nanaimo, BC, Canada and his hometown of Duxbury, Vermont. Ciro's work in ceramics is complimented by an affinity for printmaking and surface/ texture design. Ciro combines a utilitarian sensibility with a contemporary street art aesthetic, fusing his own imagery to create works that are inspired by our daily lives. Ciro is currently an MFA candidate at the Vermont College of Fine Arts.
---
Thu, 10 January 2019
A Ton of Self-Doubt and Still Doing It | Kirk Jackson | Episode 489
Kirk Jackson is originally from Lewis Center, Ohio. Kirk discovered clay, as an expressive material, while studying at The Ohio State University. While pursuing a BFA there. Kirk had the opportunity to spend a semester in Jingdezhen, China and also did a summer residency at Watershed Center for Ceramic Arts. After completing his BFA, Kirk worked as Studio Manager at Watershed, participated in the Working Artist Program at Longwood University, was a Resident Artist as well as instructor at Seward Park Clay Studio. Kirk then became a Long-Term Resident for two years at Red Lodge Clay Center and two years at the Clay Studio of Missoula. Kirk currently lives and works out of his own studio in Missoula, Montana.
---
Tue, 8 January 2019
Being Where You Can Be Found | Masa Sasaki | Episode 488
Masayuki "Masa" Sasaki, is a classically trained artist, with multi-facetted interests. Masa is an accomplished pianist, award-winning painter, and uniquely stylistic potter. Since moving from his native Japan in the late 1980's, Masa has impressed teachers, patrons, and his fellow artists with his unique sense of precision and artistic vision.
"We live in the world where we are surrounded by machine-made and mass-produced goods today. I feel, as a contemporary craftsman, the need to validate the value of handmade items by making things that could not be easily duplicated and unique to my own artistic perspective. For me it is not enough that a final piece be essentially functional and pleasant, it must also be lasting in its desirability for use. Long after I have ceased to be productive the pieces that I accomplish today should still be enjoyed, appreciated, and used. This is the elusive quality that brings value to functional art, the lasting character that transcends the artist and outlives him. Whether in my paintings, musical composition, sculpture or pottery I desire most of all that the usefulness and aesthetic appeal be both easily perceived, and lasting."
---
Thu, 3 January 2019
The Professor Talks About the Process | Curtis Houston | Episode 487
Curtis Houston, a lifelong native of the South who currently resides in Lower Alabama. Curtis is the Three-Dimensional Art Professor at Mississippi Gulf Coast Community College. Southern influences have shaped Curtis' perception of the world and tinged his work with a sense of wry quirky wit. Within these cultural and regional idiosyncrasies, Curtis' sense of kitsch-like designs find their visual narrative and artistic voice.
---
Tue, 1 January 2019
Dreaming to Doing in 3 1/2 Years! | Tasja Pulawska | Episode 486
Tasja Pulawska was born in Warsaw in 1983 and lived in different parts of Europe before finally finding her home in Copenhagen. Tasja studied graphic design in Warsaw and Media art at the Bauhaus university in Germany. Tasja worked as a Graphic designer for about 5 years, and about 10 years ago she tarted playing with clay. Tasja decided to make pottery her full-time occupation in 2014. Tasja was a workshop assistant in a shared working space/studio in Oslo, and after moving to Denmark in 2014 she became Eric Landon's apprentice and later assistant at Tortus Copenhagen (for two and half years). Tasja opened her own workshop in December 2016.
---
Thu, 27 December 2018
"I Believe in the Cold Call" | Patrick Kingshill | Episode 485
Patrick Kingshill was born in Eureka California. Patrick received his BFA from San Jose State University and MFA from the University of Nebraska, Lincoln. In 2014 Patrick studied glass and ceramics at the University of Sunderland, England and has recently worked as an apprentice for Takeshi Yasuda in Jingdezhen, China. Patrick now lives in Santa Fe, New Mexico.
---
Tue, 25 December 2018
Going Smaller to Make More | Christine Tenenholtz | Episode 484
Christine Tenenholtz has been making her way in clay for nearly 25 years. After apprenticing with a few established potteries Christine discovered a love of product design and production. Christine struck out on her own with a signature line of mid range, colorful, functional work, selling primarily in the Southwest, and in her thriving Etsy shop.
---
Thu, 20 December 2018
A Pottery Story from Trinidad | Bunty O'Connor | Episode 483
Bunty O'Connor learned pottery at evening classes in 1970. Interested in using local clay, Bunty collected and tested different clays of Trinidad. In 1987, Bunty and husband Rory, started Ajoupa Pottery making terra-cotta figurines and exporting in the Caribbean. Globalization eventually caused the closure of the business. Bunty now teaches mosaic and Raku workshops and works on making whatever she wants!
---
Thu, 13 December 2018
"I Don't Believe in Talent" | Jami Porter Lara | Episode 481
Jami Porter Lara began working in ceramics after a 2011 trip to Mata Ortiz, Mexico, where she learned to forage and prepare clay, build coiled vessels, burnish, and pit-fire in reduction. Jami's conceptual ceramics project, which contemplates the plastic bottle as a contemporary artifact, has been widely exhibited, including a 2017 solo show at the National Museum of Women in the Arts in Washington, D.C. Jami lives in Albuquerque, NM.
---
Tue, 11 December 2018
A Slip Caster in Ireland | Rebecca Killen | Episode 480
Rebecca Killen, a graduate of Belfast School of Art, is a ceramic designer-maker living and working in County Down, N. Ireland. With a love of curating collections of complementary objects, Rebecca aims to create ceramic products that can evoke memories, a sense of nostalgia or serve as decorative pieces in the home to be used and treasured for years to come. Our bottles, dishes and vessels are made in small batches using the slip casting technique.
---
Thu, 6 December 2018
Using the Seasons as a Making Guide | Sarah Beth Elkins | Episode 479
Sara Beth Elkins is a small batch potter working out of her home studio in Lubbock, Texas. Sarah Beth find joy in replicating patterns, textures, and color from daily life and filtering them in and out of her work to create a sense of comfort or nostalgia. Sarah Beth allows her work to transition in color/theme with the seasons to keep things fresh! Sarah finds the composition and marks in her work to be very organic, yet also structured. Each piece dictates it's own path in Sarah Beth's studio, allowing patterns and textures to naturally flow onto the surface. The majority of Sarah Beth work focuses on functionality. Not only does Sarah Beth's want you to enjoy the presence of the pot itself, but also physically incorporate it into your daily routine. Connecting from Sarah Beth's hands to yours.
---
Tue, 4 December 2018
Marketing Tips | Cathy Terepocki | Episode 478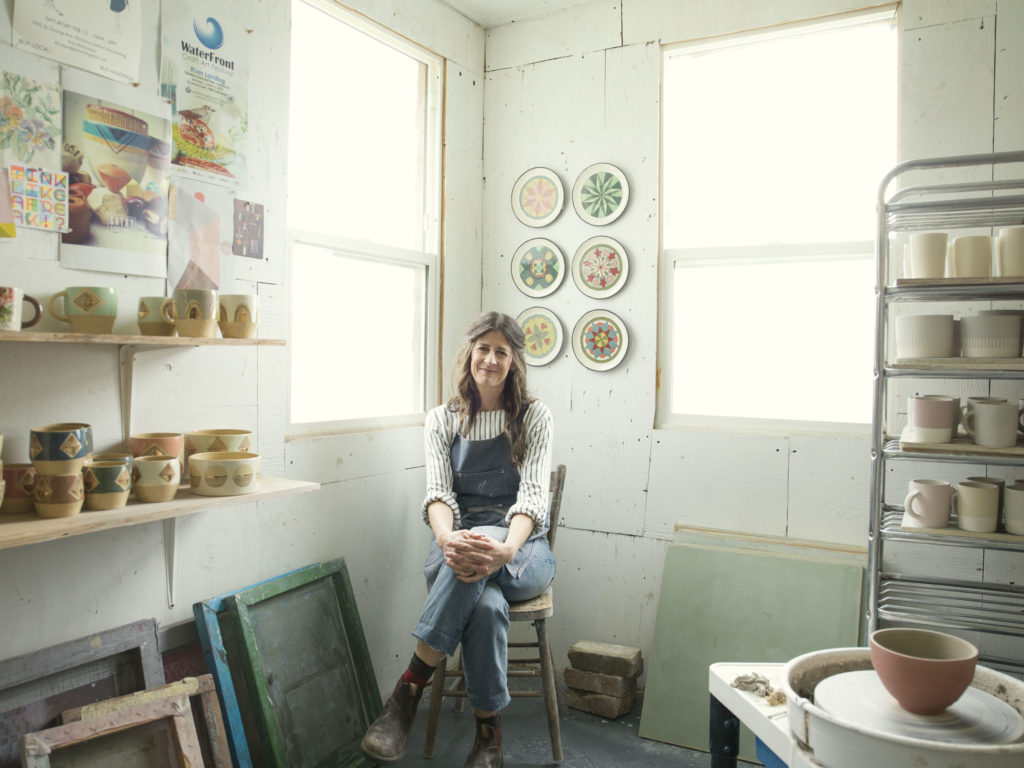 Cathy Terepocki has been working full-time as a ceramic artist for fourteen years. Cathy's functional work and jeweler is sold in shops and galleries in North America and she has also developed a portfolio of one-of-kind pieces and conceptual projects. In the Spring of this year (2018) several of her designs were launched at Anthropologie stores Internationally. Cathy lives in Yarrow, BC with her husband and 3 children.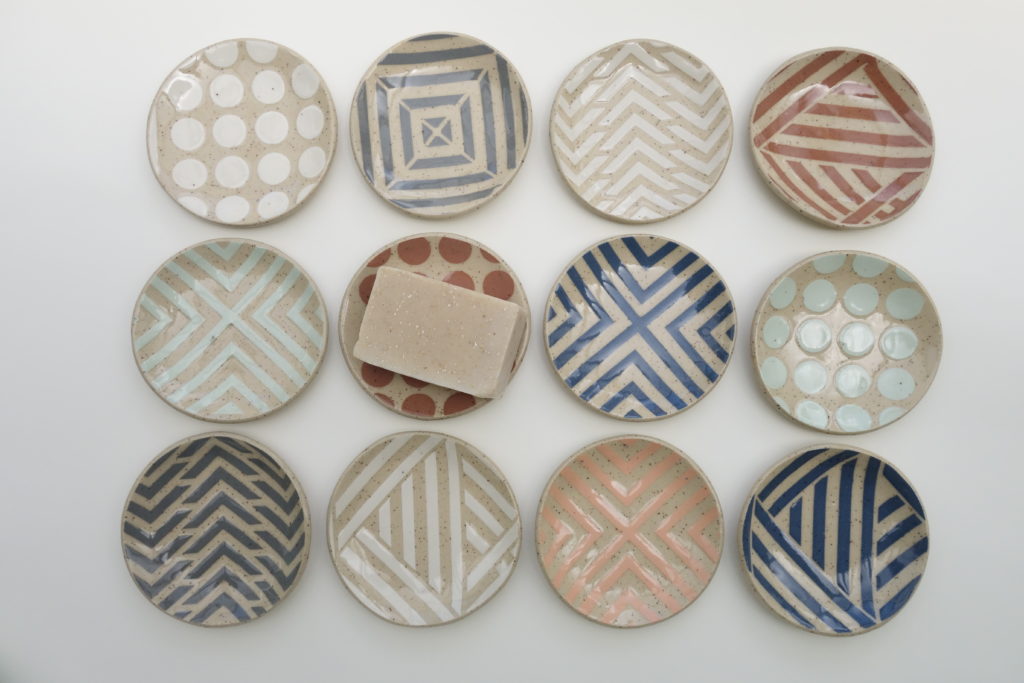 ---
Thu, 29 November 2018
"Slow Magic" | Matt Davis | Episode 477
Matt Davis' work marks society in the information age and is concerned with a post-contemporary aesthetic in the form of hyperreal vessels. The artifacts aim to challenge perceptions of the digital medium and further the dialogue of handmade versus machine in the creation of craft.
---
Tue, 27 November 2018
Finding a Job to be Free to Make as He Pleases | Travis Winters | Episode 476
Travis Winters is a ceramic artist and Programs Manager at Touchstone Center for Crafts. Working primarily with animals and figures, Travis creates figures based on mundane day-to-day life, past struggles, and real people. An MFA graduate from Edinboro University of Pennsylvania, Travis exhibits work nationally and has shown at Baltimore Clayworks in Baltimore, MD, The Clay Studio in Philadelphia, PA, The Workhouse Arts Center in Lorton, VA, The Baton Rouge Gallery in Baton Rouge, LA, and the AMOCA Museum in Pomona, CA. Travis was the Lormina Salter Fellowship Artist at Baltimore Clayworks, long term Resident at Odyssey Clayworks in Asheville, NC, a Kiln God Summer Resident at Watershed Center for the Ceramic Arts in New Castle ME and a Short-Term Resident Artist at Red Lodge Clay Center in Red Lodge, MT.
---
Thu, 22 November 2018
Making Marbled Clay | Zach Orenstein | Episode 475
Zach Orenstein has a communications major with a focus in Graphic Design. Zach is a Graphic Designer full time and potter by hobby. Zach has taught marbling workshops, was a TA at Haystack MtSchool, and a member of the MCA. Zach loves to cook and bake in during his freetime and when time permits, to travel the world.
---
Tue, 20 November 2018
Avoiding the "Normal Job" | Josh Edgar | Episode 474
Josh Edgar served in the U.S. Army for five years before beginning his journey into college in 2013, receiving his BFA in Ceramics from the MUW in 2017. Josh is primarily a wood fire potter, currently residing in Austin, TX. Josh tries to harness natural forces and aesthetics in his work, utilizing texture as a main component of his pieces.
---
Thu, 15 November 2018
Stretching Beyond Your Skill | Elana Noy | Episode 473
Alana Noy is a Brooklyn, New York potter where she runs Malka Dina, a studio that produces an evolving collection of home wares, jewelry, and art.
---
Tue, 13 November 2018
A Military Man Making Clay | Delvin Goode | Episode 472
Delvin Goode has been doing pottery off and on for over 20 years. Delvin is currently pursuing a Master of Ceramics from Fort Hays State University, though he work in all types medium. Delvin is loving the process more and more each day.
---
Thu, 8 November 2018
Building The Life You Want | Carly Gibran Hamid | Episode 471
Carly Gibran Hamid graduated from Stetson University in 2003. She taught art in public schools for seven years, owned a small gallery, and has worked with several local art organizations. In 2015, she left teaching to become a full time studio artist. Carly works with porcelain, making functional and sculptural ceramics that are inspired by the natural world. She lives in DeLand, Florida with her husband and their two sons.
---
Tue, 6 November 2018
Knowing When to Quit the Day Job | Kara Leigh Ford | Episode 470
Originally trained as a painter, Kara Leigh Ford is a potter working from her tiny garden studio in rural Somerset, UK. Kara predominantly makes tableware and larger art pieces. Growing up next to the ocean in Devon, England - Kara's work is inspired by the ever changing textures and colour of her beloved coast.
---
Thu, 1 November 2018
Getting Back Into Selling at Shows | Jeanette Zeis | Episode 469
Jeanette Zeis is a functional and decorative potter, and has worked with clay for over 20 years. Using a variety of techniques, Jeanette continues to explore and evolve her studio pottery practice. Jeanette's pottery line contains beautiful and original housewares- wonderfully crafted, with an eye for detail, and designed for everyday use while still being perfect for lovely displays. An admirer of vintage housewares, Jeanette's color palette reflects a love for fiesta ware.
---
Tue, 30 October 2018
A Halloween Special | Bryan Wilkerson | Episode 468
Bryan Wilkerson is a Tennessee Native and Professor of Art and Design at Roane State Community College. Bryan's creative practices are focused primarily on Ceramics and Public Art but extends into design and drawing. Bryan's work explores humor, craft, irony, and play through common symbolic references. Bryan is also the creator and director of the ArtMobile traveling gallery and pop up workshop space.
---
Thu, 25 October 2018
"The Camera Won't do the Work for You" | Dana Gabel | Episode 467
Dana Gabel produces ceramic work that is functional with a sculptural flare. Born and raised in Bronx, NY she now resides Pennsylvania. After obtaining a BA in Visual Art she currently continues to refine her work, showing predominately in Northeastern Pennsylvania but also displaying work in parts of the U.S.
---
Tue, 23 October 2018
A New Way to Price Work | Danny Meisinger | Episode 466
Danny Meisinger have been a potter now for about 30 years. Danny has taken a few college classes but is mostly self taught. Once Danny began making work worth keeping, he has had about 4 evolutions of work, with the forth being pretty new right now. Danny is married and has four children and two grandchildren.
---
Thu, 11 October 2018
Upward Swing of Business Growth | Amy Noel | Episode 465
Amy Noel grew up in Nova Scotia and was certified as an art teacher and eventually moved to Japan. Amy lived in the Japanese countryside for 3 years and was a member of a community pottery center for her last 1.5 years. Amy came back to Nova Scotia and has been making and selling pottery since 2013. Amy is inspired by Wabi Sabi and Nova Scotia culture, attempting to combine the two in her pottery. Amy has a 2 year old and 3 year old (daughters).
---
Tue, 9 October 2018
Slow & Steady Growth | Gabrielle Burke | Episode 464
After graduating from the Emily Carr University of Art and Design, former product designer Gabrielle Burke founded g ceramic & co. Gabrielle was enamored by the way ceramic objects habitat in our daily lives. For her it is amazing how people rely on objects such as mugs and bowls and have an interpersonal relationship with them. Gabrielle creates work for wedding registries, restaurants, online, retail, markets, and is also available by appointment at her studio on Alberta & 5th Avenue in Vancouver, BC.
---
Thu, 4 October 2018
Transitions in Business | Liane & Dale Maddox | Episode 463
In 1980 Dale and Liane Maddox purchased a century old, two story corner building in Hardy Arkansas, a sleepy resort town on the Spring River. The building had been neglected, but with much preservation effort, it was eventually listed on the National Register of Historic Places in Arkansas.
Melding their work ethics and skills, they established their pottery studio and began a retail shop (Hardy Pottery) to sell their work and the work of other artist/craftsmen, earning a nomination as one of the top 100 sellers of American Handcrafts from Niche Magazine of Philadelphia. Somehow the combination of a pottery , retail, and raising 4 children was managed with a chaotic balance.
In 2016, they reached a decision to sell the building and retail business. They established a new workshop on Petit Jean Mountain, in central Arkansas, just West of Little Rock, Now under the name, Old Dog Pottery, they produce a variety of gas fired stoneware for their former business and new clients gained in central Arkansas. At a less frenetic pace, they are exploring earthen ware, cone 6 electric and reduction firing, and have time for welcome interruptions such as grandchildren and casual visitors.
---
Tue, 2 October 2018
Running a B to B Business in Moscow | Anastasia Ceramum | Episode 462
Anastasia Ceramum is a ceramic artist living in Moscow, Russia. Anastasia has built a thriving business catering to other businesses that need ceramic items to be made for them. She has employees and is making a a great go at it in Moscow.
---
Thu, 27 September 2018
Hustle, Shows, Wholesale, & Web | Wendy Wrenn Werstlein | Episode 461
Wendy Wrenn Werstlein came to clay as a second vocation. For 10 years Wendy taught high school biology were she worked to cultivate in students a desire to explore the world while also encouraging scientific inquiry. Wendy finds these two skills served her just as well in the studio. Wendy left teaching and returned to the classroom as a student at Haywood Community College completing an Associates Degree in Professional Crafts. From there Wendy moved to Floyd, Virginia and worked as an apprentice to Silvie Granatelli, studio potter. Wendy now lives and works in her studio/home on the Blue Ridge Parkway, building a life as a studio potter in Floyd, Virginia.
---
Tue, 25 September 2018
Writing a Book | Steve Loucks & Lynnette Hesser | Episode 460
Steve received his MFA at Alfred. He is a full-time potter and retired JSU professor. Steve recently self-published a book on glazes. He has been a presenter, panel moderator, glaze doctor, and TGDL at NCECA. He has hosted the AL Clay Conference and been awarded ASCA and SAF/NEA fellowships. Lynnette Hesser received her MFA from UF. She taught 26 years, now works full-time in the studio, and was the contributing editor on a book on glazes for her husband, Steve Loucks. She received the ASCA Crafts Fellowship, conducts workshops, exhibits her work nationwide, and has co-hosted the Alabama Clay Conference.
---
Thu, 20 September 2018
The Potter Who Took On Tesla and Won | Tom Edwards | Episode 459
Tom Edwards took his first ceramics class at Mira Costa High School when he was fifteen years old. While pursuing a B.A. degree in Art History at UC Santa Barbara, Tom took two years of studio art classes in ceramics and sculpture. By 1983, Tom had a relatively successful line of pottery which he sold mainly through retail craft fairs. It was at this time that he came up with the idea of Wally. The next year Tom moved to Los Angeles where he built a small studio in his sister's garage. He dropped his previous line of pottery and he began decorating all of his pots with cartoon imagery. Eventually Tom moved and set up shop in Colorado where he lives and works today. Recently Tom stood up to Tesla and Elon Musk for copyright infringement and Tom won.
---
Tue, 18 September 2018
Business Talk About Her Business | Inge Vincents | Episode 458
Inge Vincents started playing with clay when she was 4. Inge continued clay playing through school and beyond, and at 37 she sold her first piece. Inge has specialized in thinware porcelain and has worked as a full-time studio ceramist for the past 14 years. Inge established her own studio in Copenhagen in 2009.
---
Thu, 13 September 2018
Guesstimating Your Way to Setting a Price | Lori Rollason | Episode 457
Lori Rollason was originally from Middletown, Connecticut. Now Lori lives and works in Hillsborough New Hampshire. Lori Is a full time potter and a part time teacher. Lori has her own studio in the barn attached to her house. Lori makes mostly functional cone 6, electric fired pottery.
---
Tue, 11 September 2018
A Meandering Conversation on Clay | James Tingey | Episode 456
James Tingey is a studio potter whose work explores ideas of utility, process, material and landscape. His work incorporates a straight forward visual language to address function, and the vocabularies of utility and wood firing to investigate the intersection of form and flame. Currently, James is Resident Coordinator and Studio Technician at LH Project in Joseph, OR.
---
Thu, 6 September 2018
Making For Potters | Cara Steinbuchel | Episode 455
Cara Steinbuchel is the designer and maker of Potters' Skin Butter Deep Hydration for Hardworking Hands. She started making Potters' Skin Butter out of her studio in 2004 for the pottery community in Asheville, NC. Her lotion is now available nationwide in pottery supply stores and through her website.
---
Tue, 4 September 2018
Back Into Clay and Building a Business | Jessica Butala | Episode 454
Jessica Butala is an Industrial Designer working in product development. Jessica also has an uncontrollable passion for Ceramics. Jessica has worked with clay since high school and recently built a home studio to experiment with clay more often. Jessica draws inspiration from nature and enjoys adding a folkloric element to her work.
---
Thu, 30 August 2018
Making a Community Clay Center | Dennis Stark | Episode 453
Dennis Stark was born and raised in Quincy, Illinois. He moved to Maryland in 1979 while serving in the U.S. Air Force and currently lives in Frederick, MD. Dennis is a functional potter and draws most of his inspiration from Warren Makenzie. Dennis began his ceramic career in 2012 by attending classes at the Frederick Pottery School and at Frederick Clay Studio. Most of Dennis' training came from workshops and 'Youtube University'. Dennis, with his partner Phil Berneburg and his wife and partner Gerri Berman, founded Washington Street Studios in 2017. Dennis transitioned to be a full-time studio potter and gallery owner on June 1st, 2018.
---
Tue, 28 August 2018
Super Good Instagram Advice | Curt Hammerly | Episode 452
Curt Hammerly is a ceramicist that combines cutting-edge technology with age-old pottery techniques. Curt found clay after a car accident leaving him with a broken neck. Now fully recovered he is on his way to a career in ceramics full time.
---
Thu, 23 August 2018
A Business Owner & Member Tell the Story | Valerie Grossman & Kyriaki Karalis | Episode 451
Valerie Grossman is an artist and owner of BRICK Ceramic and Design Studio located in Cleveland, Ohio. Valerie received her BFA from the Cleveland Institute of Art in 2012. In May of 2015, Valerie opened BRICK as a shared studio space and gallery for ceramic artists.
Kyriaki Karalis is one of our interns from the studio and was the ceramics tech at University of North Florida. Kyriaki is a professional potter who relocated to Cleveland from Florida and recently found our clay community and studio to be a good fit. Kyriaki makes and sells wheel thrown porcelain pottery.
---
Tue, 21 August 2018
Lessons From Mark Hewitt | Joseph Sand | Episode 450
Using his backyard botanical sanctuary for inspiration, ceramic artist Joseph Sand purposefully crafts sculptural forms and functional pottery utilizing elements from the natural world including wood, stone, and seashells. He is focused on keeping the final function in mind, such as the fluted vase made to showcase a single stem of iris. Growing up in rural Minnesota, attending college on the shores of Lake Superior in Duluth, Minnesota, and eventually moving to rural North Carolina, it's no surprise that Joseph finds inspiration in his surroundings. Joseph moved to North Carolina in 2006 for a full-time apprenticeship with master potter Mark Hewitt. It is there he learned that wood-fired pottery allowed for a deeper connection between him and the final piece, using his hands to form, guide, and finish each creation. Joseph wood fires his 40-foot-long, 8-foot-wide kiln only three times per year. His work has been featured in Ceramics Monthly and Pottery Making Illustrated and in several permanent collections, including at the Mint Museum of Art in Charlotte, NC and the Museum of International Folk Art in Santa Fe, NM. Most recently, his 36-piece large-scale work "Resurgence" was selected for permanent installation at the Benton Convention Center in Winston Salem, NC. Joseph's creations can be purchased locally at his rural home and gallery space in Randleman, North Carolina, as well as at many galleries nationwide.
---
Thu, 16 August 2018
Her Boss Died So She Bought the Business | Rachel Jane Hall | Episode 449
Home thrown & Hand grown Stoneware made in the hills of Coshocton Ohio. Rachel Jane Hall is a second generation potter but growing up in her parents salt glaze business, potting wasn't on her short list of careers. But the universe had other plans for Rachel Jane. 4 years ago Rachel Jane met her mentor and started on at a local mini production studio to attach handles. Hillbippie Clay Co. is a product of rural inspirations and functional interpretations.
---
Tue, 14 August 2018
A Tinker Teacher Teaches Clay | Sarah McNutt | Episode 448
Sarah McNutt was born in Buffalo, NY and is currently living in San Francisco. Sarah uses art and education as a platform in which to observe, comment on, and engage others about the intersection of disciplines. Sarah has worked as an artist since 2009 and has been a educator in a range of capacities since 2012, teaching undergraduate classes at KSU, workshops, and art education in schools across the country. Sarah's artistic research leads me to exhibit nationally, write grants, and author for publications such as Ceramics Monthly.
---
Thu, 9 August 2018
A Happy Potter Tells Her Story | Emalee Hudson | Episode 447
Emalee Hudson is the woman behind soft Earth ceramics! Emalee started working with clay in college and hasn't looked back since. For Emalee, simplicity is beauty, and she tries to reflect that in the pieces that she makes. Emalee loves getting her work out of her studio and into the hands of people.
---
Thu, 2 August 2018
A Potter Opens Her Heart | Ashley Lin Ames | Episode 445
Ashley Lin Ames is a passionate potter that is dedicated to the craft of making hand thrown vessels for the home and the robust restaurant scene.
---
Tue, 31 July 2018
Two-and-a-Half Years in and Killin' It! | Sarah Van Raden | Episode 444
Sarah Van Raden is a full time potter who has been at this business since March of 2015. Sarah loves to create simple, timeless, and organic forms with glazes that are subtle and refined. Sarah's work is primarily in stoneware and porcelain.
---
Thu, 26 July 2018
Finding The Rules of Business | Molly Bishop | Episode 443
Born and raised in Virginia, Molly Anne Bishop graduated from the Virginia Commonwealth University craft/material studies program in 2012. Working mostly in clay, Molly draws inspiration from lizards, popular sports, and travel. Molly has been a resident artist at Red Lodge Clay Center in Montana, Lillstreet Art Center in Chicago, the Skopelos Foundation for the Arts in Greece, c.r.e.t.a. in Rome, and the International Studio in Jingdezhen, China. Molly has work in the permanent collections of her mom and ex-boyfriend.
SPONSORS
Number 1 brand in America for a reason. Skutt.com
For all your ceramic needs go to Georgies.com
---
Tue, 24 July 2018
Some Talk on Shipping With Some How-To's | Gabrielle Schaffner | Episode 442
Gabrielle Schaffner is a ceramic artist, producing a line of functional pottery in her Boston studio. Gabrielle's work has been sold and exhibited in stores and galleries across the United States. Born and raised in Brooklyn, New York, Gabrielle has been a resident of the Fort Point neighborhood of Boston since 1988. Gabrielle spent many years working in various arts administration roles for the Fort Point Arts Community (FPAC) and served as their Executive Director until 2014. FPAC is a community non-profit organization founded in 1980 by area artists to preserve and promote the local arts community. Gabrielle continues to be engaged in Fort Point, and serves on the Board of the Friends of Fort Point Channel.
---
Mon, 23 July 2018
Leaning Into Uncertainty | Ben Landau | Episode 441
Alterfact is an experimental design studio created by Lucile Sciallano and Ben Landau in 2014. Since graduating from the Design Academy Eindhoven in 2013, Lucile and Ben have worked in tandem on various issues in different mediums. They explore current and future issues and translate them into installations and objects. In this episode Ben tells us a bit of their story.
---
Tue, 17 July 2018
Taking Time to Test The Dream | Ruth Hazi | Episode 440
You can help support the show!
Ruth was born in Haifa, Israel in 1959. The first time Ruth encountered clay was far away from home in the magical land of Alaska. There, during cold and dark winter days, Ruth searched for an interesting practice that would bring her joy. Ruth found it in the ceramic department of the University of Fairbanks Alaska. The ancient art of ceramics found a warm place in her heart. Currently Ruth resides in the southern desert in Israel, managing her own studio and teaching. Ruth's motto is "Love what you do and world becomes your child" (Japanese proverb).
---
Thu, 12 July 2018
"Action is Better Than No Action" | Stephen Mullins | Episode 439
Stephen Mullins is a potter and business owner in Sheridan, Wyoming. Stiphen received his BA in Arts Ed 2012, and BFA 2013. In 2018 Stephen Mullins opened his first brick and mortar store in the heart of Sheridan, Wyoming's historic downtown. Stephen now runs a production house and Community Clay Center during the day, and teaches community classes in the evenings.
---
Tue, 10 July 2018
Mentor's Impact on Growth | Lori Phillips | Episode 438
Lori Phillips is originally from Cincinnati, but grew up in Kentucky where Lori was fortunate to find clay in high school. Lori earned her BFA from Eastern Kentucky University, and her MFA from the University of Dallas. Lori primarily make sculpturally functional work. Being a full time potter is Lori's goal.
---
Thu, 5 July 2018
A Story of the Return of Joy | Hugh Hope | Episode 437
Hugh Hope is a California native, born and raised near Eureka, Humboldt County. Hugh attended Humboldt State College in the early 60's,where he became involved with pottery under the guidance of Prof. Resse Bullen. After graduation with a BA in Art in 1965 Hugh entered graduate school at Mills College in Oakland Ca studying with Antonio Prieto. After receiving a MFA in Ceramics in 1967, Hugh moved to Sonoma County where he established his first studio in 1968. Four years later Hugh, his twin brother, and their families built new studios and kilns in northwestern Sonoma County. After a wild land fire destroyed his home and studio in 1978, Hugh spent a number of years reestablishing a studio,first in Inverness, Marin County and ultimately in West Sonoma County where Hugh is now located.
---
Tue, 3 July 2018
Strategies for Selling Face to Face | Bonnie Scoggins | Episode 436
Bonnie's current work revolves around imprints from doilies her great-grandmother's made. She see her imprints as a way to honor the artistry that goes into crocheting doilies. Her process does not harm the doilies and She feels privileged to use heirloom doilies from other families to make meaningful pieces for their families to enjoy.
---
Thu, 28 June 2018
How to Get Published | Frank James Fisher | Episode 435
Frank James Fisher is an American ceramic artist. Frank's ceramic work is unique and strongly influenced by the graphic design principles developed during his extensive advertising career. Frank has worked in the Detroit advertising industry since entering the commercial art field in 1985. Adept as a professional designer, writer and illustrator, Frank is known and recognized for his graphic design narratives in the ceramic medium. As an advertising 'insider' who is experienced in marketing and public relations, he applies this knowledge to promote his art.
---
Tue, 26 June 2018
A Journey Back to Clay | Bronwyn Clarke | Episode 434
Bronwyn Clarke makes a range of wheel thrown gas fired utilitarian and exhibition pieces from a mix of local, Deep Bay, wild clay, and commercial clays. Bronwyn has developed her own Cone 10 glazes, the colors of which are inspired by the subtle hues of the Tasmanian landscape. Bronwyn is also Chair of The Australian Ceramics Triennale Tasmania 1 - 4 May Hobart, Tasmania, 2019.
---
Thu, 21 June 2018
The Duel Career Potter | Aaron Ligon | Episode 433
Aaron Ligon is a ceramic artist living in Charlotte, NC. Aaron's work is primarily in earthenware or porcelain. Forms are wheel-thrown, sometimes altered, and heavily carved with simple glazing. Aaron maintains a studio at Clayworks and at home. Aaron's work is sold at the "New Gallery of Modern Art" in Uptown Charlotte, North Carolina
---
Tue, 19 June 2018
Art is Problem Solving | Matthew Fitzsimmons | Episode 432
Matt was raised a Navy Brat. While in high school he found clay. Matt is a graduate of the University of Iowa(Go Hawkeyes!) and is married with two sons (21 & 23). He lives in Iowa and has been a guest artist/volunteer/instructor at Augustana College since 2008.
---
Thu, 14 June 2018
Making Desert Work | Samirah Steinmeyer | Episode 431
Samirah Steinmeyer began her small batch pottery business, Seedling Clayworks, in 2012. She has a bachelors degree in fine arts and a masters degree in landscape architecture. Her mother, a ceramics teacher, taught Samirah the basics of wheel throwing and hand building. She has been learning new techniques, improving her skills through practice and developing designs ever since. Landscapes, especially public lands, are her primary source of inspiration.
---
Tue, 12 June 2018
An Art Diet | Tony Young | Episode 430
Tony Young is a high school art instructor in Ohio. Tony recently ventured into the world of cup making and he slipcasts his Tumblers and throws his mugs on the wheel. Many of Tony's finishes are inspired by graffiti and his recent travels abroad. Tony is interested in recreating textures, layering bold text and imagery, while mixing in elements of my own design work. I like to work in sections, but am constantly experimenting trying to push the medium.
---
Tue, 5 June 2018
Doing a Collaboration Project | Jerri Puerner & Jeff Ham | Episode 428
Ceramic artists Jerri Puerner and Jeff Ham teamed up in 2018 to make a plate a day and post works in progress and finished pieces on Instagram at @365.plates.
They maintain studio space at the Grand Rapids Pottery in Michigan.
---
Thu, 31 May 2018
Following the Experimental Course | Janene Waudby | Episode 427
Janene Waudby lives and works in the Highlands of Scotland. Janene's work is inspired by the natural colors and textures of the Scottish landscape. Janene throws her work on the wheel before burnishing and smokefiring. The vessels are classically proportioned, and shaped in a way which optimizes the spectacular smoke effects.
---
Tue, 22 May 2018
Working With a Designer | Forrest Middelton, Erin McGuiness, Lane McNab | Episode 424
When I was teaching a workshop at Clay by the Bay in San Francisco, a couple ceramic artist and a designer got together with me to talk about what it would look like for ceramicists to team up with designers to help promoter ceramic work. Our two artist were Forrest Middelton and Erin McGuiness and our designer was Lane McNab. All three of our guests work in and around the Bay area.
---
Thu, 17 May 2018
Looking for the Sweet Spot | Brooke Peiffer | Episode 423
Brooke Peiffer is a lifelong Michigan resident. Brooke recieved her BFA from Michigan State University, where she discovered a love of clay. Brooke's functional work is inspired by the richly textured forests, plants, and beaches of her home state, whereas Brooke's sculptural work stems from her own internal narrative. Brooke passes her love of clay on to her students, as a teacher of high school ceramics for the last 16 years.
---
Tue, 15 May 2018
A Maker & Manufacturer | Todd Wahlstrom | Episode 422
Todd Wahlstrom lives in Whitingham, Vermont with his wife, and potter, Aysha Peltz and their two daughters. Aysha and Todd share a detached studio building a short walk from their home. Todd's work time is split between making and selling pots and operating StudioPro, a small manufacturing business designing and producing throwing bats and other tools for potters.
---
Thu, 10 May 2018
Focusing Your Message | Lyndsay Meiklem Dean | Episode 421
Lyndsay Meiklem Dean is, The Vegan Potter. Lyndsay discovered her passion for clay the moment she sat down at a potter's wheel more than two decades ago. Lyndsay is the owner of Meiklem Kiln Works, which for the past 15 yrs, has offered community clay and art classes to all ages. Lyndsay is a full-time-working potter and instructor who is passionate about sharing her love for the medium with others. Her work can be found in more than a dozen retailers in the US, Canada, and as well as in Lyndsay's online shop. Lyndsay works with stoneware clay and a variety of glazes to create functional pottery for the everyday foodie.
---
Thu, 3 May 2018
An Episode on Handbuilders | Maryan & Dan Pelland | Episode 419
Maryan Pelland is a former professional writer. She went over to the clay side six years ago and never turned back. She and husband/partner, Dan, a photographer/engineer, make work in their home studio, work in a community studio, and publish an online magazine for potters
---
Tue, 1 May 2018
A Dinē Nation Artist | Bob Lansing | Episode 418
Bob Lansing is a contemporary traditional potter of the Dinē Nation. Bob's pottery is thrown on the wheel and then coated with layers of colored slip. Each piece is etched with Bob's designs that help express traditional stories with a contemporary flare.
---
Thu, 26 April 2018
A Community Center Making a City Better | Kameron Robinson | Episode 417
Kameron Robinson is the Director of East Side Studios, an art studio in Anderson, Indiana that focuses on workshops, studio spaces, and community engagement. Through his work at East Side Studios, Kameron develops original artwork, teaches ceramic workshops, invests in the studios artists at the space, and works on community initiatives.
---
Thu, 19 April 2018
The Community of Making | Troy Bungart | Episode 415
Troy Bungart is a multi-talented artist. His first love is working with clay. Troy likes to start out with a simple form and then add texture and images. Troy's love of clay is also expressed in his love of the tools used for making pottery. His handmade wooden tools are works of art in and of themselves. Troy's also makes custom brushes that are perfect for making gestural markings on his work. And best of all, Troy is my friend.
---
Tue, 17 April 2018
Scandinavian Potters Take to the Mic | Maud Andersson, Helle Bovbjerg, Daniel Gillberg | Episode 414
While at NCECA I had the privilege of sitting down with this group of Scandinavian potters to talk pots. Maud Andersson, Helle Bovbjerg, and Daneil Gillberg talked about how Scandinavian potters approach clay differently from American potters. It is an interesting conversation of differences. Maud practices her ceramics in Sweden, Helle does her ceramics in Denmark, and Daniel does his clay work in Sweden. Between the three of them, they represent the three countries that make up Scandinavian region.
---
Thu, 12 April 2018
Looking Into The Woodfire Community | Denise Joyal, Chris Landers, Lisa York, Tim Sherman | Episode 413
At this year's NCECA Pittsburgh I sat down with a group of potters that had put on a room show to talk about what it was like to put on a room show. Now a room show is not part of NCECA, but it is a side thing that happens during NCECA in a hotel room. So that was going to be the point of the conversation. As we got into this we ended up spending a significant amount of time talking about what it is like being a part of the woodfire pottery community. The participants were Denise Joyal, Chris Landers, Lisa York, and Tim Sherman.
---
Thu, 5 April 2018
A Designer Takes to Clay | Shannon Holt | Episode 411
Shannon Holt is a creative director exploring reductive form on a potter's wheel in her Portland, Oregon workshop. Her work is created under the brand of ESO ESTO. Drawn to clay in 2014, Shannon immersed herself in its foundations and has been riding the tension between her design training and the expressive immediacy of this medium ever since. Typically a form is discovered while working on the wheel, then refined through iteration until it feels complete. Guided by the allied attributes of Form and Texture, ESO ESTO wares manifest an affinity for understatement, a deep respect for craft, and the desire to elevate raw material into the realm of beautiful objects.
---
Tue, 3 April 2018
Find the Balance Between Protection & Exploration | Carol Barclay | Episode 410
Carol Barclay is a self taught studio potter, selling since 1981. Carol entered an outdoor art show and was delighted to sell out within 2 hours. Carol is a former competitive volleyball player, teacher, and avid gardener. Working with clay is deeply satisfying for Carol because of the physicality of the process and the possibilities.
---
Thu, 29 March 2018
Writing Without Language | Tom Kemp | Episode 409
Tom Kemp is back for another appearance on The Potters Cast. Tom has been potting for six years and got really serious in June 2017 when he quit his job to work full-time with ceramics. Tom's background is in lettering and calligraphy where he has developed the use of the 'square-edged' brush which Tom still teaches around the world. It's also the tool Tom uses most to 'write' on his pots.
---
Thu, 22 March 2018
A Choice to be in Clay | Levi Yastrow | Episode 407
Levi Yastrow is a Chicago based potter who earned a BFA from the School of the Art Institute of Chicago in 2012. He is currently a teaching artist, ceramics studio technician and member of the Teaching Artist Advisory Board at Marwen, soda monitor and teacher at Lillstreet Art Center and an instructor at Penguin Foot Pottery.
---
Tue, 20 March 2018
The Importance of Exposure | Justin Donofrio | Episode 406
Justin Donofrio grew up in Santa Cruz, CA where he was introduced to pottery at Cabrillo Community College. Justin then joined the vibrant Colorado community of artist in 2013 in the Roaring Fork Valley where he continued his clay education with the support of Anderson Ranch, The Carbondale Clay Center, and The Studio for Arts and Works (SAW). Justin remained in Colorado to complete a Bachelors of Fine Arts degree from CSU Fort Collins in 2016. Justin is nationally represented in galleries throughout the U.S. Justin was an exhibiting artist and tour manager with the Artstream Nomadic Gallery in 2017 and will be again in 2018. Justin will also be participating in Art of the Pot (Austin Ceramic Studio Tour) in the spring 2018.
Currently Justin maintains a full time studio pottery at Art 342 in Fort Collins. The diversity of the front range of the Rockies lends itself to a balance between Justin's love of rock climbing, the outdoors, and the arts. Justin's palette of color and form are drawn from the exquisite and enduring beauty of the alpine landscape.
---
Thu, 15 March 2018
In Awe of His Scrimshaw | Ben Gaboury | Episode 405
Ben Gaboury, of Scrimshaw Pottery, is a New England artist who grew up in Massachusetts, and received a fine arts degree studying ceramics in Portland, Maine. After developing skills for wheel throwing, he began experimenting with combining the 2 dimensional with 3 dimensional by adding illustrations to his pieces. He began thinking of his vessels as a canvas rather than just functional objects. Immediately he began portraying imagery that told stories. Never living far from the ocean, Ben saw scrimshaw as an easy and appropriate art form to combine with his contemporary wares. His work follows a utilitarian necessity that is artistically refined to be elegant and present a sense of splendor to the user.
---
Tue, 13 March 2018
Sunshine Wrote a Book | Sunshine Cobb | Episode 404
Sunshine Cobb is back on The Potters Cast and she wrote a book, Mastering Handbuilding. Once I discovered the book was out, it was time to get Sunshine on the show again to get the inside scoop on her book and an update since Sunshine's first visit on the show. Sunshine's new book is full of beautiful pictures depicting examples of her masterful handling of clay as she explains the process of the craft of handbuilding functional wares.
---
Thu, 7 January 2016
The Philosophy of Art | Simon Levin | Episode 177
In 1993 Simon Levin fell in love with the movement of flame through a wood-kiln. Its sensuous quality is something Simon seeks to capture in his work. This quest led Simon to an M.F.A. from the University of Iowa. Recently the work explores the deep, dark, primal connections between all of us. Simon owns Mill Creek Pottery in Wisconsin, where he and his apprentices work to advance the cause of wood-fired pottery.
---
Tue, 5 January 2016
Being a Pro | Richard Peterson | Episode 176
Richard Peterson is currently working on his MFA candidacy at The University of Arkansas, and received a BFA at the University of Akron in Ohio. Richard has spent almost all of his life within Northeast Ohio, which is where most of Richard's narrative is based. Recently Richard dove into graduate school headfirst where he is currently continuing his education and expansion as an artist, as well as an individual. Richard's work has been published in Clay Times December 2014 issue, Graphic Clay: Ceramic Surfaces and Printed Image Transfer Techniques (Lark Books 2015). and will be published in American Craft Magazine in Feb-March of 2016.
Richard has also had the privilege to have his work shown at Charlie Cummings Gallery, Forum Artspace, AKAR Gallery, Red Star Studios, Baltimore Clayworks, Morean Art Center, and awarded Honorable Mention at "Drink This" juried by Sam Chung at Workhouse Ceramics in Virginia.
---
Thu, 31 December 2015
Put Yourself Out There | Lisa Neimeth | Episode 175
Born in New York City, Lisa Neimeth was influenced early on by the multiples of objects and icons surrounding her, as a young collector. After college, Lisa returned to New York City, where among other things, she sold lemonade on the streets and studied ceramics in private sculpture studios. Creating art remained in the background while pursuing Social and Community work, another passion, throughout the five Boroughs. Traveling was key for her after receiving two Masters Degrees in Social Work and Urban Planning. She traveled extensively throughout Mexico, Central and South America where she was deeply influenced by color, texture and forms observed there.

Lisa moved to San Francisco in 1994, drawn there by the open land, light and ocean. She continued doing Community Work while contemplating new relationships between materials in her sculpture work. In 1997, she gave birth to the first of 2 children - leading her to change her focus and to do art more full time. Capturing images and applying them to clay enables her to create a vision of whimsy and directed randomness. She now focuses mainly on creating rustic, yet refined tableware. She describes them as photographs of her observations transcribed onto clay and made to be used. They incorporate impressed vintage and found object imagery with hand-etched detailing.
Her work continues to be influenced by her surroundings and travels and extended time she spends on her property in Northern New Mexico.

She has been featured in the New York Times, Wall Street Journal, House Beautiful, Anthology Magazine, Food and Wine, C magazine, San Francisco Chronicle, Western Art and Architecture, Sunset, California Home and Design as well as multiple features in high profile design blogs.
---
Tue, 29 December 2015
Doing the Right Things at the Right Place | Paul Jessop | Episode 174
Paul Jessop started potting when he was twelve-years old. Paul's first full time pottery gig started when he was eighteen. Eventually he gave up the potter's life by the time he was twenty-three. For the next 20 years Paul spent his time selling ceramic tiles to architects and designers in central London. In 2008 Paul lost his job when he was made redundant. It was then that Paul returned to his first love and started Barrington Pottery. Paul is making "Simple Honest Pottery" based on traditional west country slip ware.
---
Thu, 24 December 2015
Production Work that Produces Pottery and People | Di Marshall | Episode 173
Di Marshall makes a brand of pottery dinnerware called Wonki Ware. Di started off with herself and one other potter 15 years ago and Di is now employing 60 potters. Di trained these potters up using the slab-rolling method of draping the clay over moulds. Wonki Ware is now world-wide suppliers of thier brand.
---
Tue, 22 December 2015
Loving Work | Jeremy Randall | Episode 172
Jeremy Randall Ceramics was officially started in 2009, with energy placed on making, showing, and selling work nationally and internationally. Retail shows in the New England area have been a new venture with pleasant results, and being able to have personal interactions with my audience has been wonderful. Thank you for visiting, and hope to see you at a show or out in the ceramic world in the future.
---
Thu, 17 December 2015
Starting Fresh | Allison Smiles | Episode 171
Alison Smiles currently shares a studio/small retail space in a small suburb of Adelaide, South Australia. Currently, Alison's group is the only group independent ceramics studio in their city. Alison loves working with clay as it has also afforded her the opportunity to travel and connect with makers from all over the world.
---
Tue, 15 December 2015
An Artful Expression of Emotions | Thomas Quayle | Episode 170
Thomas Quayle graduated an Honours Degree from the National Art School in 2013. Since completing his studies Thomas has been a successful applicant to Bondi's Sculpture by the Sea exhibition two years running as well as receiving the Clitheroe mentorship prize in 2014 through Sculpture by the sea. Thomas also attended a mentoring program in South Korea working with Korean artist Young-Sil Han.
---
Thu, 10 December 2015
A Professor on Art | Martina Lantin | Episode 169
Selected as an Emerging Artist by Ceramics Monthly (2002), Martina Lantin received her MFA from NSCAD University. She has completed several residencies and her work has been recognized in numerous juried and invitational exhibitions internationally. Martina currently teaches at the Alberta College of Art and Design.
---
Tue, 8 December 2015
Struggles Expressed In Art | Gunyoung Kim | Episode 168
Gunyoung Kim was born and raised in Seoul, South Korea. She received her Bachelors of Fine Art in Ceramics from Kook-Min University in Korea in 2010 and her MFA from The Ohio State University in 2014 where she developed her studio practice and gained teaching experience. After graduate school, Gunyoung was the long-term ceramic artist-in-residence at Lawrence Art Center in Lawrence, Kansas. She is currently a short-term resident at the Archie Bray Foundation in Helena, MT.
---
Thu, 3 December 2015
Turning Challenges into Opportunities | Sandra Torres | Episode 167
Originally trained as an architect, Sandra Torres eventually transferred her creative outlet into clay work. Sandra got started at an experimental studio in Mexico City, and then continued working in California in different studios.
Sandra traveled in Mexico and China to learn about traditional techniques. An apprenticeship with Pieter Stockmans in Belgium, had a great impact on her work. Later Sandra was an Artist in Residence at the ICSHU in Hungary and since then she has established her home studio in Ojai, CA.
---
Tue, 1 December 2015
How Clay Found Me | Ronan Peterson | Episode 166
Ronan Kyle Peterson grew up in Poplar, NC, a small community deep in the mountains of western North Carolina. Currently, Ronan maintains Nine Toes Pottery, a ceramics studio in Chapel Hill, NC, which produces highly decorative and functional earthenware vessels. His work is drawn from processes of growth and decay in the natural world and is translated into a ceramic comic book interpretation of both real and imagined phenomena.
---
Thu, 26 November 2015
Old School and Relevant | Sam Scott | Episode 165
Sam Scott has been a ceramic artist working in Shoreline, WA since 1968. After graduating from the University of Washington and setting up his studio in 1975, Sam has continued his studio practice and taught at area colleges. Sam's work consists of three distinct styles including functional and non-functional objects.
---
Tue, 24 November 2015
A Potter's Business Story | Noel Bailey | Episode 164
Noel Bailey is a utilitarian potter and teacher, currently living in the Mad River Valley, Vermont. Noel was born and raised in Southwest Colorado. He has a M.F.A. from Southern Illinois University Carbondale and a B.A. in Art Education from the University of Northern Colorado. He has had several residencies at Laloba Ranch Clay Center in Steamboat Springs, Colorado.
---
Thu, 19 November 2015
Nature & Art | Leili Towfigh | Episode 163
Leili Towfighcreates wheel-thrown and hand-built stoneware pieces in a studio at MIT in Cambridge. She's enchanted by the rich ceramics traditions of her parents' home countries—England and Iran—and creates work inspired by nature, mathematics and biology, in addition to the decorative techniques of sliptrailing, carving, sgraffito and nerikomi.
---
Tue, 17 November 2015
A Professor on Sales | Rob Kolhouse | Episode 162
Influenced by Donna Haraway's Cyborg Manifesto and the cyberpunk classic Ghost in the Shell, his is figure sculptures investigate gender using the cyborg. In addition to sculpture he produces a line of vessels with irreverent characters on them. Rob is currently faculty at Old Dominion University in Norfolk, Virginia.
---
Thu, 12 November 2015
Etsy for Selling | Eric Van Eimeren | Episode 161
After earning an MFA from Alfred University in 1990, Eric Van Eimeren moved to Montana to become a resident artist at the Archie Bray foundation. At the end of his residency in1993, he set up a pottery studio, and has enjoyed living and working in Helena ever since. You can find his pots in collections and kitchens throughout the U.S. and abroad.
---
Tue, 10 November 2015
Maturing in Art | Zach Houillion | Episode 160
Zach Houillion is a high school senior at St. Mark's school of Texas. Zach is going into his fourth year of pottery doing primarily wheel thrown work, Lately Zach has pursued carving his pieces as well.
---
Thu, 5 November 2015
Making a Statement | Derek Reeverts | Episode 159
Derek Reeverts grew up in rural Illinois surrounded by faith and farming. He received his MFA in ceramics from Miami University of Ohio in 2009 and his BFA in ceramics from Western Illinois University in 1999. He has been the Ceramics area Teaching Lab Specialist for the University of Florida since 2013. His work continues to be a part of many regional, national, and international exhibitions and is represented in many private collections.
---
Tue, 3 November 2015
Instagram for Marketing | Sarah Pike | Episode 158
Sarah Pike makes slab-built, functional pots on the edge of a little ski town in the Rocky Mountains of British Columbia, Canada. If you went to Fernie, you would probably find her in her studio, which is just off the highway, next to the beaver pond and under the Lizard Range. Unless, of course, she is out doing her other favorite things… playing in the mountains, eating food somewhere or digging in the garden. Sarah studied ceramics at ACAD in Calgary, the University of Colorado, Boulder and the University of Minnesota, Minneapolis. Her pottery is inspired by many things, including the landscape around her home, the crazy rich history of pottery, specifically Japanese and Islamic ceramics, but also by antique tinware, textured metal, and old things you might find in barns.
---
Thu, 29 October 2015
Building a Teaching Income Stream | Lora Rust | Episode 157
Lora Rust is a studio potter and pottery instructor in Atlanta, Ga. Lora shares her love of working in clay teaching beginning and intermediate pottery classes at Callanwolde Fine Arts Center in Atlanta, including focus on the soda firing process. She also teaches hands on and demonstration workshops regionally. Lora creates heirloom quality porcelain table and serve ware, fired to cone 6 oxidation and soda. Her goal is to bring a touch of artistry and elegance to the home.
---
Tue, 27 October 2015
Caution to the Wind | Heidi Fahrenbacher | Episode 156
Heidi Fahrenbacher is a ceramic artist from Plainwell, MI that creates slipcast ceramics with vibrant colors and images that observe a simple moment in time. Heidi loves ceramics and, until recently, was throwing everything on the wheel until she had hip surgery.
---