Thu, 31 January 2019
Making a Side Hustle | Markus Flach | Episode 495
Markus Flach was born in Bamberg, Germany in 1979. He came in contact with pottery during a backpacking trip around the Dingle Island in Ireland in 2014 where his girlfriend paid for a 10 minute mini-pottery class. Markus really fell in love pretty much right away and a few weeks after returning home he bought a pottery wheel.
The following months he learned how to do pottery step by step almost entirely on his own. He purchased his first little electric kiln – then a raku kiln and started experimenting with the different styles of pottery.
Markus is a part-time potter and works at the Family Business (Paper Wholesale Company with 7 Employees) at the same time – giving him the freedom to really concentrate on the things he likes the most in pottery.
His focus is both on doing stoneware pottery and raku. Most of his works sell over the internet thanks to Instagram or facebook.
This year he made a raku film with a talented Filmmaker named Thomas Diroll. In Summer he became a Dad and is now proud father of his second son (first one with his divorced wife).
---
Tue, 29 January 2019
Developing a Vision | Samantha Momeyer | Episode 494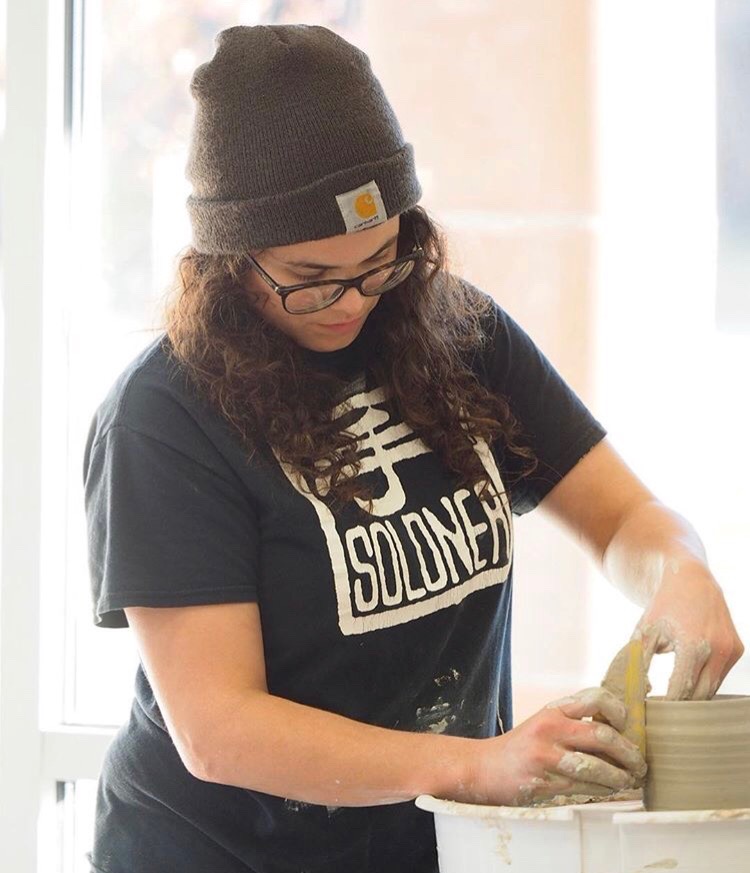 Samantha Momeyer is a Pittsburgh born potter. Samantha has worked at Touchstone Center for Arts, was the Pozefsky Fellow at Baltimore Clayworks, and recently completed a two year post bac at the University of Alaska Anchorage. Currently Samanth lives in Helena, MT, and is Tara Wilson's assistant.
---
Thu, 24 January 2019
An Australian Pottery | Warrick Palmateer | Episode 493
Warrick Palmateer is a Western Australian potter who has over 30 years of experience working with clay. Warrick's passion for working with clay started at the age of 15. He grew up on Western Australia's Southwest coastline and now resides north of Perth, in a coastal town. Warrick has been an avid beach comber and surfer from a young age, and this love has given him a unique insight into the light, shade, movement and expression of the littoral zone – where land meets ocean.
---
Tue, 22 January 2019
Clay Shouldn't Do This | Lisa Belsky | Episode 492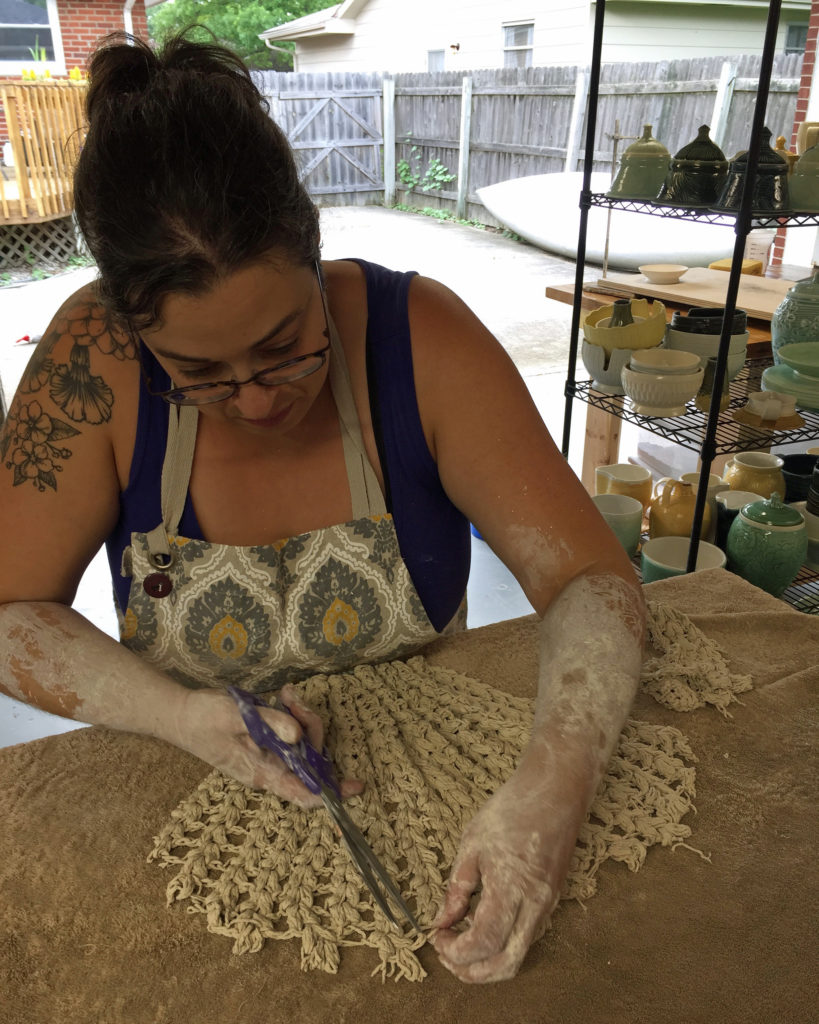 Lisa Belsky is a ceramic artist and art instructor currently living and working in Columbus, Ohio. Lisa received her MFA from Ohio State University and her BFA from Tyler School of Art in Philadelphia. Lisa's current work explores the intersection of fiber and clay where hand knit or crocheted fabric is dipped into porcelain slip to create sculptural vessels.
---
Thu, 17 January 2019
Opening a Community Center | Bronwyn Arundel | Episode 491
Bronwyn Arundel studied and graduated with a major in Ceramics and Art History at the Nova Scotia College of Art and Design University. Bronwyn now sells her work in over 20 Galleries and Gift Stores. In 2014 and 2015 ACTS awarded Bronyn's work with Best New Product. Bronwyn also exhibited at the ACTS Fine Art Juried show. In July 2015 Bronwyn moved from Halifax to Nanaimo, BC where she is continuing her production studio practice with wholesale and local juried craft shows. In March of 2018 Bronwyn expanded her business to include Nanaimo Ceramic Arts Studio and Gallery (NCEA. This location has an 800 square foot class room, tech rooms allowing her to teach pottery and to host other professional ceramic artist workshops. NCA has a 300 square foot gallery space to where Bronwyn features ceramic artists from Vancouver Island and across Canada. Over the last year she has developed an Artist in Residency program that focuses on the business development of visiting artists. Bronwyn is creating a community for the education of the ceramic arts in Nanaimo BC.
---
Tue, 15 January 2019
Mentorship | Ciro Di Ruocco | Episode 490
Ciro Di Ruocco is an emerging visual artist/curator, splitting his time between studios in Nanaimo, BC, Canada and his hometown of Duxbury, Vermont. Ciro's work in ceramics is complimented by an affinity for printmaking and surface/ texture design. Ciro combines a utilitarian sensibility with a contemporary street art aesthetic, fusing his own imagery to create works that are inspired by our daily lives. Ciro is currently an MFA candidate at the Vermont College of Fine Arts.
---
Thu, 10 January 2019
A Ton of Self-Doubt and Still Doing It | Kirk Jackson | Episode 489
Kirk Jackson is originally from Lewis Center, Ohio. Kirk discovered clay, as an expressive material, while studying at The Ohio State University. While pursuing a BFA there. Kirk had the opportunity to spend a semester in Jingdezhen, China and also did a summer residency at Watershed Center for Ceramic Arts. After completing his BFA, Kirk worked as Studio Manager at Watershed, participated in the Working Artist Program at Longwood University, was a Resident Artist as well as instructor at Seward Park Clay Studio. Kirk then became a Long-Term Resident for two years at Red Lodge Clay Center and two years at the Clay Studio of Missoula. Kirk currently lives and works out of his own studio in Missoula, Montana.
---
Tue, 8 January 2019
Being Where You Can Be Found | Masa Sasaki | Episode 488
Masayuki "Masa" Sasaki, is a classically trained artist, with multi-facetted interests. Masa is an accomplished pianist, award-winning painter, and uniquely stylistic potter. Since moving from his native Japan in the late 1980's, Masa has impressed teachers, patrons, and his fellow artists with his unique sense of precision and artistic vision.
"We live in the world where we are surrounded by machine-made and mass-produced goods today. I feel, as a contemporary craftsman, the need to validate the value of handmade items by making things that could not be easily duplicated and unique to my own artistic perspective. For me it is not enough that a final piece be essentially functional and pleasant, it must also be lasting in its desirability for use. Long after I have ceased to be productive the pieces that I accomplish today should still be enjoyed, appreciated, and used. This is the elusive quality that brings value to functional art, the lasting character that transcends the artist and outlives him. Whether in my paintings, musical composition, sculpture or pottery I desire most of all that the usefulness and aesthetic appeal be both easily perceived, and lasting."
---
Thu, 3 January 2019
The Professor Talks About the Process | Curtis Houston | Episode 487
Curtis Houston, a lifelong native of the South who currently resides in Lower Alabama. Curtis is the Three-Dimensional Art Professor at Mississippi Gulf Coast Community College. Southern influences have shaped Curtis' perception of the world and tinged his work with a sense of wry quirky wit. Within these cultural and regional idiosyncrasies, Curtis' sense of kitsch-like designs find their visual narrative and artistic voice.
---
Tue, 1 January 2019
Dreaming to Doing in 3 1/2 Years! | Tasja Pulawska | Episode 486
Tasja Pulawska was born in Warsaw in 1983 and lived in different parts of Europe before finally finding her home in Copenhagen. Tasja studied graphic design in Warsaw and Media art at the Bauhaus university in Germany. Tasja worked as a Graphic designer for about 5 years, and about 10 years ago she tarted playing with clay. Tasja decided to make pottery her full-time occupation in 2014. Tasja was a workshop assistant in a shared working space/studio in Oslo, and after moving to Denmark in 2014 she became Eric Landon's apprentice and later assistant at Tortus Copenhagen (for two and half years). Tasja opened her own workshop in December 2016.
---