Thu, 18 July 2019
Her Work Got Copied | Lisa Neimeth | Episode 542
Clay has been in Lisa Neimeth's life since studying ceramics in college. Lisa is constantly taking note of colors in nature, food, magazines, newspapers, fashion, street art, and graffiti and she loves seeing colors put together unexpectedly. Lisa's plates can inspire and tell a story so they are evocative in the traditional "art" sense—but are completely functional. Lisa also loves the notion of high-end craft and taking time to carefully make everyday items. It is the way things used to be made—by hand and with great care and craft. That care of Lisa's encourages an appreciation of the everyday.
---
Tue, 16 July 2019
Making Pots to Help People | Ro Begay | Episode 541
Romaine Begay (Ro) has been a full-time Potter for going on twenty plus years, where he incorporates the traditional Navajo rug weaving designs, traditional stories within his family as well as his experiences as a Native American in today's age into the ceramic pieces that he creates.
---
Thu, 11 July 2019
She Makes Beautiful Work & She Teaches Clay | Lindsay Scypta | Episode 540
As an artist, potter and designer Lindsay Scypta is deeply interested in textile pattern, Victorian etiquette, architectural tracery, and the history of the table. Lindsay began her ceramics investigation in high school and continued into college, completing a BFA in Art & Design from the New York State College of Ceramics at Alfred University. For two remarkable summers Lindsay immersed herself in the artist community at Anderson Ranch Art Center as a summer intern, filling her ceramic toolbox with techniques and tools. Finally after two years as an artist-in-residence at Ashland University, Lindsay arrived at The Ohio State University where she completed her MFA in ceramic art. Lindsay was blessed with the opportunity to follow her thesis research to England, where she visited the Wedgwood Museum, the Victoria & Albert Museum and the Brighton Palace. Some influences over the past years have been the softness of tufted Victorian sitting room chairs, and the architectural motifs and quatrefoils of European Gothic cathedrals. Following graduate school Lindsay spent one year as an Artist-in-Resident at Clay Art Center in Port Chester, New York. Currently Lindsay is an adjunct ceramics professor at Owens Community College in Perrysburg, Ohio. Working strictly with porcelain clay, the work is thrown, trimmed, altered and decorated, then fired to cone six in an electric oxidation atmosphere. Lindsay ism still continuing to push her ideas and am excited to incorporate new research into her studio practice!
---
Tue, 9 July 2019
A Figurative Artist Talks Shop | Shelsea Dodd | Episode 539
Shelsea is a ceramic sculptor from Binghamton, NY. She received her BFA in Ceramics from the Maryland Institute College of Art in 2013, and she was a post baccalaureate student at the University of Alaska Anchorage from 2016 to 2018. Shelsea's work primarily investigates feminist and queer issues, as well as human/animal relationships and the parallels she perceives between the two. She is currently a long term resident artist at Studio 740 in Helena, MT.
---
Thu, 4 July 2019
"Hope is The Worse Plan Ever!" | Billy Ritter | Episode 538
Billy Ritter 77 is a ceramic artist from Cleveland, Ohio. A graduate of Kent State University (MFA), and Slippery Rock University (BFA). For the past five years he has taught and inspired many as a professor of art and ceramics at Cuyahoga Community College. At his Cleveland studio he offers one-on-one tutoring and workshops. Billy exhibits and sells his work at his studio as well as at many artisan markets throughout Northern Ohio. Atmospheric firing, community, and story telling through process, are the focus of his work. His limited editions of functional tablewares and vessels are utilized by chefs, home cooks, photo studios, and collectors both nationally and internationally.
---
Tue, 2 July 2019
Testing an Idea | Anna Whitehouse | Episode 537
Based in Harrogate, North Yorkshire, UK, Anna Whitehouse's work has evolved from growing up in the region and spending time outdoors. From scrambling over rocks in the Yorkshire Dales to scouring the beach for fossils near Whitby, a love of landscape, natural forms and exploration can be seen echoed in Anna's work. Ultimately Anna aims to create beautiful and intriguing objects that awaken a childlike sense of wonder and appreciation of the natural world.
---
Thu, 27 June 2019
A Woodfire Conference is On The Way | Joe Robinson | Episode 536
Joe Robinson is the co-owner and steward of the historic East Creek Anagama wood fired kiln. Nestled on 20 acres in Oregon's coastal mountains, East Creek is a community art studio and retreat. Joe will share news about the upcoming NW Wood Firing Conference in June 2020, which is being organized by the East Creek team.
---
Tue, 25 June 2019
Planting the Dream and Watching it Grow | Julia Kofman | Episode 535
Julia Kofman is a full time ceramic artist. Julia works in her home studio in Ramat Gan in Israel. Julia was born in Moscow, and in 2018 she moved to Israel with her husband and children. Julia is selling her works twice a week in Nachlat Binyamin Artists Fair of Tel Aviv, which is a famous street market of handmade, supported by municipality of Tel Aviv.
---
Thu, 20 June 2019
A New Designer's Story | Lukas Easton | Episode 534
Lukas Easton is from Homer Alaska. Lukas recieved his BFA from the university of Alaska anchorage. Lukas is currently teaching at the Rochester institute of technology and is an independent designer for Jenggala in Bali Indonesia. In the summers Lukas works in Alaska commercial fishing and this fall will be attending Alfred university for graduate school.
---
Tue, 18 June 2019
Talking Terra Sig | Rhonda Willers | Episode 533
Focusing on fragility and subtle strength, Rhonda Willers creates art with repetitive forms and markings reflecting on memories and nature through diverse materiality. Rhonda is the author of Terra Sigillata: Contemporary Techniques. Rhonda studied at the University of Wisconsin-River Falls (BFA) and University of Nebraska-Lincoln (MFA). Rhonda is a studio artist, author, mother, and NCECA Board Steward located in Elk Mound, Wisconsin.
---
Thu, 13 June 2019
A German Journeyman Potter | Anja Bartels | Episode 532
Originally from Hamburg, Germany, stencil artist Anja Bartels discovered pottery making while living in an intentional community in Virginia. Passion ignited, Anja returned home to study in the German Ceramics Guild, which honed her skills in a way much different from the typical experience in American art schools. With a strong focus on craftsmanship and technical skill, Guild training provided Anja with the groundwork for making a quality product paired with the practical experience of working with a master potter for three years. The apprentices must engage in all aspects of the business, including marketing, sales, accounting, and production.
Anja's nautically themed porcelain employs several different techniques including slip trailing, sgraffito (a technique where underglaze is painted onto greenware and a design is carved back through, revealing the clay body underneath), poured and sprayed glazes, and a unique resist technique used in the making of her beautiful urchin bowls. These bowls are thrown and trimmed on the wheel, then several thousand small slip-trailed spikes are applied using a surgical bulb while she listens to audiobooks about shipwrecks. Anja's personal aesthetic and process are consistent and highly developed, reflecting her upbringing in a port town and her love of ships and the ocean. It is as if her pieces were born in the sea.
---
Tue, 11 June 2019
From Cancer to Clay | Sharrel Paul | Episode 531
Sharrel Paul was born and raised in a suburb of Boston, MA, but moved to California in her mid-20s. Sharrel decided to move back home in 2013 when she was diagnosed with stage 3/4 metastatic melanoma. Sharrel discovered ceramics in 2014 when she decided to take a class at a local studio as a form of "art therapy" while she was undergoing treatment. Sharrel fell in love with making functional pieces very quickly and then started her journey on Instagram to be able to sell her work and crocheted items.
---
Thu, 6 June 2019
Makers & Marketers | Benedicte & Jerome Leclere | Episode 530
Benedicte and Jerome Leclere recently left Brooklyn to find a better life balance and spend more time making ceramics. Relocating upstate New York near Woodstock, they just launched their brand called l'Impatience. Both originally from France and always on the look out for new objects to create, the name refers to the eagerness and expectation behind every project (pronounced 'Lum-puh-see-unce''). Their style is mainly defined by their tableware collections, elegant and minimalistic, that people can simply appreciate every day. They also enjoy making unique pieces such as vases and bonsai pots, a jewelry collection or even limited clothing items.
---
Tue, 4 June 2019
A Classroom Visit: The Teacher and Teachees | Jerm Wright, Jack Butler, & Gage Clisby | Episode 529
We get a real treat in this interview! We head into the classroom of Jerm Wright and spend time with the teacher, and two of his students, Jack Butler and Gage Clisby. This is a great insight into the high school classroom and what the ceramic program is like. I hope you enjoy this conversation as much as I enjoyed it.
---
Thu, 30 May 2019
The Teacher That Quit to Become a Full-Time Potter | Andrew Linderman | Episode 528
Andrew Linderman is a studio potter and former high school chemistry teacher. Originally from the Twin Cities, Andrew currently living and working in Milwaukee, WI. Andrew makes functional pots to make the best moments in life better, to make the mundane moments more enjoyable, and to make the difficult moments more bearable. Andrew uses his background in chemistry to create glazes that are enhanced by the firing process in which he produces his pots. Recently, Andrew has also explored how the wood-firing process affects the surfaces of his pots. Andrew continually strives to create work in which the functionality of a piece is enhanced by its aesthetic and tactile qualities. Andrew graduated from Luther College (Decorah, IA) in 2012 with a Bachelor of Arts in Chemistry. Andrew has learned his art and craft primarily from George Lowe during his undergraduate studies, S.C. Rolf post-graduation and wood firing from Simon Levin.. Linderman also teaches classes at Cream City Clay in Milwaukee, WI.
---
Tue, 28 May 2019
Turning Wild Rocks to Glaze | Matt Fiske | Episode 527
Matt Fiske's work explores the intersection of material, science, and ceramic firing process. Experimentation is an important aspect of Matt's studio practice, and focuses on manipulating common materials using uncommon firing conditions. Matt is inspired by the natural phenomena that occur in mineralogy and geology. In Matt's mind's eye, glaciers give way to icy celadon glazes, volcanoes ooze magma as glazes cascade down curves and roll off edges, crystals grow when conditions are conducive. Daily life, too, plays an important role in what Matt makes and why. The needs of the kitchen are for Matt, like many potters, a useful starting point for conceiving specific forms. Matt also draws from historical Asian ceramics as well as my experiences living in China and Korea. In the end, Matt strives to synthesize complex glazes and surfaces with objects that are as useful as they are beautiful.
---
Thu, 23 May 2019
The Artist with Clay and a Message | Kukuli Velarde | Episode 526
Kukuli Velarde is a Peruvian artist based in the United States since 1987. She has received awards and grants such as the Guggenheim Fellowship, the Pollock Krasner Foundation grant, the United States Artists-Knight fellowship, the Pew fellowship in Visual Arts, the Anonymous is a Woman award, the Joan Mitchell Foundation grant, among others. In 2013 her project CORPUS got the Grand Prize at the Gyeonggi Ceramics Biennial in South Korea. Her exhibition credits include: KUKULI VELARDE: THE COMPLICIT EYE at Taller; KUKULI VELARDE at AMOCA; PLUNDER ME, BABY at the Yenggi Museum of Ceramics' Biennial of Taipei; CORPUS at the Gyeonggi International Ceramic Biennial ; also KUKULI VELARDE: PLUNDER ME, BABY at the Nerman Museum of Contemporary Art in, PATRIMONIO at Barry Friedman Gallery and PLUNDER ME, BABY at Garth Clark Gallery. She is married to Doug Herren, sculptor and they have a small daughter named Vida. They live in Philadelphia, PA. USA.
---
Tue, 21 May 2019
Community, That's What Ceramics is All About | Logan Bishop | Episode 525
Logan Bishop was born in Louisville, Kentucky. Logan is an emerging artist residing in Louisville, Kentucky. He received his high school diploma from Saint Xavier High School in 2014. He received his BFA, emphasis on 3D in ceramics, from the University of Louisville in the spring of 2019. He has had work in displayed at the Cressman Center for Visual Arts for an annual student exhibition show, as well as the Louisville Hite Art Institute Gallery for his thesis exhibition. Logan's current work explores the nature of the surface of a utilitarian vessel limiting its utility but increasing its visual presence within the space.
---
Thu, 16 May 2019
40 Years of Clay | Torbjørn Kvasbø | Episode 524
Torbjørn Kvasbø lives and works in Venabygd, Norway. When Torbjørn was a child, his father said, "For God's sake, never get a regular job. With those words to encourage him, Torbjørn has pursued his own ambitions and intentions without hesitation. Clay has been the pursuit that Torbjørn has worked with instead of getting that "regular job". Even Torbjørn's work with clay has been far from "regular". He approaches clay punches, massage, kneading, rolling, throwing, pressing, stretching, and stamping all the while trying to get clay to become the vision that dances in Torbjørn's own mind.
---
Tue, 14 May 2019
She Found Clay at 13 | Aysha Peltz | Episode 523
Aysha Peltz's pottery explores imagined space, scale and the poetic properties of the ceramic medium. She is a studio potter and faculty at Bennington College in Vermont. Aysha and her husband, Todd Wahlstrom, also own and operate StudioPro Bats. Aysha has taught at a number of schools and art centers including: Arrowmont School of Arts and Crafts, Haystack Mountain School of Crafts, and the Kansas City Art Institute. Aysha's work is in many collections including Huntington Museum of Art, where she received the Walter Gropius Master Award. Aysha received her BFA and MFA from Alfred University.
---
Thu, 9 May 2019
A Red Bearded Professor | Ryan Kelly | Episode 522
Ryan W. Kelly has BFA in Ceramics from the Kansas City Art Institute and an MFA from The Ohio State University. Ryan is currently an Assistant Professor of Ceramics and Foundations at Western Washington University. Previously Ryan lived in Philadelphia, where he was a resident artist at The Clay Studio.
---
Tue, 7 May 2019
The Students Corner The Teacher | Clay Leonard | Episode 521
Clay Leonard is a ceramics artist who currently serves as an Assistant Professor of Ceramics at the University of Houston – Clear Lake in Houston, Texas. His work has been featured in international and national exhibitions, publications, and in collections including the International Museum of Dinnerware Design in Michigan, Guldagergaard: International Ceramic Research Center in Denmark, and in the National Museum of Slovenia.
---
Thu, 2 May 2019
Making After a 10 Year Break | Juliette Davin | Episode 520
Juliette Davin is a wife, mother & potter from Houston, Texas. Juliette received her BFA from The University of Texas in 1990. Juliette took a 4 week intro to pottery class in 1991 and was hooked! Soon after that her husband's job took us on an incredible adventure to Bangkok, Borneo, Jakarta, Houston, Perth and now back to Houston. Juliette brought a wheel, kiln, and lots of books with her overseas and became a self-taught potter, soaking up knowledge everywhere she could. Juliette now works out of her home studio in Texas. Juliette enjoys every aspect of ceramics but she thinks she's happiest when she has a sharp tool in hand, carving patterns into clay!
---
Tue, 30 April 2019
Growing Instagram Followers | Callahan Foose | Episode 519
Callahan Foose is a emerging ceramic artist living and working in northern Colorado. Callahan is the owner and full time potter at his company, CALLAHAN Ceramics. Callahan focuses most of his attention on creating detailed, one of a kind pieces with an emphasis on surface illustrations and decoration. While most of Callahan's work is wheel thrown, his style also somethings includes the use of 3D additions or alterations to his forms. Callahan does not adhere to one style for too long; as Callahan admits, his work is ever-changing to fit what he finds interesting or inspiring in the present time.
---
Thu, 25 April 2019
Websites for Potters | Kara Leigh Ford | Episode 518
Kara Leigh Ford is back for her second appearance on The Potters Cast. Last time she talked about Knowing When to Quit the Day Job. This time, along with giving us an update on her life, she also dives into the idea of the importance of having a website as a potter. Some of the main takeaways that I heard Kara talks about was that having a website of your own helps you to find and define who Your customers are. On all other platforms, ultimately the customer belongs to that platform that you are using as the storefront. On your website they are your customers. Another critical point is that having a website helps to build trust. The world is now associating authenticity with having an online home, a website. Kara has much more to say on this and her insights are brilliant.
---
Tue, 23 April 2019
Honest Making | Emma Connolly | Episode 517
Emma Connolly is a potter who lives and works in Bedfordshire in the UK. Emma attended pottery classes at night school later in life before setting up her studio in her garden. Emma hand builds organic pieces leaving all the marks made during the process. Emma's designs are inspired by the seasons and each piece has a scene carved by hand or by pressing botanicals into the clay.
---
Thu, 18 April 2019
Some Professional Tips | Emily Reason | Episode 516
Emily Reason is a potter, artist, and Instructor in Professional Crafts and Ceramics at Haywood Community College in North Carolina. She holds an MFA from the University of Nebraska-Lincoln and BFA from West Virginia University. Emily's ceramics career has encompassed artist residencies, writing, teaching, and exhibitions.
---
Tue, 16 April 2019
Searching for the Path | Brandon Pena | Episode 515
Originally from Cedar City, Utah, Brandon Peña is a functional potter currently teaching high school ceramics classes at Box Elder High School in Brigham City, Utah. Brandon received a BFA degree from Utah State University in 2016. Brandon discovered his passion for clay after taking his first ceramics class in high school; he now finds joy being able to share that passion with his own students. Aside from Making pottery, Brandon is an avid skateboarder who puts just as much time and effort into increasing his abilities on the board as he does with making his pots.
---
Thu, 11 April 2019
"Show Up. Try. Clean Up." | Phil Lyons | Episode 514
Phil Lyons is an artist, musician, and teacher in Madison, Wisconsin. Phil has been teaching ceramics & sculpture for the last 17 years at his alma mater, Madison West High where he replaced the legendary Don Hunt. Phil says, "I run one of the biggest and best high school ceramics studios anywhere!" Phil has an amazing wife (Judy) and three grown, creative sons.
---
Tue, 9 April 2019
Making In Australia | Alana Wilson | Episode 513
Alana Wilson is a ceramicist based in Sydney, Australia. She has been practicing ceramics for 7 years, since graduating from the National Art School with a BFA (Hons) in 2012. She exhibits regularly both nationally and internationally, most recently in Japan. While most works are essentially contemplative, the ode to traditional forms seeks to honor the nobility of the vessel and it's foremost function alongside an inherent respect of ceramics as a medium. Subtle surface destructions and experimental glazing and firing techniques are a major focus in the studio. Firing to 1260ºC allows the metamorphosis of surface degradation to be captured, appearing to exist in a state of motion and decay, even once cooled. These quiet meditations into the beauty of the decayed utilitarian attempt to captivate and impel the viewer beyond the physicality and functionality of the works.
---
Thu, 4 April 2019
The Clay Conference of the Year | NCECA 2019 | Episode 512
NCECA 2019 was an amazing conference for clay people from around the world. I met people from Scotland, Russia, New Zealand, Norway, Canada, and of course, the United States. And everyone has one thing in common... Clay! This is the largest conference of its kind in the world. In this episode I interview random attendies of NCECA.
---
Tue, 2 April 2019
It's Important to do The Same Thing Everyday | Reiko Miyagi | Episode 511
Reiko Mihagi is a native of Japan who got her ceramic education in Tokyo and experience as a studio potter in Mashiko, a renowned pottery town. After moving to the US Reiko experienced new materials and techniques and developed her signature sgraffito stoneware. Reiko work is infused with an appreciation of subtle beauty and the animistic view of the world from her native land. Reiko lives in Western North Carolina and, along with her pottery studio, runs a small market garden with her husband.
---
Thu, 28 March 2019
Face Mug Maker | Chad Nelson | Episode 510
Since graduating from Auburn University with a BFA in 2007, Chad Nelson has been making and selling pottery. The main goal of Chad's work is to help people smile a little bit more every day through the use of his functional stoneware.
---
Tue, 26 March 2019
An American Living Abroad | Trevor Foster | Episode 509
Trevor Foster has been working full time with ceramics for the past 10 years. Trevor has a BFA in Ceramics from the University of Washington were he studied under Akio Takamori and Doug Jeck. He operated a delft ceramics factory in Seattle for 2 years as an apprentice to Charles Kraftt. Trevor currently operates a ceramics studio in Chiang Mai, Thailand. Trevor's ceramics have been exhibited in 6 different countries over the past 2 years.
---
Thu, 21 March 2019
Instagram CoOp | Rachel Love | Episode 508
Rachel Love graduated from Western Washington University in 2007 with a Bachelor of Arts Degree in Mixed Media. Though Rachel's core focus while enrolled was printmaking, fibers, and photography, she prepared herself for a multitude of creative avenues by taking many other courses in almost every other branch of artistic expression the institution offered. As time has gone on and experiences and families have grown, Rachel currently devotes a majority of her time to her family and young daughters but has still been able to enrich and expand her business which can be found online under the name of High Yield Studio. Rachel is preparing for an exciting 2019, where she will continue to utilize her mixed media skills and expand on her true love and biggest interest which is creating ceramic pieces.
---
Tue, 19 March 2019
Doing The Known, But Being Unique | Lydia Johnson | Episode 507
Lydia Johnson is a ceramic artist and designer who works full time in her studio in Manchester, Connecticut. Lydia's work has been exhibited across the country at galleries such as The Clay Studio, Northern Clay Center, Arrowmont School of Arts and Crafts, Lillstreet Gallery, and Artstream Nomadic Gallery. Lydia was the recipient of the 2017 Individual Artist Fellowship from the Tennessee Arts Commission. This spring, Lydia will be a demonstrating artist at the Florida Heat symposium and showing work in Tokyo, Japan, and at the Architectural Design Digest show in New York City.
---
Thu, 14 March 2019
"Sold Out in a Few Hours" | Julia Smith | Episode 506
Julia Smith is a potter based in the Highlands of Scotland. Julia has a home studio and produces illustrated ceramics and one off pots for exhibitions. Julia uses earthenware, decals, and studio made layered glazes. Julia has an online sale once a month and sell at events throughout the UK.
---
Tue, 12 March 2019
From Nothing to Something | Laurie Caffery | Episode 505
Laurie Caffery Harris grew up in Boone, North Carolina, a small town surrounded by the peaks and valleys of the Blue Ridge Mountains. From a young age she was compelled to work with her hands, watching her mother, a professional painter. On weekends Laurie spent time in the woods with her father, where she learned to identify mountain ranges and types of trees. Encouraged by her creative parents, Laurie grew up passionately exploring different medias, primarily painting and drawing. It wasn't until beginning college that Laurie settled on a medium: clay. Four years later, Laurie received her Bachelor of Fine Arts Degree in Studio Art with an emphasis in ceramics at Appalachian State University in May 2014. Laurie is currently an Artist in Residence at Odyssey Clayworks in Asheville, North Carolina where she continues to create and evolve her work.
---
Thu, 7 March 2019
Daughter & Mother Take to Clay | Tuile & Carrie Whalen | Episode 504
Carrie Whalen, mother of four, from Kingston, Ontario, has been studying, creating, and teaching art for over 30 years. Carrie is an award winning design graduate with diplomas in fine arts and fashion design; she represented Canada twice on the international stage in fashion. Carrie has been running Y.A.K (Young Artists of Kingston) art camps for children for 24 years. Over the past three years, while unschooling her two daughters. Carrie has been doing an independent study in ceramics making whimsical, colorful, sometime highly detail, small functional forms.
Tuile is a 9 year old unschooled girl artist. Tuile has been drawing, painting and making clay sculptures since she's been able to hold a pencil, paintbrush, and ball of clay. Tuile is passionate about everything she does. Tuile loves imaginative play, animals, is passionate about global warming, chemistry, science, animal rights and is a young feminist. Tuile is currently spending her time learning how to make mugs in her own creative way.
---
Tue, 5 March 2019
Social Media and Its Impact | Emily May | Episode 503
Emily May is most at home while she is in the studio. Emily is an emerging, multidisciplinary artist from Vancouver, British Columbia who communicates her ideas mainly through ceramics but will also include sculpture, painting, film, performance, and collaborative work. Emily's love for clay came accidentally when she enrolled in art school with the hopes of becoming a painter. In April 2016, Emily received her Fine Arts Diploma from Langara College and she is currently residing in Halifax, Nova Scotia where she transferred to NSCAD University. Emily is hoping to complete her BFA with a major in Ceramics this year (2019).
---
Thu, 28 February 2019
YouTube for Potters | Jon Schmidt | Episode 502
Jon Schmidt is a potter, entrepreneur, adventurer, videographer, photographer, father, and husband. Jon began his pottery adventures in 2010 when he took his first wheel throwing class at Gustavus Adolphus in St. Peter, MN. Jon graduated with a Business management degree. Jon combined his passion for handmade pottery and entrepreneurship skills to purchase the coffee shop, Mocha Monkey in 2011, at 21 years old. Since then, Mocha Monkey has grown from 1 store and 18 employees to 3 locations, and over 50 employees. Mocha Monkey uses and sells all handmade Jon Schmidt pottery. Jon has spent most of his time honing the pottery business, being a husband and father to his 18 month old son, Ryder and seeking out the next adventure.
---
Tue, 26 February 2019
A Wholesale Maker in London | Hannah Bould | Episode 501
Hannah Bould is a potter who lives and works in North London. Hannah initially studied Illustration at Camberwell college of Art and went on to work in Fine Art printmaking, before getting involved with clay in 2012. Hannah now works full time from her garden studio making functional, wheel thrown, stoneware ceramics. Hannah's work is primarily monochromatic and she mostly works with wax resist, focusing on geometric bold shapes and expressive painterly marks.
---
Thu, 21 February 2019
Listener's Choice Part B | Picks From The First 500 Episodes | Episode 500B
I went to the mic and asked for the listeners to send me their top picks from the first 500 episodes and what part of the episodes really made and impact. For some of the people who wrote in I was able to call them and have a short conversation, and for others I read their email. Either way, this episode is dear to my heart. I hope you enjoy it.
---
Tue, 19 February 2019
Listener's Choice Part A | Picks From The First 500 Episodes | Episode 500A
I went to the mic and asked for the listeners to send me their top picks from the first 500 episodes and what part of the episodes really made and impact. I For some of the people who wrote in I was able to call them and have a short conversation, and for others I read their email. Either way, this episode is dear to my heart. I hop you enjoy it.
---
Thu, 14 February 2019
Some Great Conversating | Ian Childers | Episode 499
Originally from Philadelphia, PA, Ian Childers is an Associate Professor of Ceramics at MUW in Columbus, MS. Ian has been working with crystalline glazes since 2005 and has shown his work both internationally and nationally. In June/July 2016 Ian was a featured artist in Pottery Making Illustrated magazine showcasing his crystalline glazes.
---
Tue, 12 February 2019
"I Gotta Go Play Now" | Vicente Garcia | Episode 498
Vicente Garcia is involved in producing a body of work that includes vessels in clay, clay and steel, and steel sculptures. In ceramics Vicente's expertise is in primitive firing techniques, primarily raku and pit fires. In steel Vicente focuses on the fabrication process using many kinds of metals.
---
Thu, 7 February 2019
By Any Means Necessary | Adrian King | Episode 497
Adrian King is a potter making functional pottery in Portland, ME. Adrian grew up in New England and learned making pottery in high school. Adrian then pursued a BFA in ceramics as well as worked as an apprentice potter in NC. He now has returned to Maine to make pots and teach adjunct at a local art college.
---
Tue, 5 February 2019
Stepping Up The Game, Stepped Up The Results | Scott McClellan | Episode 496
Scott McClellan is a wood fire potter from northern Utah. Scott received his BFA from Utah State University. He then worked as a Studio Technician at Edinboro University of Pennsylvania, and a Resident Artist at Taos Clay. Scott then received an MFA from the University of Missouri. Scott is currently the Wood Fire Resident at The Clay Studio of Missoula.
---
Thu, 31 January 2019
Making a Side Hustle | Markus Flach | Episode 495
Markus Flach was born in Bamberg, Germany in 1979. He came in contact with pottery during a backpacking trip around the Dingle Island in Ireland in 2014 where his girlfriend paid for a 10 minute mini-pottery class. Markus really fell in love pretty much right away and a few weeks after returning home he bought a pottery wheel.
The following months he learned how to do pottery step by step almost entirely on his own. He purchased his first little electric kiln – then a raku kiln and started experimenting with the different styles of pottery.
Markus is a part-time potter and works at the Family Business (Paper Wholesale Company with 7 Employees) at the same time – giving him the freedom to really concentrate on the things he likes the most in pottery.
His focus is both on doing stoneware pottery and raku. Most of his works sell over the internet thanks to Instagram or facebook.
This year he made a raku film with a talented Filmmaker named Thomas Diroll. In Summer he became a Dad and is now proud father of his second son (first one with his divorced wife).
---
Tue, 29 January 2019
Developing a Vision | Samantha Momeyer | Episode 494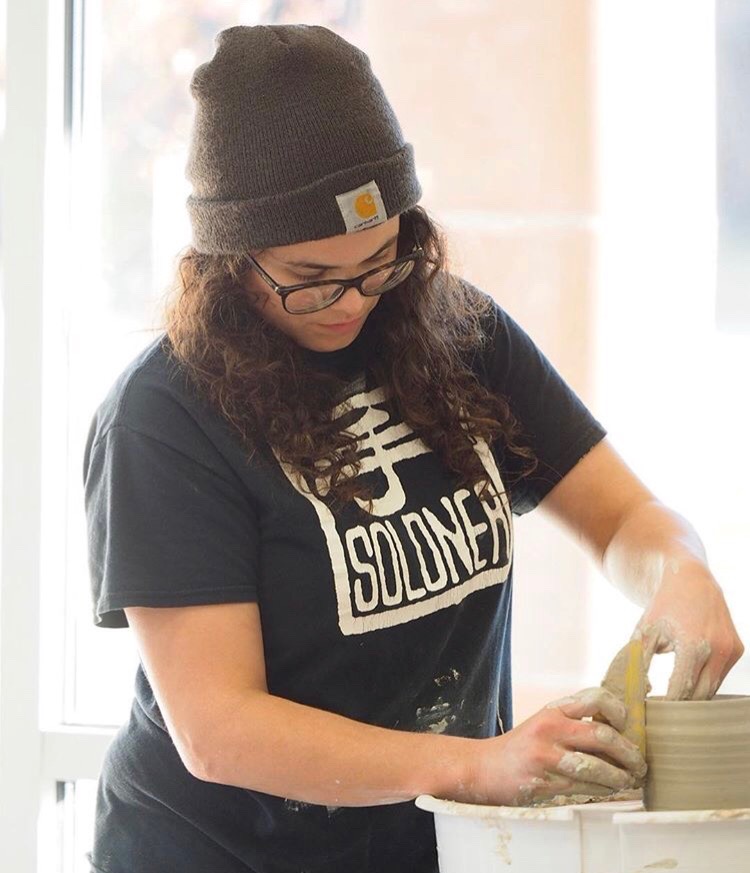 Samantha Momeyer is a Pittsburgh born potter. Samantha has worked at Touchstone Center for Arts, was the Pozefsky Fellow at Baltimore Clayworks, and recently completed a two year post bac at the University of Alaska Anchorage. Currently Samanth lives in Helena, MT, and is Tara Wilson's assistant.
---
Thu, 24 January 2019
An Australian Pottery | Warrick Palmateer | Episode 493
Warrick Palmateer is a Western Australian potter who has over 30 years of experience working with clay. Warrick's passion for working with clay started at the age of 15. He grew up on Western Australia's Southwest coastline and now resides north of Perth, in a coastal town. Warrick has been an avid beach comber and surfer from a young age, and this love has given him a unique insight into the light, shade, movement and expression of the littoral zone – where land meets ocean.
---
Tue, 22 January 2019
Clay Shouldn't Do This | Lisa Belsky | Episode 492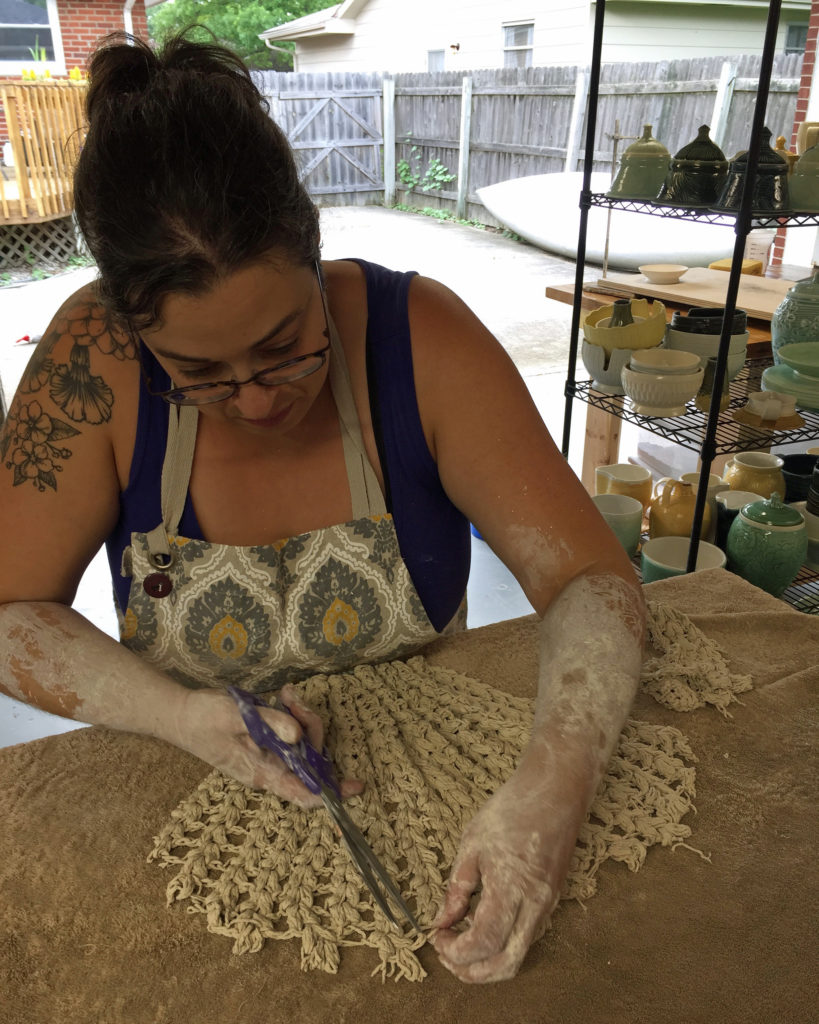 Lisa Belsky is a ceramic artist and art instructor currently living and working in Columbus, Ohio. Lisa received her MFA from Ohio State University and her BFA from Tyler School of Art in Philadelphia. Lisa's current work explores the intersection of fiber and clay where hand knit or crocheted fabric is dipped into porcelain slip to create sculptural vessels.
---
Thu, 17 January 2019
Opening a Community Center | Bronwyn Arundel | Episode 491
Bronwyn Arundel studied and graduated with a major in Ceramics and Art History at the Nova Scotia College of Art and Design University. Bronwyn now sells her work in over 20 Galleries and Gift Stores. In 2014 and 2015 ACTS awarded Bronyn's work with Best New Product. Bronwyn also exhibited at the ACTS Fine Art Juried show. In July 2015 Bronwyn moved from Halifax to Nanaimo, BC where she is continuing her production studio practice with wholesale and local juried craft shows. In March of 2018 Bronwyn expanded her business to include Nanaimo Ceramic Arts Studio and Gallery (NCEA. This location has an 800 square foot class room, tech rooms allowing her to teach pottery and to host other professional ceramic artist workshops. NCA has a 300 square foot gallery space to where Bronwyn features ceramic artists from Vancouver Island and across Canada. Over the last year she has developed an Artist in Residency program that focuses on the business development of visiting artists. Bronwyn is creating a community for the education of the ceramic arts in Nanaimo BC.
---
Tue, 15 January 2019
Mentorship | Ciro Di Ruocco | Episode 490
Ciro Di Ruocco is an emerging visual artist/curator, splitting his time between studios in Nanaimo, BC, Canada and his hometown of Duxbury, Vermont. Ciro's work in ceramics is complimented by an affinity for printmaking and surface/ texture design. Ciro combines a utilitarian sensibility with a contemporary street art aesthetic, fusing his own imagery to create works that are inspired by our daily lives. Ciro is currently an MFA candidate at the Vermont College of Fine Arts.
---
Thu, 10 January 2019
A Ton of Self-Doubt and Still Doing It | Kirk Jackson | Episode 489
Kirk Jackson is originally from Lewis Center, Ohio. Kirk discovered clay, as an expressive material, while studying at The Ohio State University. While pursuing a BFA there. Kirk had the opportunity to spend a semester in Jingdezhen, China and also did a summer residency at Watershed Center for Ceramic Arts. After completing his BFA, Kirk worked as Studio Manager at Watershed, participated in the Working Artist Program at Longwood University, was a Resident Artist as well as instructor at Seward Park Clay Studio. Kirk then became a Long-Term Resident for two years at Red Lodge Clay Center and two years at the Clay Studio of Missoula. Kirk currently lives and works out of his own studio in Missoula, Montana.
---
Tue, 8 January 2019
Being Where You Can Be Found | Masa Sasaki | Episode 488
Masayuki "Masa" Sasaki, is a classically trained artist, with multi-facetted interests. Masa is an accomplished pianist, award-winning painter, and uniquely stylistic potter. Since moving from his native Japan in the late 1980's, Masa has impressed teachers, patrons, and his fellow artists with his unique sense of precision and artistic vision.
"We live in the world where we are surrounded by machine-made and mass-produced goods today. I feel, as a contemporary craftsman, the need to validate the value of handmade items by making things that could not be easily duplicated and unique to my own artistic perspective. For me it is not enough that a final piece be essentially functional and pleasant, it must also be lasting in its desirability for use. Long after I have ceased to be productive the pieces that I accomplish today should still be enjoyed, appreciated, and used. This is the elusive quality that brings value to functional art, the lasting character that transcends the artist and outlives him. Whether in my paintings, musical composition, sculpture or pottery I desire most of all that the usefulness and aesthetic appeal be both easily perceived, and lasting."
---
Thu, 3 January 2019
The Professor Talks About the Process | Curtis Houston | Episode 487
Curtis Houston, a lifelong native of the South who currently resides in Lower Alabama. Curtis is the Three-Dimensional Art Professor at Mississippi Gulf Coast Community College. Southern influences have shaped Curtis' perception of the world and tinged his work with a sense of wry quirky wit. Within these cultural and regional idiosyncrasies, Curtis' sense of kitsch-like designs find their visual narrative and artistic voice.
---
Tue, 1 January 2019
Dreaming to Doing in 3 1/2 Years! | Tasja Pulawska | Episode 486
Tasja Pulawska was born in Warsaw in 1983 and lived in different parts of Europe before finally finding her home in Copenhagen. Tasja studied graphic design in Warsaw and Media art at the Bauhaus university in Germany. Tasja worked as a Graphic designer for about 5 years, and about 10 years ago she tarted playing with clay. Tasja decided to make pottery her full-time occupation in 2014. Tasja was a workshop assistant in a shared working space/studio in Oslo, and after moving to Denmark in 2014 she became Eric Landon's apprentice and later assistant at Tortus Copenhagen (for two and half years). Tasja opened her own workshop in December 2016.
---