Thu, 29 December 2016
In Between and On the Way | Chris Lively | Episode 279
Chris is a ceramic artist living in Virginia He has been a ceramic artist for 14 years Chris is married to his wife, Jordan, who is also an artist and they have a 4 month old baby, Cambrie. He recently publish an article titled "Winter Blues" in Pottery Making Illustrated
---
Tue, 27 December 2016
Keeping Isolation at Bay | Leilani Trinka | Episode 278
Leilani Trinka is a ceramic artist, born and raised in Hawaii but now living in Singapore. She works exclusively in porcelain and specializes in creating hand built objects with a functional approach. Her work is made from textured slabs, is generally small in scale, is highly detailed and meticulously crafted. Leilani is enthused by pattern and inspired by both the manmade and the natural worlds. She produces work that brings her joy and makes her smile.
---
Thu, 22 December 2016
Making a Job for Yourself | Elaine Fallon | Episode 277
Elaine Fallon trained as a potter in Thomastown Pottery Skills course in Co Kilkenny. Elaine is now 45 years old, mother of 3, and a puppy. Elaine's husband is an architectural photographer and after the recession they jokingly set up what they call Brookwood Enterprises. (Brookwood is the name of the road they live on!) Donal moved from his studio from the city centre and built a studio next to Elaine's
pottery. So Donal and Elaine have a very busy house with work, studio assistants, children, and everyday life mixed altogether.
Elaine makes functional wheel based work mostly in porcelain stoneware. Elaine lived in New York in her early twenties and used to take the train to Kew Gardens to splash around in a studio called the Potter's Wheel which still exists today!
---
Tue, 20 December 2016
A Mug Club | Sarah Wolf | Episode 276
Sarah is a ceramic artist in Portland, Oregon. Sarah's business, Wolf Ceramics, is just over a year old. Sarah found ceramics in high school and had a healthy clay obsession throughout college in eastern Washington while working on a degree in geochemistry. Sarah's initial years after college were spent traveling, farming in the San Juan Islands, and climbing in the Cascade Mountains. Sarah couldn't bring herself to get a real job in the field of geochemistry, and after seriously considering and then scraping the idea of architecture school, Sarah came back to clay.
Sarah decided to go back to school for ceramics and studied at the Oregon College of Art and Craft, where she hatched the idea for her business. A year and half ago, Sarah entered a matched savings grant program with Mercy Corps Northwest that supports new businesses. The funds from this grant came in August of 2016, kickstarted her business into a new space, and helped fund the purchase of studio equipment. Now that Sarah has a space of her own, she is taking on larger wholesale accounts with local businesses and eager to collaborate with other local businesses and crafts people!
---
Thu, 15 December 2016
Building Relationships with Clay | Adrienne Eliades | Episode 275
Adrienne Eliades is a studio artist living in Vancouver, Washington. She has been extremely fortunate to move all over the country for her work. A recent MFA graduate in Ceramics from the University of Florida in May 2016, Adrienne is currently working at the Ash Street Project in Portland, Oregon.
---
Tue, 13 December 2016
Decals & Pottery | Maggie Mae Beyeler | Episode 274
Maggie Beyeler started her studio, Magpie Pottery in the desert outside of Santa Fe, New Mexico 17 years ago. Formally trained at the University of Colorado, Boulder, Maggie earned her MFA in ceramics in 1993. Since that time Maggie has operated her own studio, taught at various colleges and universities throughout the area, and has become known for her image transfer tableware.
---
Thu, 8 December 2016
Kickstarting the Studio... Again | Marla Benton | Episode 273
Marla Benton's work is colourful, humorous, and playful. Marla's clay pieces are influenced by everyday adventures combined with nature, children, and daily living. Marla earned her education through the Nova Scotia College of Art and Design, the Ontario College of Art and Design (BFA), and Nipissing University (BED). Through all her experiences, Marla has been exposed to many different materials. Marla found that clay is the most complimentary medium, as she loves to play in mud, sculpting three dimensional, fanciful objects that echo the joys in her life.
---
Tue, 6 December 2016
Build the List | Zoë Johnson | Episode 272
Zoë Johnson is a ceramicist living and working on the Big Island of Hawaii. Much of her work occupies the space between functional and decorative, her vessels are embraced as physical representations of memory or gratitude, evoking a fleeting sea breeze or the salty reminiscence of a day at the beach.
---
Thu, 1 December 2016
A Beautiful Story of Relationships | Luke Eastop | Episode 271
Luke Eastop is a ceramicist with a background in the creative arts, and more recently as a chef. Both occupations have informed the development of his work, focusing on pared-down ceramic pieces, exploring the basic material qualities of clay, form, function and utility. He started making ceramics following the passing away of his grandfather, British studio potter Geoffrey Eastop, and is currently working in his studio in Berkshire.
---
Tue, 29 November 2016
Build That Mail List | Connie Pike | Episode 270
Connie Pike started her clay journey in 1971 and since 1978 she has been making her full-time living as a ceramic artist in Alberta, Canada. Connie's approach to working with clay evolves as she investigate a balance between function and aesthetic. Shapes and designs build upon themselves and new versions of form and decoration filter through the body of work and refresh the process. It is Connie's desire to create forms with rich surfaces. is interested in how her work can be used every day to bring art into our lives, enhancing our experience with food, adorning our homes, and providing a necessary ritual to nourish our soul and mind as well as our bodies. Connie is trying to make pottery that is successful in several ways: comfortable to use, enjoyable to look at, and interesting to think about.
---
Thu, 24 November 2016
Climbing the Mountain of Business Step by Step | Patty Bilbro | Episode 269
Patty Bilbro is a displaced southerner with a craft degree in clay and a BA in Psychology. She has been a resident artist at Odyssey Ceramic Arts and Baltimore Clayworks. Currently, Patty lives in Wilmington, DE and works out of her windowless leaky basement. She loves to teach.
---
Tue, 22 November 2016
Having The Side-Hustle to Support The Art | Theo Uliano | Episode 268
A lifelong native of the Philadelphia area, Theo Uliano completed his MFA in Ceramics at the Tyler School of Art, Temple University, Philadelphia in 2011, after earning his BFA in Ceramics at Kutztown University of Pennsylvania in 2007. Theo is currently Adjunct Professor in Ceramics at Tyler School of Art in Philadelphia and at Middlesex College in New Jersey. Recently Theo completed an artist residency at AIR Vallauris in the South of France and was also selected as an Emerging Artist 2015 by the publication Ceramics Monthly.
---
Thu, 17 November 2016
Getting All You Can From Workshops | Adam Field | Episode 267
Adam Field is fascinated with antique artifacts, the way they can speak of mastery of lost peoples, places, and cultures. This inspires Adam to create works that both radiate history and capture his own place and time. Adam's works toward a clean aesthetic that celebrates the masterful simplicity of antique Far Eastern pottery, while retaining the modest utility of colonial American wares. The surface of Adam's pottery is meticulously carved with intricate designs that borrow from nature and incorporate the human touch. Much of the carving on Adam's work is informed by the pattern languages found in indigenous fiber art, such as Hawaiian tapa, Incan cordage and Zulu basketry.
---
Tue, 15 November 2016
Building a Brand | Bhairavi Naik | Episode 266
Bhairavi Naik is a biochemistry graduate turned media professional. Bhairavi worked in several advertising agencies for many years, before finally accepting that she prefers clay over client servicing. As the senior partner at Curators of Clay, Bhairavi works at the studio as a potter and curator. Bhairavi mainly creates functional ceramics that can be used everyday. Curators of Clay's vision is simple, they want their work to be loved cherished and used everyday. Curators of Clay started out as a pursuit of beauty, peace, and happiness.
---
Thu, 10 November 2016
Some Insights on Becoming a Professor | Ron Geibel | Episode 265
Ron Geibel received his MFA from the University of Montana. Ceramics Monthly Magazine recognized Geibel as a 2015 emerging artist. Currently, Geibel is a Visiting Assistant Professor of Art at Southwestern University in Georgetown, TX. His work toys with the intersection of public vs. private and confronts matters concerning, sexuality, gender and identity.
---
Tue, 8 November 2016
Pine Needles and Pottery | Hannie Goldgewicht | Episode 264
Hannie was born in San Jose, Costa Rica but also spent part of her childhood in New York. She graduated with honors from the Universidad De Costa Rica with a degree in Fine Arts. Although her major was sculpture she was interested in all mediums, experimenting with ceramics, wood, metal, stone, textiles, mosaic, handmade paper just to mention a few.
Hannie has participated in many collective art shows as well as being accepted into the Costa Rican National "Biennial" on numerous occasions.
Together with her husband Leo Gotlibowski they created "Lugar del Espiral" to combine their talent as artists. They have worked together on many projects. They received high praise for their work for the Costa Rican Pre-Columbian Gold Museum where 8 life size human indigenous sculptures they made are on permanent display. They have recently moved with their son to Los Angeles to embark on a new life and creative career.
---
Thu, 3 November 2016
An Installation Artist Business | Gregory Miller | Episode 263
Gregory Miller is known for his sculptural ceramic installations. Gregory's style includes various forms and finishes to create a metaphoric microcosm of subjects. Gregory uses an array of clay bodies, from porcelain to stoneware, with each piece hand formed with textures, mixed media and glazes to create the desired effect.
---
Tue, 1 November 2016
Website for the Potter | Mallorie Terranova | Episode 262
Mallorie Terranova was born in Richmond, VA and raised in Huntersville, NC. After graduating high school, she moved to Wilmington, NC to attend the University of North Carolina Wilmington. Mallorie eventually found her way into the Studio Art program, where she got her hands in clay for the first time, and fell head over heels for the ceramic craft. In December 2015 she graduated from UNC Wilmington, earning a Studio Art Degree with a concentration in Ceramics. While still in school she founded her own pottery business, Jars of Dust. She is driven by being able to create functional vessels, essentially from dust and water, that can be used every single day. Now Mallorie is living on Hatteras Island off the coast of North Carolina with her husband, PJ, and their chocolate lab, Brown Bear. Currently, she is working at a pottery studio called Kinnakeet Clay where she teaches several different classes, as well as striving to grow her own business.
---
Thu, 27 October 2016
The Balance Approach to Giving | Yoshi Fujii | Episode 261
Yoshi Fujii received a B.F.A from the University of Southern Mississippi in 2002 and a M.F.A. from Southern Illinois University in 2008. Yoshi was selected as a recipient of the 2008-09 Lormina Salter Fellowship from Baltimore Clayworks where he currently serves as a resident artist, instructor, and gallery manager.
---
Tue, 25 October 2016
How to Get Your Work Known | Lorna Meaden | Episode 260
Lorna Meaden grew up in the western suburbs of Chicago. She received a B.A. from Fort Lewis College in 1994, and an MFA in ceramics from Ohio University 2005. She has been a resident artist at the Archie Bray Foundation in Helena, Montana, and at the Anderson Ranch Arts Center in Snowmass Village, Colorado. Her work is represented my several national galleries. She has taught numerous workshops nationally and internationally, in addition to being featured as a demonstrator and lecturer at the National Council on Education in Ceramic Arts, and Utilitarian Clay V: Celebrate the Object. Lorna is currently a studio potter in Durango, CO.
---
Thu, 20 October 2016
Ideas on Building a Foundation for an Art Business | John Newdigate | Episode 259
John Newdigate has worked as a professional artist and ceramist since 1991, exploring the properties of many different materials, including metal, paper, fibre, plastic, paint and clay. In ceramics John has specialised in high-fired translucent carved porcelain and reduction-fired celadon glazes. John's work is mostly functional, as it enriches day-to-day life, bringing art and design, imagination and inspiration into otherwise ordinary moments. John does not believe in being different for difference´s sake; instead he has respect for tradition, without being bound to it. The most important theme in John's work, and his constant inspiration, is the ever-changing sea, which has always fascinated John - not just the creatures in it, but also the interplay of light and water. From the ordered chaos of white horses on a choppy sea to the synergy of a school of anchovies, there seems to be enough inspiration in and around the sea and its shores to last many lifetimes.
---
Tue, 18 October 2016
Some Thoughts on Surviving in a Small Town | Kelly Lever & Adam Russel | Episode 258
Wife and husband team, Kelly Lever and Adam Russel co-own Key West Pottery. Their studio and gallery are in the southern most city of the United States, Key West, Florida. Formally trained as painters, Kelly and Adam both take a very colorful and charismatic approach to their ceramic work, which is reflective of the tropical island they call home. Kelly and Adam are creating a modern interpretation of an ancient art form.
---
Thu, 13 October 2016
A New Zealand Potter | Sue Scobie | Episode 257
At the end of 2008 Sue Scobie switched from a career as an environmental scientist to working with clay full-time. Sue spent 2009 finishing a Diploma in Ceramics (by distance from Otago Polytechnic). Since then she has continued developing her simple vessel-based forms in colored clay, inspired by landscapes and the environment.
---
Tue, 11 October 2016
Talking Over a Business | Lina Alvarez | Episode 256
Lina Alvarez was drawn to art at an early age. Before moving to Los Angeles in 2006, Lina graduated from the University of Georgia, where she taught art to children at Lyndon House Arts Center and earned her BA in Studio Art with a concentration in Ceramics. Originally from Medellin, Colombia, Lina's art is a hybrid of cultures and embodies many qualities—some pieces may be precise and simple, while others are loose and organically shaped. Lina currently focuses on chic and functional utilitarian pottery, which is available inside Good Dirt LA's artist shop and on Etsy. Lina believes in cultivating creativity and encourages her students to leave their expectations behind. "The creating and making processes are truly therapeutic and enjoyable for me," she says. "But nothing brings me more joy than knowing that others actually use my work as part of their daily routines. It's that tea they have before bedtime, or the coffee that helps them start the day. It's like I'm passing along a little bit of my love to them, since I feel that each of my pieces were created with the most loving of intentions."
---
Thu, 6 October 2016
Finding the Passion | Elizabeth Borowsky | Episode 255
Elizabeth b. Borowsky is a ceramic artist living and working in the beautiful countryside of South Carolina. She received a BFA from Clemson University with an emphasis in sculpture. She launched Elizabeth b. Ceramics in 2014. Her work is elegant, functional, and often carved or pierced with clean, graceful lines.
---
Tue, 4 October 2016
A Family Fit | Tim Kowalczyk | Episode 254
Tim Kowalczyk did his undergrad at Southern Illinois University Carbondale and majored in Art Education and Ceramics, with a minor Art History. Tim took a year off before attending Illinois State University for Tim's MFA in Ceramics. In 2011 Tim graduated and moved to a small town 30 minutes north of Normal called Minonk, which is where Tim lives and works.
---
Thu, 29 September 2016
A Pot-Ographer | Helen Levi | Episode 253
Helen Levi grew up in the East Village of New York City. Helen's first encounter with clay was as a young child in an after school event. For college she studied photography which became a great compliment to her work as a ceramicist. As an adult she did a number of part-times jobs to make a living as an artist living in New York and teaching pottery classes was one of them. Helen set up her own studio where she makes beautiful stoneware ceramics in Brooklyn.
---
Tue, 27 September 2016
A Path to a Happy Place | Amy Fields | Episode 252
Amy Fields was born and grew up in Buffalo, NY. Amy was introduced to clay when she was about 8 years old. She received her BFA from the NYSCC@Alfred University with a concentration in ceramics. Lured by the landscape, Amy eventually moved out to Portland, Oregon. Amy feels very lucky to have landed at Stark Street Studios among artists and potters that she admires.
---
Thu, 22 September 2016
Art Therapy | Cindy Gibson | Episode 251
Cindy Gibson is a wood fire/soda fire potter who hails from Ruston, Louisiana. She earned a BFA from Louisiana Tech University. After graduating she spent two years in Goshen, IN interning with several area potters. She recently moved to Brevard, NC to further her ceramic career. Her extraterrestrial body of work combines functional and sculptural elements into a short story about the effects we have in this universe. In addition, she creates exotic and domestic wooden earrings that you can use for pottery tools.
---
Tue, 20 September 2016
Starting Fresh | Mollie Jenkins | Episode 250
Born and raised in Columbus, GA Mollie took her first ceramics class in High School and from then on has had a passion for turning clay into functional items. While attending Auburn University she began to sell her pottery and then started Mollie Jenkins Pottery. Upon graduating with a BFA from Auburn in May 15' Jenkins moved back to Columbus to focus on her business and in February she made the move to Nashville, TN where she has since been growing her business and pursuing pottery as a career.
---
Thu, 15 September 2016
Building a Community Center | Tallie Maughan | Episode 249
Tallie Maughan is the Founder of Turning Earth, the open-access ceramics studio in Hoxton East London. Once a hobby-maker herself, now Tallie's passion is to help new makers make their first steps in the craft - for business or for pleasure - and to support those that are ready to launch themselves into a full-time making career.
---
Tue, 13 September 2016
Getting Into Shows | Keaton Skyles | Episode 248
Keaton Skyles is a 29 year old ceramic artist and has been working with clay for 15 years. In 2010 Keaton earned his BA in psychology at Boise State University. In 2011 Keaton set up his own ceramic studio space. Keaton's work ranges from raku and saggar to large stoneware forms and functional porcelain.
---
Thu, 8 September 2016
Some High School Teachers | Kevin Kowalski & Michael Millam | Episode 247
Kevin Kowalski has always been one to work with his hands since an early age. He had a fascination with the process of how things worked and how things were made and not just the finished product. Kevin started with pottery in his Junior year of High school and fell in love with the clay process. Kevin was finally able to work from start to finish with clay and could learn along the way.
Kevin went on to received a BFA in Ceramics and BA in Art education from California State University, Fullerton. He took a year off after Graduation to travel and taught English in Taiwan where he met a local potter and studied with him for 10 weeks. During this time Kevin learned new throwing techniques and began a love for the moon vase form and developed a vast taste of tea. After returning to California Kevin got his teaching credential and landed an art position in the same district he was a student. Two years later Kevin transferred to Esperanza High School where he is currently teaching 5 periods of Ceramics.
Kevin works out of his home studio where he has recently been using Periscope to connect with the pottery community. Kevin also uses Instagram and Facebook to help market his artwork and has an Etsy shop where he sells his pottery.
Michael Millam was born and raised in Southern, California and graduated high school in 1999. Michael attended California State University Fullerton, earning a BA in art education in 2006. He then spent his first 6 years teaching traditional black and white and digital photography at Kennedy High School. In 2012 Michael moved to Western High School to teach ceramics. In June of 2015 Michael completed a Masters in Art Education from Boston University. Michael was a presenter at NAEA convention and spoke on the subject of high school students using ceramics to communicate identity. Michael also participated on the California Commission on Teacher Credentialing (CTC) and the Evaluation Systems group of Pearson and served on the California Teaching Performance Assessment (CalTPA) Art Content Expert Panel.
---
Tue, 6 September 2016
Being a Mom and a Maker | Joy Tanner | Episode 246
Joy Tanner has been a studio potter in Bakersville, NC for 12 years. She received a BFA in Ceramics at UT Chattanooga, was a Resident Artist at the Odyssey Center for the Ceramic Arts, Watershed Center for the Ceramic Arts and the EnergyXChange.
---
Thu, 1 September 2016
Eliminating Expectation | Steven Young Lee | Episode 245
Steven Young Lee has been the resident artist director of the Archie Bray Foundation for the Ceramic Arts in Helena, Montana since 2006. His work has been collected by the Renwick Gallery of the Smithsonian Museum, the Daum Museum of Contemporary Art, the Four Seasons Hotel in Seoul, Korea, as well as many private collections.Steve received his BFA and MFA in Ceramics from Alfred University. Originally from Chicago, he lives in Helena with his wife, Lisa and their son and daughter Gavin and Florence.
---
Tue, 30 August 2016
Finding Your Market | Mitchell Spain | Episode 244
Mitchell Spain received his BFA and MFA in ceramics at The University of Iowa and the University of Kansas respectively. He has exhibited nationally and internationally receiving awards for his trompe l'oeil ceramic works. He currently resides near Des Moines, Iowa working as a full-time studio artist.
---
Thu, 25 August 2016
The Therapy of Clay | Ashleigh Christelis | Episode 243
Ashleigh Christelis is a Full time potter living in Johannesburg, South Africa. Ashleigh runs her own teaching studio at a community center and has been working with clay for nearly 20 years! Ashleigh did full time apprenticeship with Kim Sacks that lasted for 4 years. Since then Ashleigh has been running studios on and off. She worked as a woodwork teacher at The Waldorf school in Johannesburg for nearly 6 years during which time clay took a bit of a backseat. Ashleigh works mainly in high fired oxidation 1260c/cone 9 porcelain and stoneware.
---
Tue, 23 August 2016
Making a Way | Amanda Dobbratz | Episode 242
Amanda Dobbratz graduated from The Glasgow School of Art in Glasgow, UK, with a Masters in Research in Creative Practice. Amanda makes functional, complex ceramics, which marry the whimsical with the pragmatic, often conveying a sense of play and humor. Amanda is a 2015 Anonymous Potter Studio Fellow and currently works as Northern Clay Center's Marketing and Communications Associate.
---
Thu, 18 August 2016
Giving Life to Clay | Lara Zilibowitz | Episode 241
Lara Zilibowitz is a yoga teacher and ceramicist living in Sydney, Australia with a longstanding passion for creative expression through the body. She always been fascinated by the Hindu and Buddhist symbolism of the 'mandala', a representation of the microcosm and the macrocosm of the universe. All her ceramic pieces are thrown on the wheel, painted with underglaze and carved into using sgraffito method. The process of carving each mandala is spontaneous, she sits in front of the clay canvas with no plan, giving her hand free reign. Lara approaches working with the clay as a meditation practice.
---
Tue, 16 August 2016
A Professor's Journey | Samuel Johnson | Episode 240
Samuel Johnson was born on the Eastern prairie of the Red River Valley in 1973. After studying painting and ceramics at the University of Minnesota at Morris, he served a three and half year apprenticeship in pottery under Richard Bresnahan. In 2000, he was invited as a guest of Denmark's Design School to study Scandinavian Ceramic design in Copenhagen; while also working at the International Ceramic Center in Skaelskor and as an assistant in private porcelain studios. After working for a short period in a studio in New York, he traveled to Japan as a studio guest of Koie Ryoji. In 2005, Johnson earned graduate degrees in fine art from the University of Iowa. He currently serves on the Board of Directors for Artaxis.org, and international artist organization, and is an Associate Professor of Art at the College of Saint Benedict and Saint John's University in Central Minnesota.
---
Thu, 11 August 2016
A Sense of Belonging | Bryan Hopkins | Episode 239
Bryan Hopkins went to college to study mathematics, and later earned an MFA in Ceramics from SUNY New Paltz. He lives in Buffalo, NY. Bryan's personal research in ceramics centers on the vessel- both utilitarian and sculptural. He teaches at Niagara County Community College in Sanborn, NY.
---
Tue, 9 August 2016
A Raku Potter | Eric Stearns | Episode 238
Eric Stearns earned his BA from Doane College and MFA from Fort Hays State University in Kansas, returning to Doane to teach after graduation. When not teaching, Eric creates sculptural pierced raku-fired art with a eye toward precision while emphasizing his mathematical patterns.
---
Thu, 4 August 2016
Instagram Lessons | Anne Pryde | Episode 237
Anne Pryde is a professional ceramic artist working from her home-based studio in Hatchet Lake Nova Scotia. A graduate of NSCAD University, Anne has been working as a professional in clay since 2006. Her recent work can be found in a variety of galleries and gift shops in Atlantic Canada. Anne's work is influenced by wild medicinal plants, agricultural practices and a strong tradition of pottery in Nova Scotia.
---
Tue, 2 August 2016
Being An Assistant | Garrett DeLooze | Episode 236
Garrett DeLooze is a wood fire potter from Annapolis, Maryland, currently working in Gishen, Indiana. Garrett received his BFA from Frostburg State University in 2012 and stayed an extra year to be the ceramic lab tech/teaching assistant. The following year Garrett was a production potter for a center helping adults with developmental disabilities gain employment through a day program. At the beginning of 2015, Garrett moved to Goshen, Indiana to be Justin Rothshank's assistant.
---
Thu, 28 July 2016
Some Thoughts On Social Media | Matthew Schiemann | Episode 235
Matthew Schiemann is a second-generation potter that grew up watching and helping his dad create ceramic works. This early exposure taught Matt to appreciate the handmade object and eventually to choose the field of ceramics for himself. He received his Bachelors of Arts in Sculpture and Ceramics from Ashland University in 2005 and his Masters of Fine Arts in Ceramics at Southern Illinois University Carbondale in 2009.
While in graduate school, Matt worked as Harris Deller's personal assistant and as a Teaching Assistant for the wheel throwing and industrial design courses. During this time, he began building his own body of work focused on functional pottery fired in atmospheric kilns.
After graduating from Southern Illinois University Carbondale, Matt was accepted as an artist in residence at the St. Petersburg Clay Company. Shortly after being accepted as A.I.R. Matt became an adjunct professor at Eckerd College for PEL program's ceramics department. In October of 2010, Matt became co-owner/director of the St. Petersburg Clay Company.
---
Tue, 26 July 2016
Rekindling a Love for Clay | Sarah Thompson | Episode 234
Sarah Thompson works with porcelain and throws it mostly on her potters wheel. Sarah hand paints botanical motifs on the surface of each pot, and then glazes them in her own colors. Sarah's work is functional ceramics.
---
Fri, 22 July 2016
Finding Values | Robert Piepenburg | Episode 232
Robert Piepenburg was born in Detroit, MI and received his Bachelor's, Master's degree and MFA degree from Eastern Michigan University. He is the recipient of a National Endowment for the Arts Fellowship, three Michigan Council for the Arts Creative Artists Grants and an Outstanding Teacher of the Year award from Oakland Community College. His works appear in public and private collections from the Hawaii State Foundation on Culture and the Arts to the Smithsonian Institution in Washington, D.C.
---
Tue, 19 July 2016
Getting Past the Fear of Waste | Ian F. Thomas | Episode 232
Ian F. Thomas is an installation artist living in Slippery Rock, PA and works at Allegheny College in Meadville, PA. Ian holds a BFA from Slippery Rock University and an MFA from Texas Tech University. Ian received additional training at the Academy of Fine Arts and Design in Bratislava, Slovakia, and The Pottery Workshop in Jingdezhen, China.
---
Thu, 14 July 2016
A Family Story of Clay | Risa Nishimori | Episode 231
Risa Nisimori has been working and teaching ceramics at her studio, N.Y. Togei Kyoshitsu in New York City. Risa studied proper wheel throwing in Japan, but Risa's preferred method is Nerikomi, using different mixed clays and creating new and interesting patterns.
---
Tue, 12 July 2016
A Woman in Art | Lauren Gallaspy | Episode 230
Lauren Gallaspy received her BFA in ceramics at the University of Georgia in 2005 and her MFA from the New York State College of Ceramics at Alfred University in 2007. From 2009 to 2012, Gallaspy served as co-director and owner of Trace Gallery in Athens, Georgia alongside artist, educator, and collector Andy Nasisse. In 2013, she was recognized by the National Council on Education for the Ceramic Arts as an Emerging Artist in the field. Additionally, she was one of 25 artists awarded the prestigious Joan Mitchell Painters & Sculptors Grant for 2012. Her work has been featured in Ceramics:Art & Perception, Ceramics Monthly, Ceramics Now, Clay Times, Lark Book's The Best of 500 Ceramics and 500 Cups, Rocky Mountain Artists, and the recently published Glaze: The Ultimate Ceramic Artist's Guide to Glaze and Color. Gallaspy has exhibited nationally and internationally in over 60 group and solo exhibitions since 2007, including in the highly publicized "State of the Art: Discovering American Art Now" at Crystal Bridges Museum in Arkansas. Lauren was an Assistant Professor of Fine Arts from 2012 to 2015 at the University of Utah in Salt Lake City. She is currently a long term resident at the Archie Bray Foundation in Helena, Montana.
---
Thu, 7 July 2016
A Skutt Champion | Herrick Smith | Episode 229
Herrick Smith is a current MFA candidate at Fort Hays State University. Smith enjoys wood and soda firing as well as casting various metals. His ceramic work focuses on vessels while the cast work is abstracted and organic. After graduation Smith hopes to teach college ceramics and/or sculpture.
---
Tue, 5 July 2016
Making a Choice to Be What You Want | Nikki Mizak | Episode 228
Nikki Mizak is a potter in North Carolina who makes functional pottery featuring hand painted animals and slip trailed texture. Nikki finds inspiration in nature so Nikki features chicken in much of her work. She has a real talent at capturing the individual chicken's personalities on her pots.
---
Thu, 30 June 2016
Doing Things They Say You Can't Do | Emily Free Wilson | Episode 227
Emily Free Wilson is a ceramic artist and entrepreneur in Helena, Montana. She runs her pottery business Free Ceramics and the Studio Art Center, with her husband Matt Wilson. In 2014, Emily and Matt purchased an old funeral home and have converted into an art center. Emily recently retired from 10 years as the gallery director at the Archie Bray Foundation.
---
Tue, 28 June 2016
Living the Experiment | Rachel Donner | Episode 226
Rachel Donner is a full time potter living in Santa Fe, New Mexico. She grew surrounded by art and history in the small town of Taos, NM. Rachel studied ceramics at the University of Northern Colorado and went on to do a few residencies and assistantships before settling back in New Mexico, for the time being.
---
Thu, 23 June 2016
Periscope for Potters | Neil Celani | Episode 225
Neil Celani makes functional pottery and does most of his firing in a soda kiln that Neil built. Neil is influenced by the psychedelia found in nature. He loves music and dancing and doesn't let algorithms choose what he listens to. Oh, and fire rules.
---
Tue, 21 June 2016
Bringing A Message to Your Work | Jessica Putnam-Phillips | Episode 224
Jessica Putnam-Phillips is a ceramic artist, USAF Veteran, illustrator and activist. She received her MFA from the Art Institute of Boston and her BA from UNC-Wilmington. She was a resident artist at SCAC and recently attended residencies at Haystack and AIR Vallauris. She currently teaches ceramics at CCV and VAE.
---
Thu, 16 June 2016
The Value of the Apprenticeship | Clary Illian | Episode 223
Clary Illian is a true treasure for the clay community around the world. Her book, A Potter's Workbook, has been played an important role in the development of potters' skill and understanding of clay and making. An award winning documentay, A Year in the Life, focused on her work and principles. PBS also featured her work in Craft in America. Having studied as an apprentice in Bernard Leach's St. Ives Studio, Clary eventually made her way back to the United States and set up a studio in Ely, Iowa. For over half a century Clay has worked in earthenware, stoneware, and porcelain with the idea of making pottery for ordinary people at affordable prices.
---
Tue, 14 June 2016
Scientist to Ceramicist | Anna Mulders | Episode 222
Anna Mulders studied and worked in science while taking evening classes in art, including over ten years of sculpture and five years of ceramic courses. Since the end of 2013 Anna's focus has moved from science to art. One of Anna's favorites are coffee cups with rich colors and random effect due to glaze dripping or irregular firing.
---
Thu, 9 June 2016
The Potter & The Actor | Peter Sheldon & Ellen Woglom | Episode 221
Sheldon Ceramics is located in the Silverlake neighborhood of Los Angeles, CA. Sheldon Ceramics is owned and operated by ceramic artist, Peter Sheldon, and all around awesome fiancé and business partner, Ellen Woglom. Together, Peter and Ellen create beautiful, one-of-a-kind, functional wares and accents for the home. Each piece is crafted by Peter to embrace the unique variations and personality of the materials. Peter and Ellen hope to provide something that will be used and enjoyed for years to come. Whether shared around a dinner table with friends and family, or displaying fresh-cut flowers, their pieces are designed to enhance the home.
---
Tue, 7 June 2016
Geekin' Out On Instagram | Tom Kemp | Episode 220
Tom Kemp is relatively new to pottery. Tom has spent the past four years as a part-time self-learning with a few courses thrown in. For many years Tom studied lettering and formal writing which translated into an abstract painting technique which Tom now applies to his pots. Tom also trained as a computer scientist.
---
Thu, 2 June 2016
Mastering The Potters Wheel | Ben Carter | Episode 219
Ben Carter returns for a third appearance on The Potters Cast. This time he talks about his new book, Mastering The Potter's Wheel. That isn't all that we talk about, but it is a big piece of the action. So Enjoy today's episode with Ben Carter.
---
Tue, 31 May 2016
Playing with Sharks | Patrick Gibson | Episode 218
Patrick Gibson focus is on creating ceramics to enhance people's everyday rituals. Eating meals together, drinking a cup of tea, or even grabbing that morning cup of coffee, can be transformed from something ordinary into a meaningful experience through the use of beautiful and thoughtfully designed vessels. Patrick enjoys clean lines and utilizes surface design that favors spontaneity over more laborious techniques. Patrick glazes impart an ethereal buoyancy and calming serenity to the pots.
---
Thu, 26 May 2016
Starting Out | Jordan Jones | Episode 217
Jordan Jones is a potter living in Freeland, WA who recently completed a 3-year apprenticeship with Robbie Lobell. She creates functional pottery in a home studio that she shares with her housemate Clovy Tsuchiya. Part-time, she glazes & fires kilns for Cook on Clay. Aside from clay, she enjoys animals and plants.
---
Tue, 24 May 2016
Impact of Encouragement | Nick DeVries | Episode 216
After graduating from St John University in 2001 with a major in art, Nick DeVries has worked as a production potter, taught classes at local art centers, and since 2011 he has pursued his studio work full time. Nick has exhibited his work nationally and maintains a studio in Minneapolis MN.
---
Thu, 19 May 2016
Better Together | Jenn Gauer & Meghan Radick | Episode 215
Jenn Gauer and Meghan Radick make pottery that is functional and lovely. Jenn uses a fine porcelain and throws the pieces on a potter's wheel, and Meghan decorates them using cake decorating techniques. Each bowl, cup or vase feels great and looks elegant—this is art that you are meant to use and enjoy!
---
Tue, 17 May 2016
Social Media Testing | Joseph Travis | Episode 214
Joseph Travis is a maker of functional ceramic objects, which are either filmed or live streamed straight from the Red Fox Pottery Studio. Currently Joseph is updating his pottery portfolio and placing the rest into an archive. Digital Ceramics Researcher: Joseph is currently a research student within MIRIAD at Manchester Metropolitan University, researching how we can use e-learning to help teach traditional skills like ceramics.
---
Thu, 12 May 2016
Giving Art | Kim Press | Episode 213
Kim Press likes to think of her work as her story. Each piece of art that Kim makes is a feeling, a thought, or a small moment in her life that is screaming to get out. Kim loves that she can make things that are uniquely her own. In a time where you can have anything you desire delivered to your doorstep with the click of a button, Kim loves that she is able to create things that require time to make. For Kim, being a maker in a world run by machines is incredibly gratifying. Kim's work is Kim's story. Kim's work is Kim.
---
Tue, 10 May 2016
The Joy of Starting Over | Annie Chrietzberg | Episode 212
Annie Chrietzberg took her first ceramics class in 1991, and then went on to acquire both a Bachelor's and Master's degree in Ceramics. In addition to making and selling work, she has written more than twenty articles for Pottery Making Illustrated, taught at the college level, and has given workshops around the country and in Canada.
---
Thu, 5 May 2016
Drips That Touch The Soul | Branan Mercer| Episode 211
Branan Mercer graduated with a BFA in Ceramics from Auburn University in 2008. After graduation, he spent two years in St. Petersburg Florida as a resident artist at the Craftsman House Gallery and four years in Fairhope Alabama as Studio Manager and Instructor at The Kiln Studio and Gallery. Currently he resides in Birmingham Alabama where he is setting up a private studio.
---
Tue, 3 May 2016
Makers and Sellers | Ceramic Showcase 2016 | Episode 210
The Ceramic Showcase in Portland Oregon in the largest ceramic showcase and sale in the United States. I am fortunate enough to live within a few minutes of the event. So I grabbed my recording equipment and headed down to the event. The work was amazing and the people are even better. Here are just a few examples of the great people and work that was found in the halls of the event.
---
Thu, 28 April 2016
"There's Always a Market" | Sikiu Perez | Episode 209
Sikiu Perez was born in Venezuela. At early age, Sikiu started art school, where her father worked teaching ceramics. While in Venezuela, Sikiu acquired an Advertising and Marketing degree. In 2001 Sikiu moved to The United States, where she now lives with her husband who built her studio on the shore of a beautiful lake.
---
Tue, 26 April 2016
Art by Fuzzy | Brandon Schwartz | Episode 208
Brandon Schwartz is a full time Title 1 teacher, husband and father. He is also a part time potter, photographer, and designer. He grew up in Brooklyn, MI, earned an Art Ed degree at Huntington University and currently lives and works near Goshen, IN. He is currently focused on wheel thrown, functional pottery fired to cone 6 in oxidation.
---
Thu, 21 April 2016
Business Philosophy for Potters | Will McCanless | Episode 207
Will McCanless is a second generation potter from Seagrove, NC. Will has been very fortunate to have been exposed from an early age to some of the best potters in the country while living and training in Seagrove, NC. Will's training has primarily been on an apprenticeship basis early in life with his parents, which was then followed by lots of informal travel and exposure related to all things clay. Will does a variety of styles and he is striving always to evolve.
---
Tue, 19 April 2016
Doing Sales a Little Different | Marianne Tolosa | Episode 206
Marianne Tolosa is a ceramic Artist living and working in Northern Virginia. Marianne makes functional, whimsical, wheel-thrown, and hand-built pottery! Marianne's background is in oil painting -> teaching english overseas -> interior design -> coffee -> graphic design -> pottery. A very round about creative route!
---
Thu, 14 April 2016
The Hashtag Filing System | Didem Mert | Episode 205
Didem Mert was born and raised in Cincinnati, OH. She was featured on the cover of Pottery Making Illustrated's January/Febuary 2016 issue. Mert was included on C File's list of 15 Potters to Watch in 2016. Didem is currently attending Edinboro University's MFA (ceramics) program and is expected to graduate in 2017.
---
Tue, 12 April 2016
"It was an Accident" | William Baker | Episode 204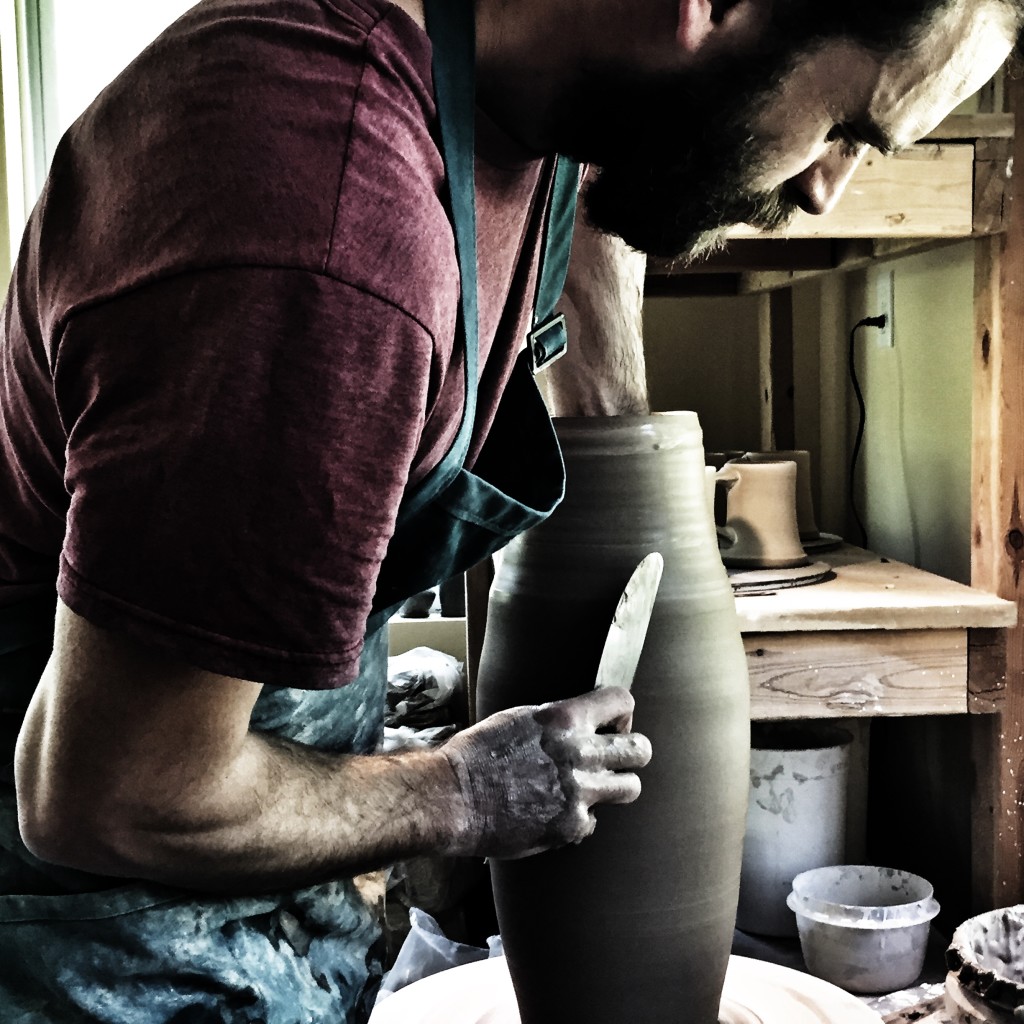 William Baker is a full time studio potter living in the mountains of western North Carolina. His work begins on the wheel, and is focused on refined forms subjected to the intense atmosphere of a wood fired kiln. When not in the studio, he is often found building kilns for other clay folk.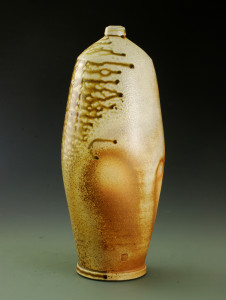 ---
Thu, 7 April 2016
A Student's Search for Direction | Hedy Yang | Episode 203
Hedy Yang is a sophomore at the University of Michigan. Her interest in ceramics began in her senior year of high school where she was afforded an amazing space to work in and a creative teacher to provide inspiration. When she's not in class, she spends her days in the studio trying new techniques and styles of work.
---
Tue, 5 April 2016
The Social Media Boost | Brooke Millecchia | Episode 202
While most of Brooke Millecchia's work begins on the wheel, the majority of her time is spent altering the form and manipulating the surface with texture. She further works the surfaces by applying a bold, but warm color palate. Brooke allows her work to evolve while working in the studio. She has never kept a sketchbook.
---
Thu, 31 March 2016
Business Made Easy | Stine Dulong | Episode 201
The SkandiHus brand is inspired by a love for Scandinavian design in which beauty is radiated through light colours, the ample use of natural materials, minimalism and functionality. Like many Scandinavian designers before her, Stine believes that quality design should be affordable, stylish and relevant to the modern human being by providing minimal distraction and maximum functionality and beauty. Stine both throws and hand-builds her pieces. It is very important to her to minimise her impact on the world in which she lives, so she reuses materials whenever possible and many of her pieces are made from reclaimed waste clay from her students and fellow studio members. Before becoming a full time ceramic artist, Stine worked in London, England as a lawyer, never quite feeling fulfilled or happy. She says that quitting her job to follow her dreams was the best decision that she ever made.
---
Tue, 29 March 2016
Room Shows, World Records, Ceramics | NCECA | Episode 200
This is a recap of my visit to NCECA. I brought my mic along with me and did the man-on-the-street style of meeting the people of NCECA. In this second installment I talked with:
Troy Bungart
Nikki Johnson
Kwok Pong "Bobby" Tso
Ian Thomas
Jonah Amadeus
Joel Cherrico
Jess & Jamie Wade
Shannon Garson
---
Thu, 24 March 2016
From Punker to Potter | Osa Atoe | Episode 199
Osa Atoe started taking community pottery classes in New Orleans in the fall of 2012. Osa quickly became obsessed with the medium so she made a small in-home studio for herself in the spring of 2015 and Pottery by Osa was born! Osa makes handmade terracotta pottery inspired by her love of simplicity and geometric patterns. Osa is influenced by African and Native American ceramic traditions, folk art of all mediums, and the work of other contemporary artists and craft people. Osa makes functional ware for everyday use, including drinkware, dishware and household items such as planters and vases. Osa's goal is to bring the creativity and intentionality of handmade crafts to everyday rituals. She loves expressing herself creatively through practical, functional forms. Osa also makes all of her glazes.
---
Tue, 22 March 2016
POW, Teachers, Students, NCECA | Episode 198
This is a recap of my visit to NCECA. I brought my mic along with me and did the man-on-the-street style of meeting the people of NCECA. In this first installment I talked with:
Mark Shipero
Hayne Bayless
Hannah Niswonger
Mike Carlson
Denise Joyal
Nicholas Meyer
Preston Talbert
John Cummings
Ray Brown
Herrick Smith
---
Thu, 17 March 2016
Capitalism and Art | Daniel Johnston | Episode 197
Daniel Johnston digs most of the materials he use to make and glaze his pots. Daniel's pots are fired in a large 850 cubic ft wood kiln. Daniel enjoys the hard work and it leaves no part of the process separated from him. He does not try to control his materials, rather Daniel tries to understand them. From digging the clay to firing the kiln, Daniel puts all his efforts into creating pots that have a powerful presence. It is important to Daniel to create pots that are timeless, but reflect the culture and times in which he lives.
---
Tue, 15 March 2016
Big Pots by a Little Lady | Kate Johnston | Episode 196
Kate Johnston opened her pottery studio in Seagrove, North Carolina in 2010. Kate's pots are made with local materials, boldly carved with organic patterns inspired by Art Deco design, and fired in a large wood-burning kiln. Kate shows her pots throughout North Carolina and has lectured and taught in North Carolina, Tennessee, and New Jersey.
---
Thu, 10 March 2016
Die As An Individual | Robin Hopper | Episode 195
Robin Hopper | Episode 195
Robin Hopper is an internationally known potter, teacher, author, garden designer and arts activist. He has taught throughout Canada, and in England, U.S.A., Australia, New Zealand, China, Korea, Japan and Israel. His ceramic work is in public, corporate and private collections throughout the world.
---
Tue, 8 March 2016
Using the Time You've Got | Debra Oliva | Episode 194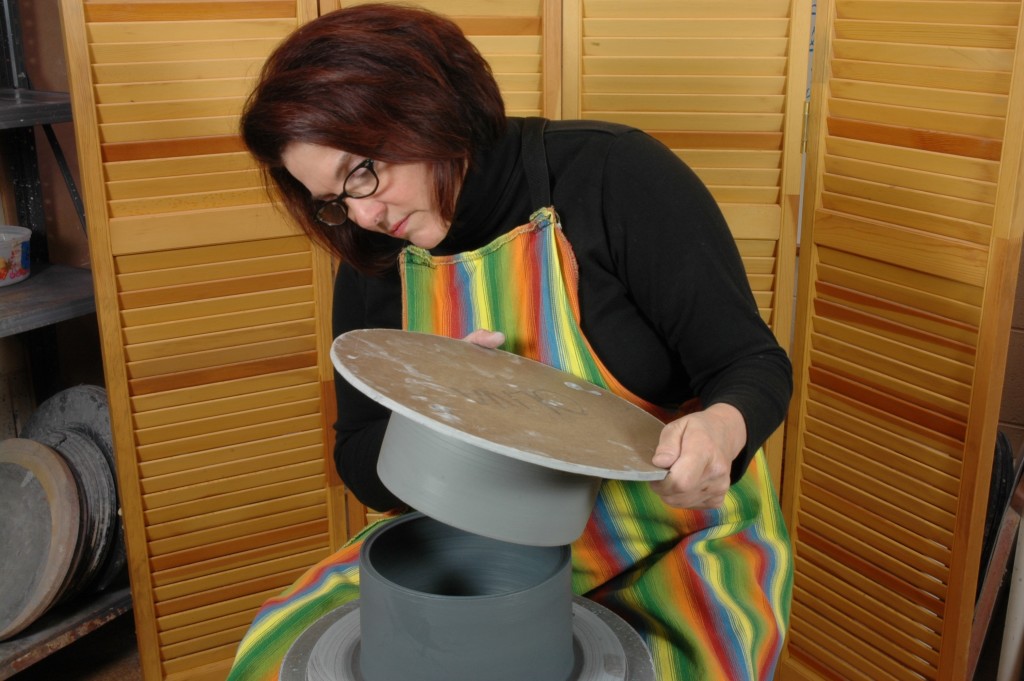 Originally from Illinois, Debra Oliva earned a BFA from Northern Illinois University. After a decade working in the printing industry Debra began exploring ceramics. She has worked as a full time artist for 24 years. She creates utilitarian ware and vessel forms from unglazed colored clays, celebrating form and surface through the use of color, texture and pattern.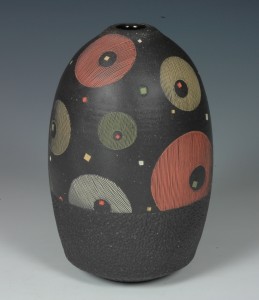 ---
Thu, 3 March 2016
Saying Yes to Infinite Possibilities | Forrest Lesch Middelton | Episode 193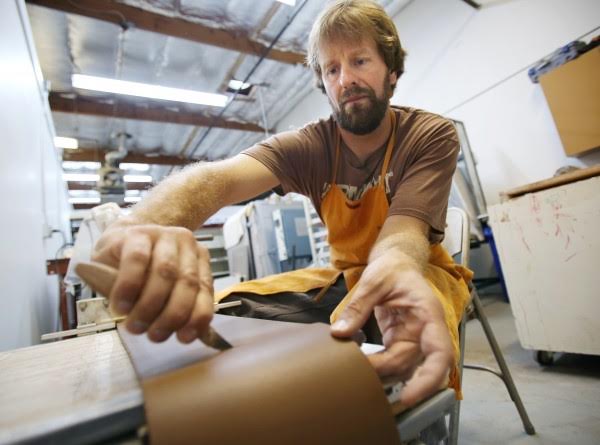 Forrest Lesch Middelton works in Petaluma, CA. Forrest's extensive background as an arts educator, administrator, and studio potter has recently gained him recognition as a diverse and inspirational member of the ceramic arts community. Forrest is the Former Ceramics Program Director of Sonoma Community Center, and is currently the President of the Association of Clay and Glass Artists of CA. In 2013 Forrest was named the Ceramic Artist of the year by Ceramics Monthly, and this year is the recipient of a Creative Work Fund grant for his work with the Islamic Cultural Center of Oakland. Forrest's pots have been featured on the on the cover of Ceramics Monthly magazine, and recently his architectural tile has won great acclaim, having been featured in The New York Times, Architectural Digest, Luxe, and Sunset Magazine. Forrest has been an Artist in Residence at Project Art in Massachusetts, the Mendocino Arts Center, and the Watershed Center for Ceramic Arts, in Maine.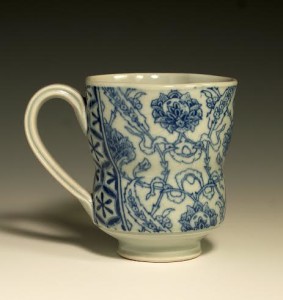 ---
Tue, 1 March 2016
Streamlining the Art | Paul Schneider | Episode 192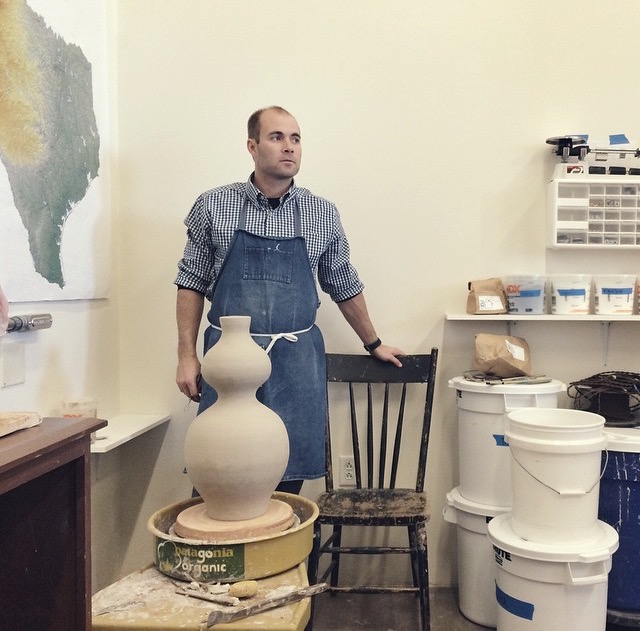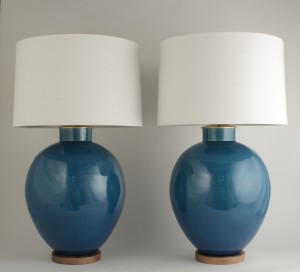 Paul Schneider lives in Dallas, Texas and is 31 years old. First exposed to ceramics in high school (St. Mark's), attended Rhodes College - played baseball, majored in International Studies. No ceramics program at Rhodes, tried unsuccessfully to start one. One semester I got access to nearby Memphis College of Art to continue throwing. Spent a semester in Madrid - took a ceramics class there - that would be considered my only 'formal' education in ceramics. I've been working full-time on ceramics (my business) for the past six years. It's been a roller coaster. Went to a trade show in NYC -March 2014 - Architectural Digest Home Design Show - got a lot of great press there - AD wrote a profile piece on my work. Currently focus is on table lamps.
---
Thu, 25 February 2016
The Switch Lift | Tim Carlburg | Episode 191
Based out of his studio in northwest Montana, Tim Carlburg specializes in making Handmade Growlers for Handmade Beer! Tim also works with multiple distilleries to create simple, meticulously hand-made functional ceramics for the discriminating microbrew and distillery aficionados. Tim is also the inventor of the SwitchLift. SwitchLift is a revolutionary way of using the potters wheel by making the wheel's height adjustable. The SwitchLift is helping to bring relief to the problem of back pain that is so common in potters.
---
Tue, 23 February 2016
Jumping Before You Look | Melina LaVecchia Daniels | Episode 190
Melina LaVecchia Daniels specializes in creating tableware that is not only functional but relates to food and the user in an aesthetically-minded way. Each piece is made to inspire you to linger around the table just a little bit longer and to enjoy the luxury of gathering around food together.
---
Thu, 18 February 2016
Ask For What You Want | Jeremy Ayers | Episode 189
Jeremy Ayers' recent pottery is about elemental relationships between form and surface. Jeremy has simplified his color scheme and is rejecting a colorful glaze palate. This allows textural and visual contrasts between the glaze, raw clay and form to be highlighted. Contrasts between sharp lines of glaze and the repetitive forms puts a sharp focus on both elements. The exposed clay is presented on equal footing with the glazed surface. The white glaze flashes the exposed clay body, warming the raw clay surface. Jeremy's focus with this recent work is to make pottery that is about pottery. He loves the raw clay of an atmospheric firing, but his work is fired in oxidation.
---
Tue, 16 February 2016
The Sculptor's Voice | Eric Knoche | Episode 188
Eric Knoche touched clay for the first time 15 years ago and has had dirty hands ever since. Eric lives and works in Western North Carolina where he is currently building a new wood kiln and studio. Besides clay, Eric's other great passion in life is dancing the Argentine Tango.
---
Thu, 11 February 2016
Designing a Life Like We Design Our Art | Steve Rolf | Episode 187
S. C. Rolf lives and works as a studio potter in River Falls, WI, creating one-of-a-kind functional pots. His work reflects an ongoing search to unite his ideas with the generosity and the intimacy that the functional pot offers.
S. C. Rolf holds multiple degrees in Art and exhibits his work nationally and internationally. Rolf has received a number of national and international awards. He lectures and teaches workshops throughout the country. His work has been included in numerous publications, Museum collections, and Kitchens cupboards.
---
Tue, 9 February 2016
Instagram Strategies | Ron Shaw & Jeni LiCata | Episode 186
The Claw and The Sea is the brainchild of two lovers, Ronald Shaw and Jeni Licata. Together, Ron and Jeni create an array of functional and sculptural ceramics inspired by botany, mycology, marine biology, and astronomy. These pieces range from handmade, soda-fired tableware sets like plates, cups, bowls, and serving pieces, to their sea-urchin-themed salt and pepper shakers, starfish Christmas ornaments, or salvaged pallet wood urchin towel racks. Jeni and Ron also have intricately-carved sporenet terrariums with homegrown and propagated succulent plants.
---
Fri, 5 February 2016
A Sculptor's Journey | Gerard Ferrari | Episode 185
Gerard Ferrari, 2011 McKnight Artist Fellow for Ceramic Artists, holds an MFA(VCU) and a BA(Berea). His artistic career began in 1989 and his Professorial career in 1999. In 2009 he left academia to become a stay-at-home parent, artist, and micro-homesteader. Above all, he has an active imagination and creative spirit.
---
Tue, 2 February 2016
"I Love to Make Beautiful Things" | Sarah O'Sullivan | Episode 184
As part of her undergraduate studies at the National Art School, Sydney, O'Sullivan spent a semester on exchange at the Glasgow School of Art, Scotland, where she learnt and refined a number of industrial ceramic processes such as designing and printing decals, plaster model/mould making and slip casting. These skills have stayed with her and form the foundations of her current art practice.
O'Sullivan focused her 2012 Masters of Fine Art research project on Australian imagery on porcelain. During this study she undertook a three-month internship at a remote Indigenous Art Centre in Ikuntji, NT. Since completing her MFA O'Sullivan has exhibited at the 4th ASNA clay triennial in Pakistan, had her work toured through the Emporio Armani stores in Australia, selected as a finalist for Qantas Spirit of Youth Awards and held a solo exhibition at Sabbia Gallery, Sydney and Craft Gallery, Melbourne. O'Sullivan has just returned from a mentorship with Sung Jae Choi in Gimhae, South Korea.
---
Thu, 28 January 2016
Building a Communal Pottery Studio | Melissa Weiss | Episode 183
Melissa Weiss is a self-taught studio potter in Asheville, NC. All the pots Melissa makes are made from the clay she digs from her land in Arkansas and is minimally processed. Melissa makes functional pottery and fires it in a gas reduction kiln with reduction cooling. Melissa also runs an 8000 sq ft warehouse which houses over 20 artists.
---
Tue, 26 January 2016
Sleep- The Cost of Pottery | Adriana Christianson | Episode 182
Adriana Christianson is a studio potter based in Croydon , an outer eastern suburb near Mt. Dandenong in Melbourne , Australia. All of Adriana's work is made and fired in her tiny garden studio that is surrounded by a rambling garden behind her 1920's original farmhouse. Adriana began potting in High School and continued at Prahran College of Advanced Education, graduating with a Diploma of Art & Design majoring in Ceramics. After graduation Adriana started working in the production pottery of Jan Lewis and Tabletop Ceramics as a Studio Assistant and decorator . Her 30 year journey with clay has always run paralell with 'growing' her family and teaching adults and children pottery in community settings . The inspiration for Adriana's work comes from the beauty and intricacies of floral wallpapers and fabrics of the 1800's, (especially William Morris and Liberty) also the blue and white Willow pattern dinnerware, which she constantly collects.
---
Thu, 21 January 2016
Seasons of a Potter's Life | David Voorhees | Episode 181
David Voorhees is a western North Carolina potter. David has spent 40 years working in wood-fired porcelain and stoneware, oxidation porcelain, and a bit of raku. David is relatively new to wood-firing with his own wood kiln since 2009. He is passionate about this process, the community it requires, and the rebirth it has caused in his artist journey.
---
Tue, 19 January 2016
Branding for Potters | Anna Eaves | Episode 180
Anna Eaves is the owner, designer, and ceramic artist behind Arrow + Sage, her brand and studio based in Raleigh, NC. Anna is a native North Carolinian and self taught potter with early instruction coming from her mother, also a potter. Ceramics from Arrow + Sage are handbuilt utilizing high quality clays and glazes. She retails her work online and around the globe in the U.S., Canada, and Australia, and has recently received recognition from Elle Decoration and Vogue UK.
---